'NO TOOL HAS CHALLENGED MY CLIENTS MORE THAN ViPR. THIS IS MOVEMENT DONE THE RIGHT WAY.' – Samantha Hatch
ViPR is a durable, portable and easy way to incorporate the new concept of Loaded Movement Training (LMT) into your training routines, along with the concepts and products you know. There is no need to replace your current training methods; simply incorporate Loaded Movement Training into your existing training protocols.
So what is loaded movement training? Simply put it is….'combining task-oriented movement patterning with resistance training'.
We know that movement is essential to training healthy bodies. The more we move in dynamic ways using our full body in training programs, the better we will feel. Adding weight (load) to movement gives the body a double benefit – we learn to move better, and become stronger and fitter at the same time. When engaging in Loaded Movement Training, every time you move, you are integrating the entire structure and the entire body in every movement you do. Every exercise becomes a core exercise, every exercise becomes a strength exercise, and every exercise becomes an agility exercise, to take into account the movement and energy demands of life and sport.
So where do I start?
Check out the selection of online educations we offer:
ViPR Loaded Movement Training-1 – our introductory course to get you loaded in just 4 hours – learn the fundamental principles and get to grips with how this tool can really enhance your offering.
Loaded Movement Training-2 – the next step – this is where you enhance your understanding of Loaded Movement Training and learn how to design and implement advanced ViPR drills and workouts.
ViPR Active Aging – proof that ViPR really is for everyone! Learn the specialist skillset needed to enhance the lives of older adults, by following Loaded Movement Training principles and core ViPR™ exercises in collaboration with the Functional Aging Institute.
ViPR Kids – Yep, kids love it too (we even have a very cool ViPR especially for them). This course is loaded with games, challenges and exploration, perfect for 4-15 year olds. You'll have a ton of fun and also learn how to create an environment where kids can truly flourish.
We all love a discount right? We are offering 20% off all of our ViPR courses and products for a limited time – just use the code 'ViPRLMT20'. Available until Midnight 10 September 2021.
Need the right tool for the job?
Check out all of our ViPRs and yes, the 20% discount code ViPRLMT20 will work on these too. The code is available from 27 August and runs out at midnight on 10 September 2021.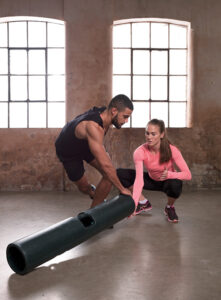 'IF YOU DON'T HAVE ViPR, THEN MAKE IT TOP OF YOUR SHOPPING LIST. THIS PUPPY IS PROBABLY THE BEST INVENTION IN THE FITNESS INDUSTRY, PERIOD!' – Annette Lang (International Presenter)