Here at FitPro we are super passionate about great education. We brought on Stu Gatherum from T2 Fitness to pick his brain on why education (good education specifically) is so very important. We chat about his journey starting up as a fitness training provider and learn what makes him and his team exude excellence.
Watch our chat about education now!
Here are some of the questions we asked Stu about educati0n
What was your journey of starting up a fitness training provider business – what was the catalyst to you starting?

Educations seem to be getting shorter and cheaper – what are your thoughts?

What makes a good educator?

Online learning – how effective can it be?

Have you seen short fallings in education and does that influence the way you operate the way you do?

You have previously said how hard it is to expand because of the values you have set up – tell us more about that.

You recently created your first networking event – talk to us why you felt there was a need and why you think others should attempt this.
How about checking out both of Stu's online educations? S&C – Foundation Needs Analysis and S&C – Advanced Periodisation, Programming and Training Principles
A little more about Stu…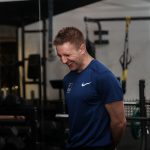 Stu Gatherum has worked in the fitness industry for over 20 years as a PT, a S&C coach for a range of professional athletes and a fitness educator both in the U.K and Internationally. Stu's two businesses centre around educational delivery in T2 Fitness, and content creation in T2 Awards. One of his primary passions is the area of S&C where he has a unique perspective on its application within sports as well as with his client base.