We caught up with Nathan D'Rozario, International Education and Training Manager for TRX Training.
FitPro have recently partnered with TRX to offer their education and also discounted products – exciting times! It seemed like a perfect opportunity to chat with Nathan about all things TRX and his insights on the industry. Nathan, a keen educator, brings many gems to this conversational webcast. He answers questions such as how do you really 'make it' as an educator and how he feels a personal trainer can thrive. He explains what he is excited about for TRX's future and why he is such a fan of their tools. He has driven their education to really stand at the front – that's why we were thrilled to get the chance to have a 'chin wag' and why we are thrilled to offer their education.
FitPro has partnered with TRX to offer their great education on our CPD platform – go check them out ✔️
And if you want to grab yourself 20% off their products you can use our unique code TRXFITPRO at their checkout.

A little bit about Nathan…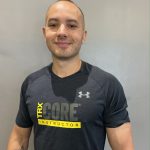 With nearly 15 years' experience as a personal trainer, football coach and educator, Nathan is the International Education & Training Manager for TRX Training, leading the development and awareness of TRX education, events and coaching globally. Previously, Nathan lived and worked in Dubai for Arsenal F.C. before moving over to MEFITPRO as their director of education. Nathan has presented at events around the world, including, MEFIT Summit (in Dubai) IDEA (in Las Vegas) and Perform X here in the U.K. Outside of fitness education, Nathan enjoys spending time with his family, travelling and visiting the greatest team the world has ever seen – Aston Villa 🙂