This important digital course addresses critical physiological considerations and provides insights and strategies for optimising training with the female athlete. Join Shana Verstegen an industry leader as she shares key insights and strategies for female performance, diving deep into topics of the menstrual cycle and how to optimise training benefits throughout, along with bone density considerations, physiological differences, resulting in knee issues, and the risks of the female athlete triad.
You will need an electronic device (computer or tablet preferred) and it is preferred if you have access to a TRX Suspension Trainer.
Suggested Pre-requisite
CIMSPA: L2 Gym
PD:Approval:L2 Gym
Aims and objectives of course:
Training considerations for the menstrual cycle
Female Athlete Triad
Knee issues
Motivation
Author Bio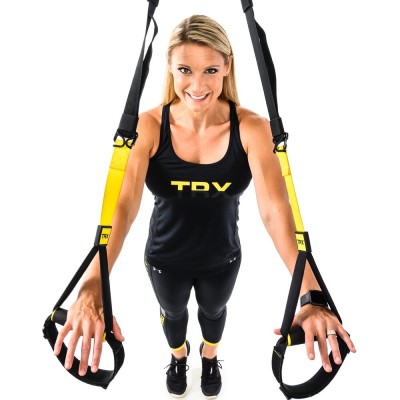 Shana Verstegen graduated from the University of Wisconsin with a degree in Kinesiology – Exercise Science. She is a Master Instructor for TRX Training and the American Council on Exercise. Her love for sports and fitness began at a very early age as a competitive gymnast. Shana still maintains her gymnastics skills through fitness competitions such as Fitness America, Ms. Fitness, and Women's Tri Fitness. Through these fitness competitions she has had the opportunity to model for Muscle and Fitness, Flex, Natural Muscle, and Oxygen magazines.
Unique and fun sports have always fascinated her - frustrated that girls were not allowed to pole vault in high school Shana joined the boys track team and became the first female pole vaulter in Madison, WI and then went on to become the first female pole vaulter at the University of Wisconsin – Madison.
Her biggest claim to fame is being a 6-time WORLD champion women's professional log roller and boom runner having been featured on ESPN, ABC Wide World of Sports, The Outdoor Life Network, the Travel Channel (and more!) competing in lumberjack events. She spreads her love of the sport as the head coach and co-owner of Madison Log Rolling.
Shana's true passion in life is doing her part to help find a cure for Huntington's Disease after her Mum passed away from this devastating disease in March of 2013. She is a national spokesperson for the Huntington's Disease Society of America, and has appeared in many news stories, print ads, and public speaking venues to raise awareness for Huntington's Disease.
She is married to the love of her life Peter Verstegen and is a proud Mum to their sons Greyson and Clark.