This course will give you a deeper understanding of how to safely release tension stored in your hips. Together we will break down specific mechanics of the hips and what yoga poses help promote a full range of motion. You will leave with a short yoga flow that incorporates all the yoga poses you workshopped to incorporate into your regular routine.
What's included:
- Digital Videos, Reading Material, Interactive Elements
- 1-2hrs of digital education taught by Doug Li
- On completion you will be invited to join a FREE 30 Day Trial for TRX CORE, which includes premium content, world-class functional training workouts, business tools and more.
To best learn and apply the skills of this course we recommend having a TRX Suspension Trainer, yoga mat, two yoga blocks, and access to an electronic device (computer or tablet preferred).
Suggested Pre-requisite
It is advised that you have first completed an initial suspension training course such as the TRX Suspension Training Course.
Aims and objectives of course:
Benefits of releasing the tension of hips
Break down mechanics of yoga poses
Create a practice
Author Bio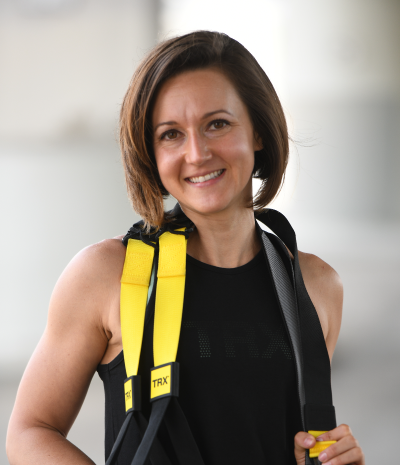 Krystal Say EP-C, 500 E-RYT has been a Master Trainer for the TRX Educational Team since 2011. She currently sits as the Manager of TRX Yoga where she leads the development of the TRX Yoga Educational journey. She has traveled internationally to educate, inspire and create opportunity for others to teach TRX Yoga. In 2021, Krystal became a trainer on the TRX Training Club, a global virtual movement platform leading both live and on demand classes.
Krystal is the owner of SWEAT Power Yoga, a local yoga studio that she describes as the playground for TRX Yoga creativity. Here, she leads regular TRX yoga classes to her community. The opportunity to play with new ideas and concepts keeps TRX yoga fun and effective.
Curiosity has helped her stay, forever a student. She has her B.S. in Exercise Science and brings a holistic approach as a certified as a Health Coach, 500hr E-RYT Yoga Teacher and Integrative Coach. Krystal hopes to empower individuals to move well, be well and live on purpose.