Magazine References
Spring 2017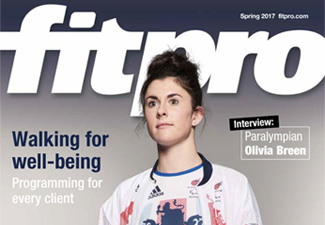 ---
The F word
References
oxforddictionaries.com/press/news/2016/11/17/WOTY-16, accessed 16 December 2016.
iep.utm.edu/sophists/, accessed 16 December 2016
bbc.co.uk/programmes/p04jqjcj, accessed 16 December 2016
Lycholat, T. (2016) Evidence-based practice in the fitness industry, Fitpro magazine, Summer issue.
Concurrent training and the interference effect
References
Haff, G.G. and Triplett, N.T. (2016) Essentials of strength training and conditioning, Human Kinetics, p.440.
Leveritt, M. et al (1999) Concurrent strength and endurance training: a review, Sports Med., 28(6):413-427.
Jackson Davis, W. et al (2008) Concurrent training enhances athletes' cardiovascular and cardiorespiratory measures, J. Strength Cond. Res., 22(5):1503-1514.
Fyfe, J.J. et al (2016) Endurance training does not mediate interference to maximal lower-body strength gain during short-term concurrent training, Frontiers in Physiology, doi: 10.3389/fphys.2016.00487.
Bouchard, C. (1993) Heredity and Health-Related Fitness, Physical Activity and Fitness Research Digest, Series 1, No. 4. President's Council on Physical Fitness and Sports.
Davidsen, P.K. et al (2011) High responders to resistance exercise training demonstrate different regulation of skeletal muscle microRNA expression, J. Appl. Physiol., 110:309-317.
Bamman, M.M. (2010) Does your (genetic) alphabet soup spell runner? J. Appl. Physiol., 108:1452-1453.
Mann, T. et al (2014) High responders and low responders: factors associated with individual variation in response to standardised training, Sports Medicine, 44(8):1113-1124.
Ericsson, K.A. (2013) Training history, deliberate practice and elite sports performance: an analysis in response to Tucker and Collins' review – what makes champions? British Journal of Sports Medicine, 47(9):533-535.
HL 33 (2012-13) Sport and exercise science: building on the Olympic Legacy to improve the nation's health. London, The Stationery Office Ltd.
Jowett, S. (2005) The coach-athlete partnership, The Psychologist, 18(7):412-415.
Intermittent fasting: what you need to know
Recommended reading
http://jissn.biomedcentral.com/articles/10.1186/1550-2783-8-4, accessed 19 January 2017.
Bread of heaven
References
Client handout – need to know on H2
Reference
who.int/nutrition/publications/guidelines/potassium_intake_printversion.pdf, accessed 17 January 2017.
Walking: the best exercise of all?
References
I-Min Lee, et al (2012) Impact of physical inactivity on the world's major non-communicable diseases, Lancet,, 380(9838): 219-229.
Hanson, S. and Jones, A. (2015) Is there evidence that walking groups have health benefits? A systematic review and meta-analysis, Br J Sports Med, 0:1-7.
Richardson, C. R. et al (2016) A comparative effectiveness trial of three walking self-monitoring strategies, Translational Journal of the ACSM, 1(15):133-142.
walkingforhealth.org.uk, accessed 5 January 2017.
acsm.org/docs/brochures/starting-a-walking-program.pdf, accessed 5 January 2017.
The role of exercise in cancer treatment: bridging the gap
References
Prof R, Thomas (2011), Lifestyle and Cancer: The Facts, Health Education Publications.

06.
T'ai chi, falls prevention and healthy ageing
References
Solloway, M.R. et al (2016) An evidence map of the effect of Tai Chi on health outcomes, Systematic Reviews, 5:126.
Rimland, J.M. et al (2016) Effectiveness of non-pharmacological interventions to prevent falls in older people: a systematic overview. The SENATOR Project ONTOP series, PLoS ONE, doi: 10.1371/journal.pone.0161579.
Stevens, J.A. et al (2014) Preventing falls with Tai Ji Quan: a public health perspective, J Sport Health Sci. 3(1):21-26.
Tsang, W.W.N. and Hui-Chan, C.W.Y. (2003) Effects of Tai Chi on Joint Proprioception and Stability Limits in Elderly Subjects, Med. Sci. Sports Exerc. 35(12):1962-1971.