Danica Nicolau, head of engagement at CoverMe, shares her top 10 tips to help you create a unique brand and take your fitness career to stellar heights.
Recently, I had the pleasure of sitting down with Fares George Shoufani, the brilliant mind behind Five Star Health and Spa and GYMTECH in the US. Our conversation delved into the key factors that distinguish exceptional instructors and health clubs from their competition. As Fares wisely put it, "Success isn't just about how many people sign up for your class; it's about creating an experience that keeps them coming back for more."
The path to success for freelance instructors and personal trainers may seem daunting, but fear not. I've been in your shoes, having walked the fine line between fitness instruction and marketing. I get how tough it can be to network, build a social following, attract new clients and truly impact on your students' lives. So, here are my top 10 invaluable tips that will help you craft your own unique brand and elevate your fitness career to extraordinary heights.
Top Ten Tips for Instructors and PTs
Harness the power of social media: Social media is an incredible tool to connect with a broader audience. Platforms like Instagram, TikTok and YouTube give you the opportunity to share captivating content. From inspiring transformation stories of your clients to showcasing your unique training methods – and even organising fun fitness challenges that ignite everyone's motivation – the possibilities are endless.
Collaborate with other professionals: Expand your reach by forging partnerships with people who align with you and your values for guest posts, joint workouts or even host online events together. The beauty of this collaboration is that both sides benefit from each other's audience, creating a win-win situation.
Engage your audience with workshops and events: Hosting engaging workshops, seminars or even fitness retreats is a fantastic way to connect with your local community or target audience. Team up with local businesses or gyms to co-host events and unlock new opportunities through meaningful connections.
Make a positive impact in your community: Giving back to the community is not only rewarding but also helps build a stellar reputation. Get involved in local events, charity fundraisers or fitness expos and show your dedication to making a difference. This will resonate with potential clients who value your commitment to making a positive impact.
Earn trust with client testimonials: There's nothing like the words of a satisfied client to build trust and credibility. Don't hesitate to request testimonials and success stories from your happy clients and proudly share them on your website and social media. These real-life experiences will inspire others to join you on their fitness journey.
Personalisation matters: Tailoring your exercise programmes to suit individual needs and goals is a sure-fire way to create meaningful connections. People appreciate that personal touch and happy clients will likely become your best advocates, referring friends and family your way.
Keep the fun alive with challenges and contests: Inject some excitement into your fitness community with regular challenges and contests. These engaging activities will keep your current clients motivated and involved. To spread the word about your exceptional classes, consider offering prizes or discounts for client referrals.
Collaborate with local gyms and studios: By partnering with nearby gyms and fitness studios, you open the door to a larger audience and more opportunities for growth. Whether you teach regular classes or plan special events together, this collaboration can be a game-changer.
Stay at the forefront of knowledge: As a dedicated fitness instructor, staying informed is paramount. Pursue continuing education and certifications to keep up with the latest fitness trends and research. Share your wealth of knowledge through informative blogs and newsletters covering fitness, nutrition and overall wellness. By providing valuable resources to your followers, you'll be seen as a knowledgeable and caring expert.
Embrace the power of technology: In today's tech-savvy world, integrating technology is a must. Consider utilising online platforms to deliver customised workout programmes, nutrition plans and progress tracking, which will enhance your services for clients. Joining dedicated fitness instructor apps will also help to build your profile, allowing you to access more clients and teaching opportunities, reaching a wider audience. You could try the CoverMe app.
Embrace these cutting-edge strategies while staying true to your authentic self, and watch as your network expands, followers grow and new clients come knocking on your door. It's all about making a lasting impact on the lives of your students and the fitness community at large.
Always remember, authenticity is your superpower. Engage with your audience, respond to their needs and deliver genuine value. This is what will set you apart and make you shine among the competition.
Want to read more from Danica? Check out her blog that shines a spotlight on emergency cover for a group X classes.
Author Bio: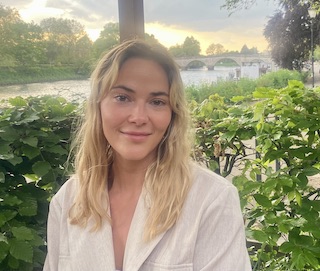 Danica Nicolau is a Pilates and yoga sculpt instructor with over five years of teaching experience, working as head of engagement for CoverMe fitness. Danica is passionate about motivating others to achieve their fitness goals and enthusiastic about innovating the fitness tech space.