Black Bean and Watercress Burger (vegan)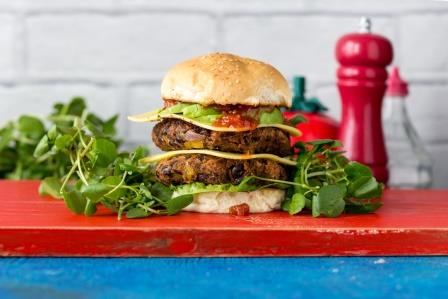 Recipe from Sophie Peel
Serves 4
Prep time: 20 minutes
Cooking time: 20 minutes
Ingredients:
1 small onion, diced
1 red pepper, deseeded and diced
2 cloves garlic, finely chopped
2 red chillies, deseeded and finely chopped (optional)
2 x 400g tins black beans
1 small sweet potato, baked in its jacket until soft
50g tinned sweetcorn, drained
90g fresh breadcrumbs (roughly 3 slices)
1 heaped tsp smoked paprika
30g watercress, chopped
Olive oil for frying
Salt and pepper
To serve:
4 x burger buns (dairy and egg free)
2 x ripe avocadoes (optional)
Tomato relish or other sauce of your choice
Method
Take a large frying pan and place it over a medium heat. Add a splash of oil. When the oil is hot, toss in the onion, red pepper and garlic along with a pinch of salt and the chopped red chillies, if using. Stir-fry for roughly 3 minutes then tip into a bowl and allow to cool.
Drain the black beans in a colander and rinse with cold water until it runs clear. Line a tray with a tea towel and tip the beans into the tray, patting the top dry with another tea towel to remove as much water as possible. Place half of the beans into a large bowl and mash well with a fork.
Cut the softened sweet potato in half before scooping out the flesh and adding to the bowl along with the remaining black beans. Add in the onion and pepper mix, sweetcorn, breadcrumbs, paprika and watercress and use your hands to combine everything thoroughly. Season with salt and pepper.
Form four large patties and leave to chill in the fridge for at least half an hour before cooking.
Pre-heat the oven to 180°C. Wipe out the frying pan and return to a medium heat. Add a splash of oil and, once hot, carefully place each burger patty into the pan. Fry for 2-3 minutes on each side before placing into the oven for 10 minutes or until piping hot throughout.
Remove the patties from the oven and leave to rest for a minute while you prepare the buns. Slice the buns in half and toast. Slice the avocado. Place a burger on the bottom of each bun, then top with avocado slices and a good dollop of tomato relish or other sauce. You could also top the burgers with a variety of other fillings including sliced tomatoes, fresh watercress or sliced red onions.
Nutritional information
| | | |
| --- | --- | --- |
| Nutrient | Per serving (149g) | Per 100g |
| Calories (kcal) | 186 | 125 |
| Fat/g | 4.1 | 2.8 |
| Of which saturated fat/g | 0.3 | 0.2 |
| Carbohydrate/g | 29 | 20 |
| Of which sugar/g | 9.2 | 6.2 |
| Fibre/g | 4.7 | 3.1 |
| Protein/g | 5.3 | 3.5 |
| Salt/g | 0.34 | 0.23 |
Note: without burger buns and avocado
Linia's verdict
With #plantbased being a trending hashtag these days, it's vital that we get some wholesome and delicious go-to recipes. These burgers can be served up with wholegrain buns, slices of avocado and some salad as a main meal. They are also balanced in their own entity, so can be eaten as a light meal (with some added salad/avo trimmings of course!). I would be tempted to double the recipe
Blackberry Rice Turkey Salad
Recipe from Sweet Blackberries by Driscoll's
Serves 4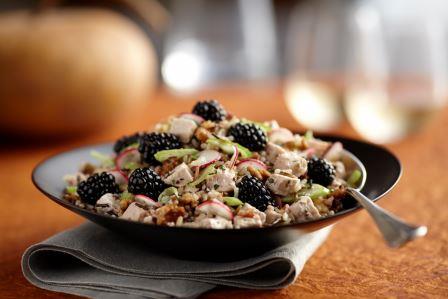 Ingredients:
80ml olive oil
1 tsp coarse ground Dijon mustard
2 tbsp fresh lemon juice
1 tsp fresh thyme leaves
1/2 tsp salt • 1/4 tsp ground black pepper
200g Driscoll's Victoria Sweet Blackberries
300g wholegrain brown and cooked wild rice
200g cooked turkey
2 stalks thinly sliced celery
100g thinly sliced radishes
50g walnuts, coarsely chopped
Method
Vinaigrette: whisk oil, Dijon mustard, lemon juice, thyme leaves, salt and pepper in a bowl until blended. Refrigerate any leftovers.
Rice salad: mix blackberries, rice, turkey, celery, radishes and walnuts in medium bowl. Stir in just enough vinaigrette to moisten salad. Serve or refrigerate.
Nutritional information
| | | |
| --- | --- | --- |
| Nutrient | Per serving (222g) | Per 100g |
| Calories (kcal) | 467 | 208 |
| Fat/g | 25.63 | 14 |
| Of which saturated fat/g | 4 | 1.9 |
| Carbohydrate/g | 22 | 10 |
| Of which sugar/g | 1.4 | 0.6 |
| Fibre/g | 4.89 | 1.4 |
| Protein/g | 20.23 | 10 |
| Salt/g | 0.9 | 0.41 |
Linia's verdict
A delicious well-balanced salad that is filled with wholegrains, lean protein, good fats and a range of different phytochemicals. If you are vegetarian, swap the turkey for some kidney beans. A great one-bowl lunch to be eaten at home or taken to work.
Looking for other tasty recipes to try this summer? Why not try these smoothie shakes