Craig Smith takes a deep dive into how to choose an authentic and fit-for-purpose PT course.
With an ever-increasing number of people taking positive steps to become active and join a gym or enrol with a personal trainer, it's of paramount importance the correct techniques, practices and methodologies are taught from the get-go to ensure people steer clear of injury and long-term damage.
This investigative piece promotes the correct mix of learning, advocates the selection of an endorsed training provider and highlights the warning signs to look for when choosing a course.
We hear from some of the prominent players in the fitness industry – training provider Study Active, PT management company Your Personal Training and awarding organisation Active IQ. You will hear they are working closely to disseminate the promotion of authentic, regulated and fit-for-purpose personal training courses, flying the flag alongside CIMSPA to educate those who aspire to operate in the health and fitness sector to put their trust into properly organised and managed tuition, and to not be duped by those claiming credentials they do not possess.
Learn without concern
Continual advancements in the technological world mean we're able to learn with a more enhanced flexibility than was possible only a few years ago. Such progression is to be embraced, as hybrid ways of learning make information more widely accessible – though celebrate with an air of caution, as for every legitimately registered training course provider that serves the fitness industry, there are those more interested in profitability.
Authentic gym and personal trainer course providers are keen to extol the virtues of a complete and corroborated learning experience, with focus on the person who matters the most – the learner.
"Learning courses need to be fluid and holistic, and tutor support should be personalised. Each learner is unique and at a different stage of their learning journey, so they should all be treated as individuals," says managing director of Study Active, James Luscombe.
"It should always be about the learner. What does this person need to support them to learn? Do they need a webinar to go through the foundations of developing a plan? Do they need a face-to-face session to see a plan in action? Or do they require a phone call or email guidance?"
Such a proactive approach to blended learning significantly benefits learners and promotes wholesale engagement in studies and in the industry, meaning every person who undergoes such comprehensive training and solid education is prepared for their future, either as a gym instructor, gym owner or personal trainer.
The proof is there to see as Aaron McCulloch, managing director of Your Personal Training, testifies, acknowledging that new ways of teaching are developing all the time. He says, "Regular tutor support is essential. Contemporary online blended learning allows for flexibility. The vast majority of people we get in Your Personal Training are busy people, so do not have endless hours a week to sit in a classroom. The many ways of learning available nowadays allow people to learn in their own time, at their own pace and, importantly, with experienced tutors."
Fully represented practical assessments, with trained tutors able to call upon an arsenal of tools to assist the learning process, mean rigorously tested and accomplished blended learning courses are about more than a single presentation, a video assessment or a tick-box exercise.
"Things like video assessment has its place. It can be useful at times, though any training course worth its weight should not have a 'one size fits all' approach. It is no good just watching a video, because how do we know a person has learned anything from it?" questions James. "Any practical experience is more rewarding if done in person. You wouldn't film your driving test and send it to an examiner! You'd do it face to face. It should be no different for a PT course and providers should encourage this."
Though a tongue-in-cheek example, the facts remain. A holistic blend of learning, rather than a one-dimensional approach, not only benefits the learner but also the industry as efficient graduates make their way into gyms.
A rigorous selection criteria
Though robust industry standards are in place, it can sometimes be difficult for aspiring fitness professionals to determine the wheat from the chaff when it comes to authentic providers of learning. To avoid being bamboozled by false claims, what are the key things that learners should look for in an endorsed training provider?
Websites and offers will sell the dream to those coveted gym and PT roles, but for all the fanfare and eye-catching deals, some lack authenticity.
Authentic PT course providers offer industry-recognised personal training qualifications, which are endorsed by CIMSPA. Those who are choosing a learning course and aspire to work in the fitness industry are advised to check to see if the training course they are looking at is a CIMSPA-endorsed qualification from a CIMSPA-endorsed centre. If it isn't, then be dubious as to how recognised the qualification is.
Similarly, don't be fooled by courses that promise 'overnight' personal trainer certification.
Market-leading courses are well designed, well thought-out, with trained fitness professionals accessible at every turn on the blended learning journey to ensure correct, ethical and efficient practice.
So, what are the hallmarks of a proficient tutor?
"They [the tutors] will have the knowledge, but will also understand how to teach," says James of Study Active. "To have the fusion of these skills is imperative. It is not about reading from a script to support someone. It's about tutors who know their topic and understand how to teach it. Online learning can't exist by itself, it needs good tutor support."
Echoing the sentiments of Study Active, Your Personal Training works with innumerable gyms, so is well placed to recognise the need for tutors to be multi-skilled so the right people are represented in the fitness industry.
"If you're teaching someone to deal with a person's health, whether physical or mental, or related to nutrition, then they need to be able to do and teach," Aaron says. "Good, safe and efficient learning should include engaging content in terms of multimedia. Learning platforms should include interactive assessments and be up to date, accurate and relevant."
Any training provider worth its weight will utilise a range of digital media and cater for many learning styles. Every person is by essence an individual, so a 'course' that claims success in 24 hours is not as it seems – a point Study Active, Your Personal Training and Active IQ are keen to stress.
"Just because a provider claims they offer online learning, it could be very different to another provider's definition. This is something that people need to be aware of," says James.
To help protect the industry and promote only those courses that will lead to an authentic career as a PT or a gym instructor, accountability is required at every step to "ensure courses are fit for purpose and include the right kind of feedback and actions". Proactive action and a collaborative approach to blended learning are required, to ensure those people serious about embarking on a career as a PT or gym instructor are guided down the path of authenticity and integrity.
"This is a long game we are playing here, but it's important we all keep feeding back and learning from best practices. The 26 gym operators we work with – which is 450 clubs across the country – are telling us what they're seeing. They're encouraged to join advisory groups such as the one run by Active IQ to ensure everyone is talking and that people at every level have accountability and a responsibility to move things forward," says Aaron.
Study Active is well placed to corroborate the accomplishments of individuals aspiring to operate in the sector. "Qualifications should be living documents, not a case of 'here's a PT qualification, that's it for the next 20 years'. Qualifications and courses should be reviewed constantly to remain fit for purpose, which is why focus groups are important for the industry."
Trust is a must!
Those wishing to undertake a training course or qualification should be mindful of the spate of low-quality and therefore low-cost training options. A lot of these do not include interactions with real-world clients, nor the collaborative industry-leading knowledge and information.
Supposed brilliant deals may look legitimate at first glance, with claims that programmes will be the conduit for obtaining work within a fitness facility. However, all is not as it seems, as James explains: "Everyone likes a good deal and value for money. But there's a difference between getting value for money and rock-bottom prices. People must ask themselves why. Why is it that this provider is offering this course at half the price of other providers? What is the reasoning for it? It's the old cliche, 'you get what you pay for'.
"There is a big difference between value for money and someone offering something too good to be true. Savvy customers will do their research and draw their own conclusions as to why some providers are offering it dirt cheap, and then they'll make a sensible decision to go with a provider that offers good value for money and good quality for their learning experience."
Concurring with the gulf in quality and learner experience James touches upon, Aaron has seen first-hand the impact it is having in gyms up and down the country. "Cheaper courses are likely not going to offer the same level of quality and support. There are lots of training providers out there who say they are CIMSPA-approved – but on closer inspection they are not! They say they work with various fitness gyms and brands – then after due diligence it is often found they don't. Many are just taking logos and putting them on their websites to increase their perceived level of authenticity."
Before deciding on a PT course or gym instructing qualification and parting with hard-earned money, aspiring fitness professionals can visit the CIMSPA website to check course credentials and to discover if the qualification and provider are properly endorsed.
The above can be easily checked by visiting the CIMSPA website – www.cimspa.co.uk – and clicking on the Directories section and then searching 'Partners'. If a provider is listed as a 'Training Provider Partner' on the Partners section, then you can be sure they are a CIMSPA-endorsed training provider. If they're not showing as a 'Training Provider Partner' on the Partners list, then regardless of what they say, they are not CIMSPA-endorsed and may have not been accepted for endorsement for a reason.
In summary, we have looked at the importance of choosing a properly endorsed provider and have explored how going outside of this recommendation could see a very different learning journey being experienced – which may not be a great way to ingratiate oneself into the fitness industry! Choose the right provider though and the opportunities to work with clients, play a pivotal role in their health, and to contribute to a fitter and healthier nation know no bounds!
Did you know FitPro have insurance that will cover you even as a student? Check out all of our insurance options for PTs here. 
Author Bio: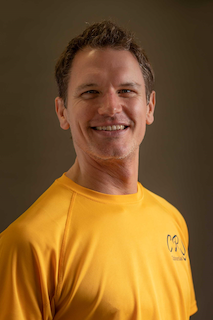 Craig Smith of CRS Editorial is a double award-winning editor, proofreader and copywriter with 27 years' experience of working across many formats with different-sized organisations and for a wide range of audiences. He's a Professional Member of the Chartered Institute of Editing and Proofreading.