A brand new piece of sports kit is on the market; one that serves a very important purpose. Olivia Hubbard catches up with Lucy Horsell of 'Limitless Bra', and finds out more about sports bra anxiety amongst young girls.
"I think no one is taking responsibility for the underwear problems. The big brands are doing a great job at 'sports bras' but no one is designing something for this group of girls." – Lucy Horsell
I'm sure that many female FitPro members can recall the memories of changing for sport in the school changing rooms. I can.  The words, "hench arms" still, to this day, linger in the back of my mind.  Still, when you enjoy swinging a kettlebell around the gym, you need to be able to push these negatives to one side.   For some schoolgirls, the very thought of changing for sport is enough to put them off exercising altogether. That's the belief of Lucy Horsell, who works as Business Development Manager at Squadkit – a sports clothing retailer providing clothing to UK independent schools.
By way of a solution to the problem, Horsell has really changed the sportswear market for this demographic of girls. I caught up with Horsell at the fitness industry event, Elevate, last month. It was only when we began discussing the topic that the actual scale of the problem became very apparent.
"I work for Squadkit – we are the biggest provider of sports kit for the Independent sector. In the past year, we have achieved a lot. We have already taken girls out of polo tops and skorts and into activewear. When I spoke to girls in schools, they told me that their sports tops weren't fitting correctly. I then realized that they weren't wearing actual sports bras – they were wearing crop tops and t-shirt bras. These didn't fit them well either."
Understand the need
You certainly can't fault Horsell's passion. She bought every bra on the market to see what was on offer. Squadkit decided that they should have a bra on their website – their whole philosophy is to keep young people active and to develop kit which helps them to feel good and enjoy sport.  "I went into schools and did talks and workshops, to understand their anxieties. I wanted to speak to non-sporty girls, sporty, small, tall, bigger, smaller, etc. They gave me clear direction to what they wanted, what the bra  should be like and even helped me decide on the name."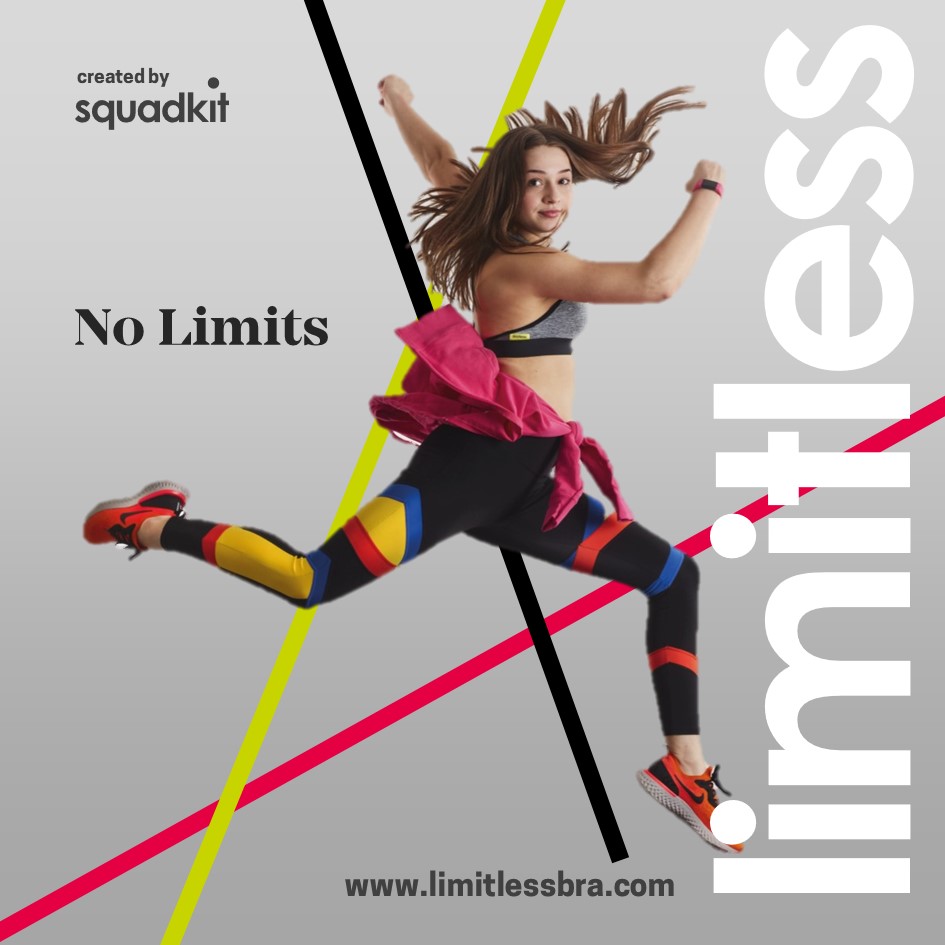 The team spoke to hundreds of girls to establish the needs of their audience. Research was also conducted at The University of Portsmouth, with their breast health expert team in the biomechanical science department. It is here that Nike, Sweaty Betty and Shock Absorber run their tests – so clearly they are in good company. To put some context to the results, the top bra tested at 75% bounce rate, and the Limitless bra came in at 65%. "We aren't going to be developing the next Shock Absorber bra, but we needed to get them in something that works, and works well. The research shows that we have a quality product, which is why its RRP is £30 – still a lot less than the leading brands – but we are giving something that they will love. We really hope that parents see the value in the product."
One girls' games teacher stressed how it has become a huge barrier to get girls active and, at times, even to enter the changing room. Yet, despite the acknowledgement of the problem, sports teachers don't feel it is their job to teach girls about bras. I found this an interesting statement. Shouldn't schools be delivering the body positive message and telling girls that all bodies are different, that no one body is better than another, and helping to guide the way when it comes to shopping for uniform? As Horsell points out, not all girls pop down to the shop with their mum: Horsell was brought up by her father, and knows the reality of bra shopping with dad, a guardian, or a friend.   When I heard that teachers don't think they have a responsibility… well, in my opinion, they do. The trust a teacher builds with a pupil is significant and sometimes a teacher is the only person a child feels that they can turn to.
So why has this become such a big problem?
"I think girls are far more self-conscious than they ever have been. They don't really want to talk about their bodies. There was certainly embarrassment when my dad realised I needed a bra! The biggest problem is that sports bras are "bra" sized, really expensive and really uncomfortable, because they squish you in."
What really seems to trigger anxiety is the changing room experience. Horsell tells me that girls opt to wear a crop top because it's comfy and they wear it all day long, so they don't need to change for sport. The anxiety even goes down to the girls not wanting to have another bra in their bags. I was shocked at the latter – In my time, developing was a sign of coming of age. I remember my Tesco 28A bra well and even felt quite mature that the crop was dropped and forgotten.
Horsell adds, "I think Instagram has also had a massive influence on the low sport participation levels. Girls are really worrying about their appearance, make-up and their body image generally. Young girls are dropping out of sport left, right and centre. That's why, in my opinion, launching these bras is so important. Girls don't even want to show their legs. I think no one is taking responsibility for these underwear problems. The big brands are doing a great job at 'sports bras' but no one is designing something for this group of girls."
The Limitless bra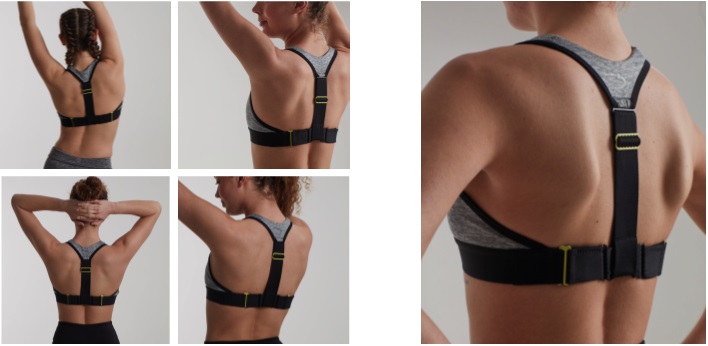 The bra has a unique feature around the back, which allows for four inches of adjustability. So, in theory, according to Horsell, unless the girl gains or loses a significant amount of weight, it should support the girl through puberty. The bra is said to be ideal for girls who might be intimidated by a bra with clasps. It has been designed to be worn under school uniform and the grey marl fabric makes it suitable for wearing under shirts in the summer time.
The bra is complete with a zip at the front for ease. The inside lining boasts a lime green stitching to jazz up this practical piece of kit. The Limitless team hope to expand their range offering in the future.
"We need it to be practical, of course, but we also want it to be fun and current so that girls want to wear it," Horsell adds.
The reaction?
"It's been amazing," Horsell enthuses. "We have rolled it out to all schools and they love it. It now has its own website, too. I want the bra to be available to all girls outside of the independent market. I really feel that we have done something special and it serves a purpose. Girls are having a tough time at the moment; anything we can do to help them get more into sport is great."
What's your reaction to the story?  Do you think teachers are doing enough within schools to combat body image anxiety? Would your child benefit from this piece of kit – or would you prefer that the issue of body image is discussed more openly and girls feel more confident to change in front of their peers?
Get your reaction heard over on our Twitter pages: @fitpro_online or email us at: publish@fitpro.com
For more information and to purchase the Limitless Bra, visit:  www.limitlessbra.com