Top Image credit: ©SusanneHakuba
Loneliness is said to impact nine million adults in the UK1 and can affect anyone. It's hardly surprising considering we are more likely to send a text message than make a visit to a friend's house. The digital age has certainly influenced our decline in social interaction.
The indiscriminate nature of loneliness – defined as a 'subjective unwelcome feeling of lack or loss of companionship' (as stated in a ukactive report1) – makes it a widespread issue, but for groups such as older people and those with disabilities, feelings of loneliness can be particularly pronounced. According to national disability charity Sense, 50% of disabled people will be lonely on any given day, but there have been some great initiatives to help. For example, the 'do good, get fit' running charity GoodGym, organises for runners to visit older people within the community to help with household tasks and stop for a cup of tea and a chat.
One woman who is determined to change these worrying statistics is 74-year-old Eddie Brocklesby, who is the UK's oldest Ironman triathlete. In 2013, Eddie founded the charity Silverfit – an exciting and rapidly expanding charity led by older people for older people. The charity aims to promote happier and healthier ageing through physical activity and, at the same time, combat social isolation. Silverfit is run by four trustees who work alongside Eddie, and is also supported by four part-time freelancers.
Watch our chosen video of the week that showcases Silverfit charity founder Eddie Brocklesby's incredible zest for life and commitment to stay active:
This video was produced by the BBC and has be shared with SilverFit's permission.
A message from Eddie to fit pros 
The charity delivers its mission across 14 venues throughout London's boroughs and delivers an array of activities. The activities are very dependent on what facilities the centre can offer. Events include: Nordic walking, yoga, walking football, Zumba, Bollywood dancing, and lots more. Full details can be found on the website here: silverfit.org.uk/silver-sessions-2/
FitPro's editor, Olivia Hubbard, caught up with Eddie at the recent Elevate event to find out more about the charity and the woman behind the idea.
When Eddie Brocklesby took to the stage in Elevate's 'Active Nation' seminar, it's safe to say she captured the attention of the entire audience. This wasn't just because of her silvery leggings and huge grin. It was clear from her presentation that her concept is here to stay and is one to be taken seriously. Eddie didn't need fancy slides or a lengthy pitch, her passion to help people and end loneliness through exercise is enough. I wish more people in the fitness industry displayed the empathy and the compassion that she does.
Unsurprisingly, the majority of the audience wanted to steal her away. So, I hung around like a fan girl waiting for the woman with the frizzy orange hair to come my way; at least I wouldn't lose her.
Guiding Eddie towards a table, I was all ears. "Our 'sandwich' formula of socialising and exercise for older people is unique. It really helps to increase activity levels and helps people to make new friends, feel more confident, and enjoy life as they age. Participants are welcomed, greeted, and they then socialise for about half an hour before going off and doing their chosen activity. The session finishes with socialising again – this is absolutely vital."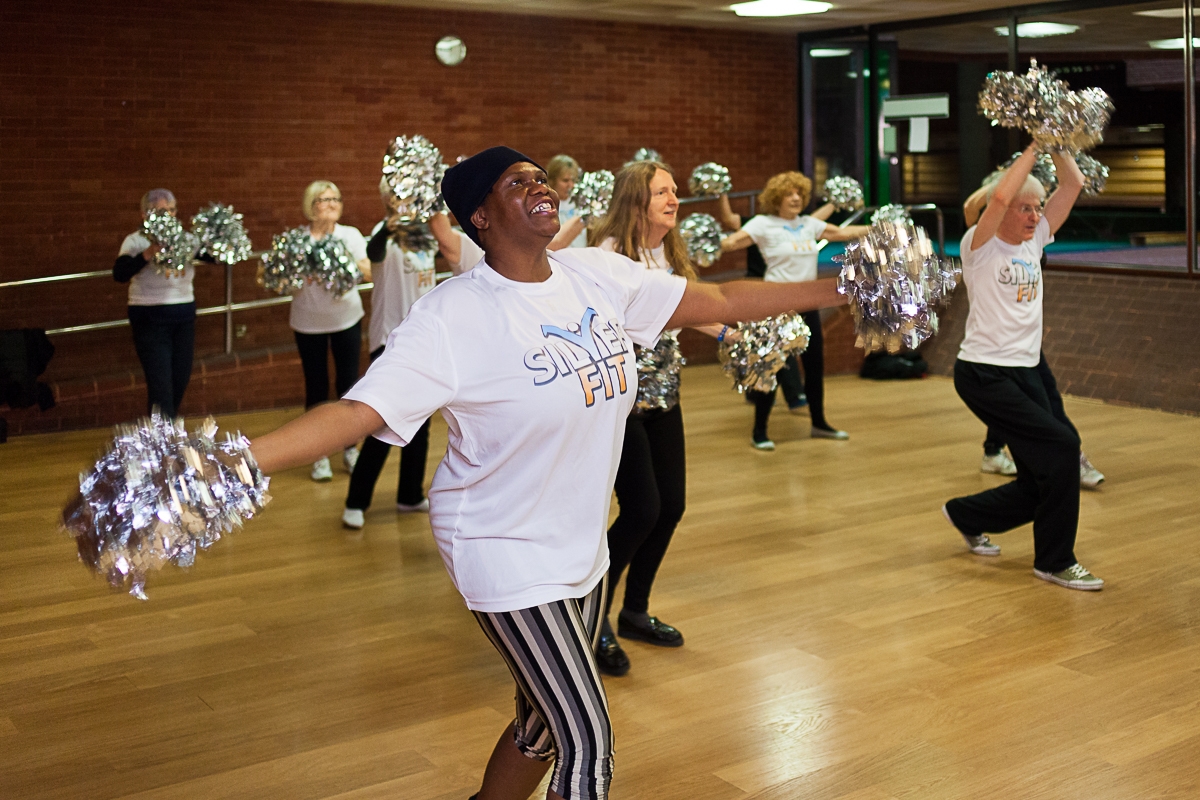 Image credit: ©SusanneHakuba
Eddie tells me how important it is for fitness instructors to use the time before a session starts to get to know people, check health records, and create a social environment.
In view of the upcoming Mental Health Awareness Week, Eddie discusses how Silverfit sessions really help individuals to open up and talk freely about their mental health.
"What's really interesting are those people who come to Silverfit and, at the beginning, they say they haven't got a mental health problem. When they grow in confidence, or when they go to another venue, or a year later, or when they fill in another health form, they feel able to talk about their mental health. I suppose they feel safer," explains Eddie.
She continues, "I would say around 13% of people say they have some form of mental health problem – whether it's anxiety or depression, or another mental illness. You can almost certainly know that they will visit their GP for back pain – these are the people who are frequently going to their GP, but they are going for other reasons and struggle to talk about their mental health. I think fitness instructors need to be aware of what might really be going on. We have quite a few people with dementia who attend our sessions and last week we experienced a death within the group. It's been quite profound for all of the members at that particular venue. You then suddenly realise what the instructor has created and it's a family."
When Eddie and the Silverfit team are assessing a new venue, they consider what the social opportunities are. They ask questions such as: Can we make a cup of coffee here or will there be a café offering? Then it's about looking at the activity. Nordic walking has become very popular because it's outdoors, in the fresh air. Interestingly, Eddie tells me that the numbers don't actually drop off in winter at all.
Well, what an incredible woman. This won't be the last we hear of Eddie and we can't wait to see her next fitness quest! Explore Silverfit's offerings and learn more here: silverfit.org.uk/silver-sessions-2/
 If you enjoyed the piece, and we hope you did, we will be exploring this topic in greater detail in the Autumn issue of Fitpro magazine. The article will hear from more case studies, and FitPro will be heading down to experience a Silverfit session and hear from Eddie's regular participants. If you would like to be involved with the piece, or know someone who would, email us at: publish@fitpro.com
Reference:
<1> https://www.ukactive.com/blog/can-physical-activity-tackle-the-uks-loneliness-crisis/
Not a member and would like to receive the print magazine? Sign up today for extensive features on a number of health and fitness topics: fitpro.com/magazine
Where next? Read our previous news story on this topic HERE