When Callum Fairhurst's brother Liam was diagnosed with cancer at the age of 10,  Liam was determined not to feel sorry for himself and wanted to help others. Following his brother's death, Callum was determined to continue his brother's fundraising by cycling the world in his memory. Olivia Hubbard finds out more about Callum's remarkable story.
Olivia Hubbard: Your journey was astonishing – all 18,000 miles of it. Did you predict you would make it this far?
Callum Fairhurst: I guess setting out on the journey there was some part of me that expected to go so far, but I had never really thought about how unbelievable that journey would be. I never predicted how many wonderful people I would meet and how many memories and experiences I would gain.

THE JOURNEY:
OH: Can you share your brother's vision and his inspiring outlook on life?
CF: Liam was (although, of course, I am biased) the most incredible person to have ever lived. He was diagnosed with cancer aged 10 in 2005. A year later, his cancer spread to his lungs and Liam's diagnosis was classed as terminal, being given just weeks left to live. One wouldn't exactly blame Liam if he chose to give up – but he didn't. He decided not just to fight but to support others while doing so. He was responsible for raising £340,000 directly and a further £7 million by heading a campaign. Sadly, Liam passed away aged just 14 on 30 June 2009. But, in those four years, he achieved more than many of us will in our lifetime. No matter what he went through, he would always have a positive outlook and brought many days of happiness and inspiration to the lives of so many who met him and he continues to be a source of inspiration.
OH: What made you decide on a cycle challenge at just seventeen years old?
CF: Cycling just clicked with me. In the past, I've completed a couple of smaller cycling challenges – my first being a relay journey of JOGLE when I was 13. But this doesn't make me a cyclist. Before the world cycle, I don't think I had ever cycled further than 60 miles in a day; even on the rare occasion I did this it would have been on a light carbon bike and not a 70kg touring cycle. I was totally unprepared. To me, cycling allows you to see more than running as it's quicker but, at the same time, it is slower than being in a car so you can still take in your surroundings; that's why, for me, it was the perfect way to see the world.
"Travis Eddie works for sportswear company Blackchrome. Travis kindly popped round and gave me lots of kit to try – and whatever fitted, I could keep. The stuff I was trying wasn't any bog-standard sportswear either; it was comfy and extremely high quality. For once, I actually looked like a proper cyclist."
OH: How did your fitness ability and personal strength develop throughout the journey?
CF: I have seen my stamina improve greatly and I'm much more able to cycle for a longer time. It's also changed my mental ability – I'm much more willing to take on a challenge!
OH: How did you devise your training structure? 
CF: If I am being honest, I didn't train enough. I mostly trained en route, building up mileage as the days went on. With a ride so big, most training just had to be on the journey. My body grew in strength and stamina very quickly, which was lucky. I had some support from a local gym, Atrium Club, who offered a lot of help; in hindsight, though, I should have spent more time with them. I only spent about three weeks actually training. At the time, my A-level exams were taking much of my week – then suddenly I was in Australia peddling away!
OH: While on the journey, how were your days devised in terms of miles on and off the bike?
CF: I'm not sure exactly. There were one or two occasions when I was on my bike for over a month without a break; I tried to have at least a day off every couple of weeks but it didn't always work like  this. I averaged about 80 miles a day, although this greatly varied on many factors: weather, terrain, mood and, most importantly, whether I had a head wind – the nightmare of any cyclist!
OH: Can you tell me about your support team for the cycle challenge and the people you met on your ride?
CF: I had no support team. There wasn't a car around the corner and there wasn't someone in the country. In all but two countries I was by myself. In Australia, my friend Vicky joined me and, in India, another friend, Rod, came to support – importantly, they were both on bikes too. A support team was too expensive and it would have taken away the real adventure of being by myself. I also didn't have a coach but what I did have was the amazing support of hundreds of people across the globe. Many people gave me scare stories of how individuals in poor areas would try to mug me or in cities I would be stabbed. But I've finished with no stab wounds and the only thing that was stolen from me was a pair of sunglasses in my bag at the airport. People either didn't care that I was on a bike and continued their normal lives or were so excited and wanted to welcome me into their country. On countless occasions people took me in to their homes, gave me food, showed me local sights (desolate clean beaches, temples, etc.) and made me feel at home. There are some definite stories that stand out to me and a number of random acts of kindness. I'm currently writing a book and I'll be including them all then!
OH: Could you tell me about your nutrition and your food intake throughout the challenge?
CF: There was sadly no dietitian involved. If there was one thing I would go back and change, it would be this. The lack of training actually made everything more fun but your diet on a challenge of length is hugely important. I had read a few different articles before I left and met a number of people en route who gave me tips. My diet varied from country to country. It was much easier in western countries to get the right intakes but I tried to eat a LOT of peanuts throughout the day wherever I was. For me, peanuts worked best. I would try to eat as much as possible throughout the day, too. I was burning thousands upon thousands of calories daily, so I needed to make that up. In the middle of the ride I turned vegetarian – which is never a good move – and my weight dropped to nine stone and I was feeling extremely weak. I decided to continue eating meat until the end of the journey, so my weight went back up again.
OH: Describe the worst riding conditions you experienced.
CF: Any kind of head wind was the worst riding condition; unfortunately, this happened all too often. The worst was in Italy. I was crossing east to west and slap bang in the middle of the country was a very high, very mountainous area. The wind obviously picked up as I was getting higher and higher; at some points, I was literally stopped and I couldn't bike through the wind, only getting some respite if a lorry passed. This was also one of the worst days of the entire trip; the head wind turned into a cross wind as I climbed up the mountain and nearly pushed me off the side of a massive drop where there were no barriers!
OH: What was your favourite song to unwind to after being on the bike?
CF: Oh, there are too many! I usually used music to do the opposite and get me going on the bike! But some of the highlights were Kanye West (to get me up a hill), Adele (who doesn't like Adele?) and some varied mixes ranging from Elvis and Ed Sheeran to The Rolling Stones and Pink Floyd.
OH: What injuries did you get while cycling? What recovery techniques did you use?
CF: I was lucky enough to stay with some wonderful families on this trip. I was put in touch with the Cassidys by a lovely lady named Lizzie Duckworth, who also put me in touch with two amazing families in Cambodia and Thailand. I met the Cassidys in Auckland and Nicola was actually a Pilates instructor – she taught me a whole host of stretches to prevent damage and also to ease pain after the ride. I sustained a couple of injuries while cycling but nothing too monumental. I had to stop hard physical exercise for a little while but started cycling properly again in June.
OH: What did former PM David Cameron have to say about your cycle?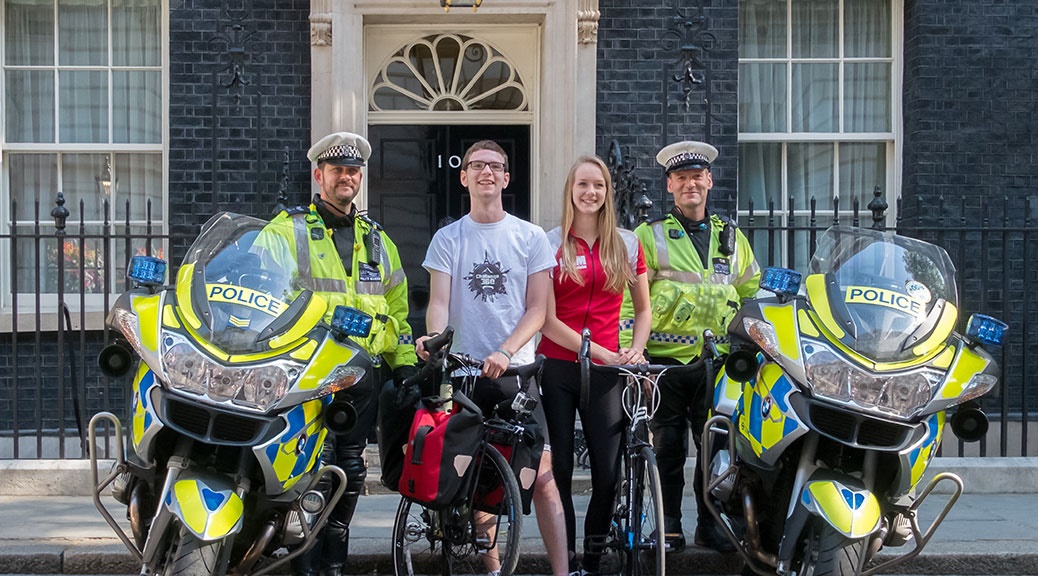 CF: Starting from 10 Downing Street last year was amazing and having the support of the Prime Minister at this time gave an extra element to it all. We discussed the route, the journey itself and the inspiration behind it.
OH: What did you do when you got home?
CF: I've actually started a job. I had a week or two off but now I'm in London – a completely different experience to biking every day. I'm also heading to university in late September.
So how long did it all take?
Callum set off on 10 July 2015 from Downing Street and then flew to Sydney to properly start biking on 17 July. Callum's journey took nine months in total.
So far, Callum has raised over £22,000 from the world cycle. To help him reach his £100,000 target, you can donate to the Liam Fairhurst Foundation here: justgiving.com/fundraising/WorldCycle
To see more of Callum's images and highlights from the trip, visit his blog here: challenge360.org/author/callumfairhurst/