March is Ovarian Cancer Awareness Month. FitPro highlights what PTs can do over the next few weeks to raise awareness and pivotal funds for this worthwhile charity through Box2Beat Cancer events.
The charity: Ovarian Cancer Action
In the UK, a woman dies from ovarian cancer every two hours. Ovarian Cancer Action strives to stop women dying from the disease by funding world-class scientific research leading to breakthrough treatments. Since 2006, the charity has invested over £6m in research to combat the disease. Ovarian Cancer Action campaigns to ensure women and healthcare providers know the risk factors, symptoms and treatment options to enable informed and rapid action.
As this month is Ovarian Cancer Awareness Month, Ovarian Cancer Action is doing exactly that – taking action by raising pivotal funds to win the fight against cancer. So, how exactly is the charity going to achieve this? Well, by calling on all personal trainers and Boxercise instructors throughout the UK to organise a sponsored three-hour Boxercise class. Intrigued? It doesn't stop there. This event gives personal trainers the perfect opportunity to not only promote their business but to also build a solid client base. You'll also play a key role to help reach the company's target of £25,000.
Why we need YOU to get involved
Ovarian cancer is the UK's most deadly gynaecological disease, yet symptom awareness is poor and diagnosis is often too late for treatment to be effective. Today, a woman diagnosed with ovarian cancer has only a 46% chance of being alive in five years' time.
It is estimated that fewer than 10% of women in the UK know the symptoms of ovarian cancer, yet we know that early diagnosis can drastically improve a woman's chances of surviving the disease. During March, Ovarian Cancer Action will raise awareness of the disease and its symptoms via press, television and radio to women and GPs throughout the UK in an effort to increase earlier diagnosis.
When YOU can get involved
Box2Beat events are arranged throughout the year; however, with March now upon us, let's do something utterly brilliant and raise the profile of this extremely worthwhile charity. Let's raise the profile of this disease and make an impact.
Katherine Taylor, acting chief executive of Ovarian Cancer Action, says, "We are delighted with the response to our latest fundraising campaign Box2Beat Cancer. Every penny raised from the Box2Beat Cancer events being held throughout the UK will help to fund life-saving scientific research and national symptoms awareness campaigns. On behalf of all staff and scientists at Ovarian Cancer Action, we would like to thank all those organising or taking part in a Box2Beat Cancer event – let's fight the good fight."
Upfront: PT and group X instructor Vicki Lawrence to host event
FitPro: Why did you agree to host your own Box2Beat Cancer event?
Vicki Lawrence: I'm always looking for ways to combine fitness and raising money for a good cause and have completed various charity races in the past, as well as hosting my own dance fitness events.
When Andy Wake of Boxercise asked instructors to get involved with Box2Beat Cancer, I thought it sounded right up my street. It should be a really fun day, and I think it's great that we're all raising awareness of ovarian cancer throughout March.
FP: Can you tell us a little bit about your event (i.e., location, number of participants)?
VL: I'm holding my event at a local primary school in Bournemouth on Saturday 28 March and I'm also selling raffle tickets. I've donated a personal training session myself and some free classes and I've also managed to secure some family tickets to local attractions, beauty treatments, free meals and more! I'm hoping to get between 20 and 30 people signed up on the day. We've still got places left that need filling though. For more information, visit fitnessquest.co.uk
FP: How much do you hope to raise from your Box2Beat Cancer event?
VL: I'm hoping we'll be able to raise £1,000. Tickets have been sold for £15 for the three hours and each participant has an optional fundraising target of £35. We're still a way off that target but it's early days and I like a good challenge.
FP: How have you devised your class session structure?
VL: We'll have a cardiovascular warm-up and circuit stations to ensure ALL muscle groups are used. Depending on how many people attend the circuits, it will involve a small group of people at each station doing exercises that are also popular throughout the boxing community, such as skipping, burpees, press-ups, kettlebells and lots of core work; some also have a boxing-style tweak to them. I always offer varying levels of each exercise to my class to make sure that everyone taking part gets a workout that suits their own fitness level.
During the Boxercise technique part of the session I'll be coaching the correct technique for punching and holding focus pads. I'll be getting people to pair up and work together, swapping over to ensure they both get an equal workout.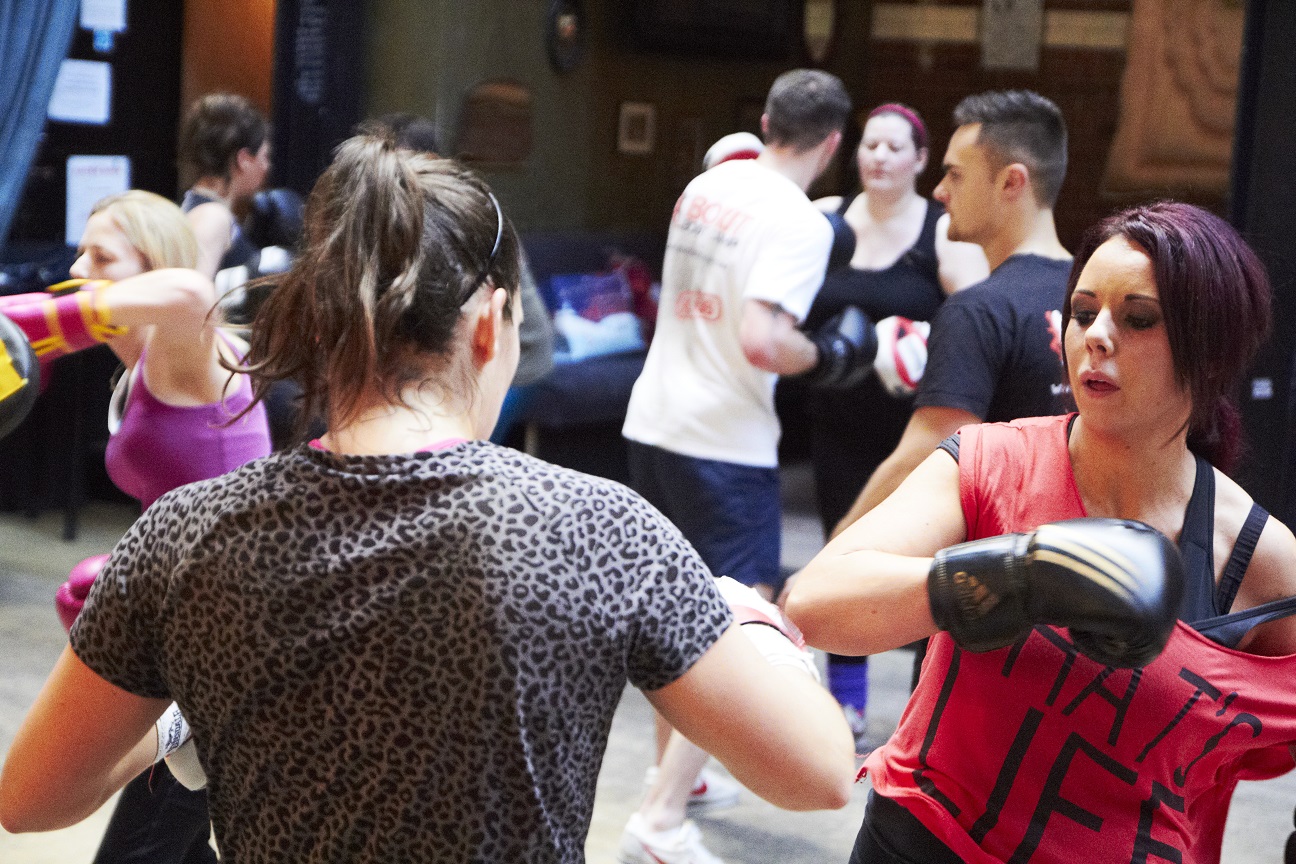 We'll then move on to doing some basic combos, putting the punches together before having a break. After the break, we'll be re-warming and doing some fun team challenges. I've got a few up my sleeve to choose from but they really help to get the group smiling and interacting with each other. Then we'll do a stretch and cool-down.
At each Boxercise class I run, I like to make sure every muscle group is used, as well as adding in some explosive cardiovascular work too, which has really helped all of my clients see a reduction in their body fat and stress levels, and an increase in their fitness, along with their strength and love for Boxercise.
Rosie Parsons to host event  
"There will be a two-hour class starting at 10am, led by four qualified instructors: Nora, Daryl, Rosie and Jim!" says Rosie Parsons, a Boxercise and KickBoxercise fitness instructor. "The event will be held at the Cornbow Hall, 10 Hagley Street, Halesowen, B63 3AF. We are hoping for upwards of 50 participants, with a target of at least £1,000!
Registration is £10 and participants are asked to encourage people to sponsor them to raise extra money.
"There are great prizes to be won," enthuses Parsons, "from six-month memberships to Halesowen Leisure Centre, to a sports massage from Pincher Fitness, to a set of pads and gloves from Farabi Sports and vouchers for the Bangla Lounge. Boxercise will also give a free pair of boxing gloves to the highest fundraiser!"
When asked why she wished to become involved in the event, Parsons responds, "I have seen young women with young families suffer and die from this disease but I also know some who have survived and are living rich and full lives. By raising money and awareness, I hope this will help more women to beat this cancer and live to inspire others."
Boxercise defined
"Boxercise incorporates both the aerobic and anaerobic energy systems," begins Becky Beasley, a lecturer in sport and public service at Sussex Downs College and advanced Boxercise instructor in Eastbourne, East Sussex.
"Boxercise provides a diverse workout while enhancing an array of sports-specific skills, including co-ordination, power, speed, strength, balance and reaction time," she continues. "The three-hour Box2Beat Cancer event will encompass a variety of delivery methods, including circuit-based, coaching and beasting (they love it really!) while imparting knowledge on a range of techniques from KickBoxercise, Kids' Boxercise and Boxercise PT. In addition, as an advanced instructor, I'll be able to provide a speed-pad section for those wishing to try more complex combinations. The session will ensure correct technique is of paramount importance, while providing fun and progression for the diverse range of fitness levels and experience levels within the group. Participant feedback will be periodic and will take a variety of forms, including visual, verbal and kinaesthetic, so as to ensure all learning styles are catered for and confidence is instilled in participants when delivering the range of techniques."
She concludes, "I am exceptionally proud to be part of Boxercise and supporting Ovarian Cancer Action. This incredible charity deserves considerable recognition and acknowledgement for the endless work they do. Our 30 Box2Beat Cancer team participants have been determined to raise funds for this exceptional charity; three of the participants have personal family experience of this form of cancer, so it highlights how anyone can be affected and how we must work collectively to raise awareness and support of the charity's pivotal work."
Why Boxercise?
Managing director of Boxercise Andy Wake says, "The exercises will be HIIT-style padwork, incorporating boot camp-style drills to challenge the participants. Some classes will involve circuits too; that will vary according to the instructor but the classes will be fun-filled and feature prizes will be donated by Boxercise for the highest fundraising participants."
He concludes, "The reason we're involved [is that] I was asked by Emily Legg if Ovarian Cancer Action could use our logo to promote the events as it's a registered trademark. My wife is a cancer survivor and I thought 'Let's go one better and get the Boxercise instructors behind it!' Through our private Facebook group they have been exchanging ideas and encouraging each other in a manner that really makes me proud. I hope we raise enough money to make a small difference to the lives of those affected by ovarian cancer."
Find out more
For more information, visit ovarian.org.uk or call 020 7380 1742.
To order a FREE Box2Beat Cancer event organiser's pack visit ovarian.org.uk/box2beatcancer