As cycling continues to be one of the fastest-growing sports in the UK, Olivia Hubbard explores the rising success of Wattbike. 
Pedal power
It's certainly been a dynamic time for cycling – pedal power indeed for the vast array of indoor cycle studios that have not only encouraged more individuals to get on a bike but have also helped individuals monitor their progression; as way of example, Wattbike gives riders the ability to measure their progress in real time. Of course, the indoor pedal craze hasn't only just boomed. We have to turn our attention to Jonny Goldberg, who came to the United States from South Africa and was said to have coined the term 'spinning' in 1979. Alongside cyclist John Baudhuin, he created a bike that incorporated the ergonomics and geometry of a racing bike and, in just three years, the pair had produced an impressive 150 bikes, as well as lasting terminology. Nowadays, when we think 'indoor cycle', we could imagine everything from aquAllure's 2013 launch of its first pool biking class to shake up London to Wattbike itself, with its innovative performance computers that enable the accurate measurement of over 40 performance parameters. Wattbike is said to have obtained the status of 'bike of choice for elite athletes'.
In the search to utilise technology to maximise training benefits, it's little wonder there has been such a high demand for Wattbike, with operators such as Virgin Active and Nuffield Health leading the way.
Managing director of Wattbike John Wilson has commented on the increased popularity, saying, "The health and fitness industry's reaction to Wattbike in recent years has been nothing short of phenomenal.

"We're seeing a real hunger from the large operators, club managers and personal trainers in having the Wattbike on the gym floor and in studios."
By way of design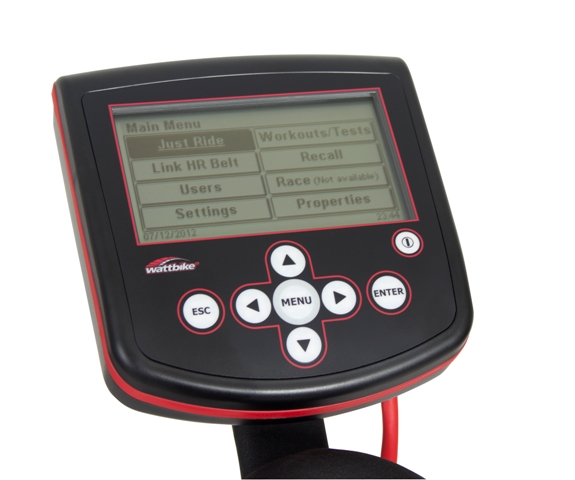 As well as providing riders with a performance monitor that displays a wide range of fitness parameters, such as heart rate and power in real time, the Wattbike comes with its own software called Power Cycling, which enables clubs to easily set up their own classes, helping to calculate the correct zone for the cyclist – so you could have Bradley Wiggins pedalling hard at one end of the room and a complete novice who has fled from the office in a bid to tone up before a summer holiday at the other. So, back to Power Cycling and what gets the tick is that health clubs can develop exciting classes based on each individual's physiology.
At the FIBO trade show, Wattbike will launch its new digital platform (powerHub) and App (Power App), which is said to allow users to seamlessly upload and share their workout data. So, for all you PTs out there, you can accurately measure the progress of clients.
The customer shout out 
Watch Let's Talk Wattbike, which gives a great intro to what the bike has to offer, as well as comment from the likes of Joanna Rowsell (Olympic and world champion, and Wattbike ambassador) and industry bods such as Andy Birch (Virgin Active), Michelle Dand (David Lloyd), Rich Crawford (Nuffield Health) and Rob Beale (Aspria).
 Wattbike chosen for rugby strength 
With the Six Nations underway and the Rugby World Cup just around the corner, Wattbike is strengthening its relationship with the RFU by introducing Leicester Tigers' and England forward Tom Youngs as an ambassador.

"The Wattbike has been instrumental in helping me through my rehabilitation and preparation for major events," Youngs explains. "The incredible level of accuracy and measurability means I can always train in the correct 'zones' and assess my progress over a long period of time.
"The bike has really improved my power output, a key factor in rugby, and will form a key piece of training kit in my preparations for this year; in fact, the whole team will be using them in the warm-ups and recovery sessions."
As part of the continued agreement, England Rugby will take delivery of 30 bikes across a three-year period. The Wattbike has formed a crucial part of the elite England Rugby strength and conditioning training programme, with players using the bike for rehabilitation, recovery and key aerobic and anaerobic training.
England's forwards coach Graham Rowntree says, "The Wattbike does so much more than any other training tool; its accuracy, reliability and consistency in regards to training data are all extremely specific, which is great for sport-specific training and making comparisons between the team.
"It's you versus the numbers and you can't hide. For rugby, the game is all about repeat power outputs and holding that until the last minute of a game, so the Wattbike is brilliant in that regard."
Wattbike's commercial director Richard Baker adds, "We're delighted to be working with Tom, particularly at such an important time for England rugby. Tom is a great fit for Wattbike; his approach to training and the game are the perfect fit for us."
View Wattbike products here
To read up on just some of the cycle classes on offer across London, click here to discover FitPro's reviews of the fastest rides in town.