Are you or your clients looking to add to your challenge portfolio? Here, Olivia Hubbard talks to triathlon coaches about how to improve swim technique.
Triathlon has seen a significant growth in Britain since it first came to this country in 1983. The Triathlon Industry Association says there are around 150,000 committed active racing triathletes in the UK, and Sport England reckons that approximately 200,000 people took part in a triathlon in the UK in the last year. When it comes to opportunity, there is said to be an average of 26 events taking place each week. <1>
While in the Lake District, FitPro cheered on participants competing in the annual and notorious Hellevyn Triathlon, which involves a one-mile swim, 38-mile cycle and nine-mile fell run. This race is far from the ordinary; two individuals were said to have died in separate incidents back in 2008. The challenge of triathlon and how far these race goers were prepared to push their bodies became apparent in those fleeting moments as a spectator. Yet, triathlon isn't just for seasoned athletes; there is an extensive community out there targeted at beginners.
"The great thing about triathlon is that it is very much about pushing yourself and breaking your own limits," begins triathlon coach John Wood (Tri Coaching). "Triathlons start at super sprint distance, with anything from a 200m pool swim, 5-10km on the bike and 2km of running (which you can walk!), all the way up to an Ironman distance of 2.4-mile swim, 112-mile cycle and finishing with a marathon run." For a novice to the triathlon scene, you're advised to start at either a super sprint or sprint triathlon and, according to Wood, "Three to four hours of training per week would be fine." This would allow for one session of each discipline and some strength work on the side – helping with speed, endurance and injury prevention.
Relatively new to the beginner triathlon scene is The Hitchin Triathlon in Hertfordshire (2017). You won't find open water to plunge into here as the sprint distance event comprises an outdoor 400m pool swim (eight lengths), a 20km bike section and a 5km run. "From all of the people at the race, we think about 50% are beginners as the distance is perfect for those wanting to do a triathlon for the first time," says event organiser Jake Amos. Take Mike Jones, who is already an avid park runner, "For several years I have enjoyed 5km runs and an annual 10km, so my friends and I jumped at the chance to give the local tri a go. I knew I could do the 20km cycle justice and my 5km run is pretty decent. My only real concern was the swim, as I can't really do front crawl, and the combination of all three was a concern by only having 30 seconds to go between pedals to running." For two months leading up to the event, Jones and a group of friends did a dress rehearsal that comprised a 20km cycle, followed by a 5km run every Tuesday evening. He tells me that he found the transitions really challenging to begin with. He would then do a solo swim on the Wednesday morning and a slow 10km on the Thursday, followed by his usual park run on the Saturday. Determined not to swim front crawl, Jones ended up completing the swim in breaststroke in just under 11 minutes, and he was so keen to get running that he forgot to remove his cycling cleats.
So, for those not wanting to submerge into the darkness just yet, look out for pool swim options when searching.
Triathlon transition
British age group triathlete for Team GB and Level 2 triathlon coach, Chris Stanton, conquered his first triathlon in Dorset by participating in the 'Mad March' event. "It was super cold and I had a retro steel bike," Stanton reminisces. Compared to sports such as tennis and rugby, Stanton is of the belief that the injury risk is lower with triathlons because you aren't 'over stressing' the same movement. It would seem that, if you're not a fan of the front crawl, it isn't the end of the world. "If you want to swim breaststroke, then go for it; Adam Peaty swims faster breaststroke than I can swim front crawl, and a pool-based triathlon takes away the anxiety of an open water swim."
Stanton's advice for conquering the transitions would be:
Make sure you are familiar with the transition area
Purposefully go through T1 (swim to bike) and T2 (bike to run), making notes and visualising your route
Practise your transitions before race day from taking your helmet on and off, to mounting and dismounting your bike – don't leave it until the day before
Use elastic laces in running shoes
Be happy with your strategy; don't worry about what everyone else is doing – as you learn, you can implement faster and more effective strategies
Choose the right gear on the bike
Stanton now represents Team GB for his age group. So how did he monitor his progression? He began training with power zones based on his personal ability on the bike, which he claims transformed his results. "I scale each workout based on a percentage of my average power over a 20-minute test." Stanton also has an objective for each session. "After the age group world championships, where I finished 16th, I was curious as to why there was a significant gap between athletes around the 10/11-minute mark in a sprint triathlon swim. I discovered that the likely cause was a technical deficiency. I spent last winter enhancing my technique and stroke and it has really paid off. There must be a balance between technique and swim-specific fitness. This would be my biggest piece of advice to a beginner – work on your swim technique before anything else."
Swim to victory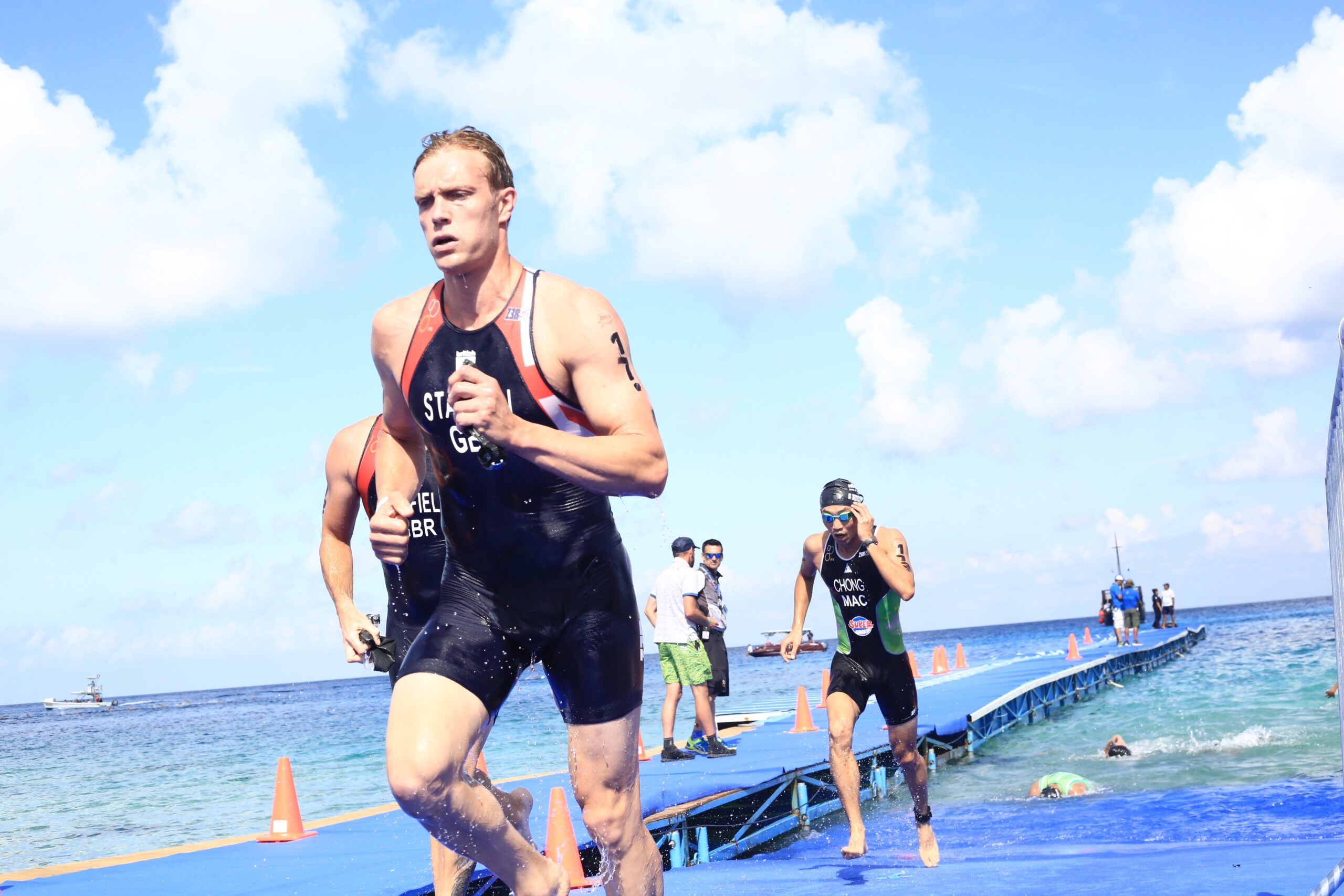 Flapping arms, panic in the open water, and ineffective kicking; the swim element is probably the major deterrent in triathlon participation. John Wood gets his swimmers to practise streamlined push-offs. These are essentially like squat jumps with arms overhead (hands one on top of the other if mobility allows), focusing on good posture. "Keeping your core engaged, and spine and neck neutral, helps keep you higher up in the water (therefore less resistance) so your swimming becomes faster. 'Catch up' is a useful drill to give your swimming rhythm and control. Start with both arms out front, take one stroke with your left arm, and when your left hand reaches its starting point again, do the same with your right hand. This will help aid symmetry and balance," says Wood.
Wood's top tips are:
Stand tall in the water – good posture will help keep your hips higher, meaning less resistance and a more efficient swim action, making it easier to breathe
Look downwards rather than forwards – this will help with your body positioning
Work on trying to propel your body forwards rather than trying to stay afloat – this will help you stay calm and make the most efficient use of your energy
A frequent request from new clients attending sessions at swim school Swimming Nature is to work on breathing technique. "One of the most common habits that I see in adults is lifting their chin too much when going for breath. This lifts the whole upper body out of the water and lowers the legs, making the body a lot less hydrodynamic and thus using more energy than necessary," recalls swim instructor Scott Findlay. He continues, "Not breathing enough bubbles under the water is another bad habit I often see. This means that when you're coming up for breath, you are trying to breathe out and then in. This results in swimmers not getting enough breath in, and stopping. Some swimmers will even roll on to their backs to give themselves longer to take a breath, which completely interrupts the flow of normal front crawl."
It doesn't stop there on the bad habits front. Slapping hands against the water is another common habit. Swimmers are advised to think about the direction they want to travel, as the water should be pulled backwards rather than pushed down. Also, too much kick will result in becoming tired, and too little kick will lead to sinking hips. Sinking hips will mean your body is sitting lower in the water and thus makes it harder to pull yourself through the water.
Findlay's top tips are:
New open water swimmers should practise in a shallow lake or in the sea
Master breathing to the front so you can see where you're going; breathe from the front and the side (two times from the side and one from the front)
A tucked chin helps align the body and stops unnecessary drag – practise with a plastic ball under the chin and try swimming a few lengths
You don't have to swim front crawl; some swimmers may do part of the distance front crawl and the other doing breaststroke
All the gear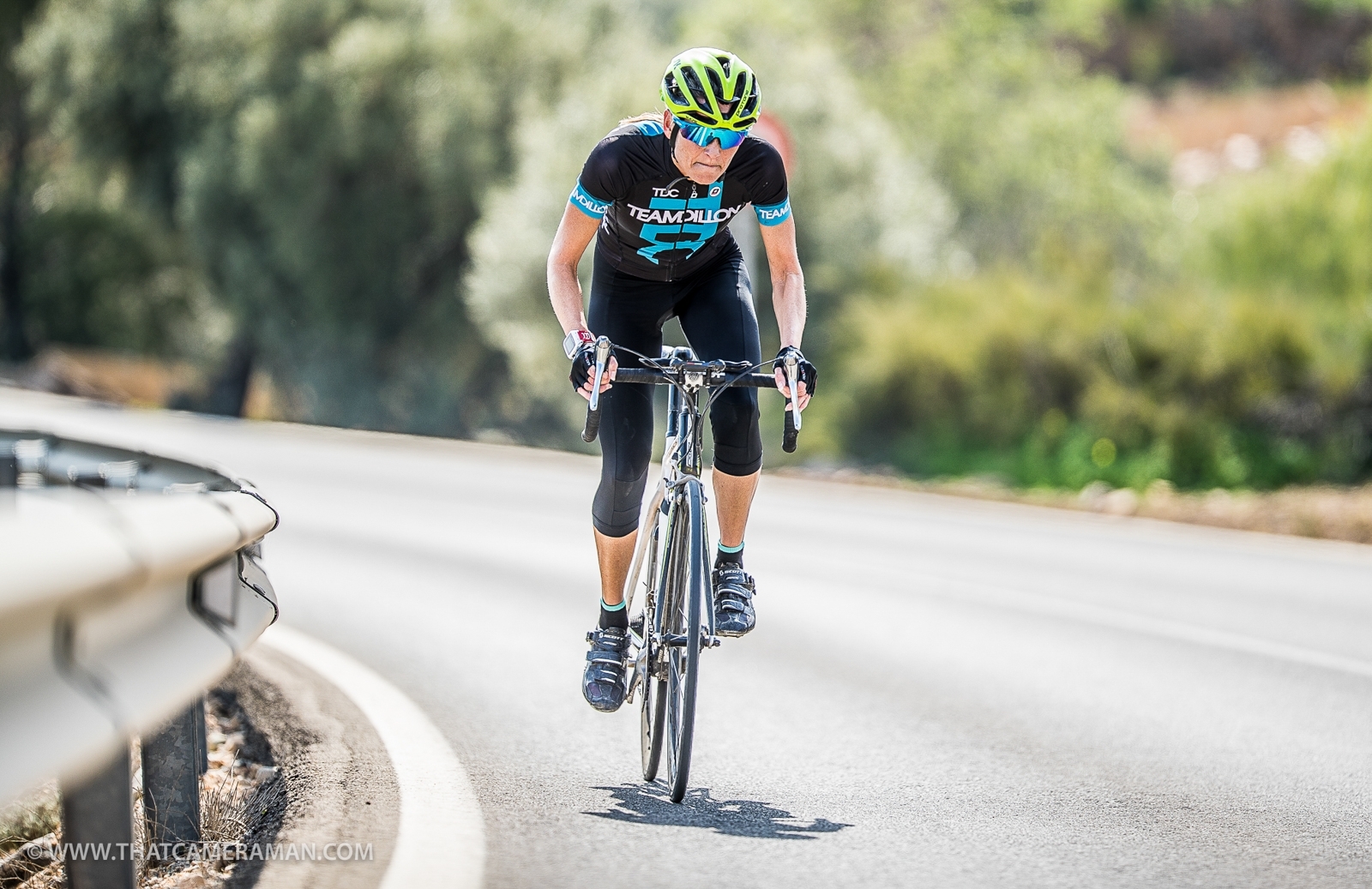 "Most people seem to think that triathlon is a super-expensive sport but it doesn't have to be," says Wood. "A large number of people do their first triathlon with borrowed kit. I would invest in a well-fitting wetsuit though; I'm a massive fan of Blueseventy wetsuits (I race in the Helix). They are quick drying so there is no need to change kit between stages." When it comes to trainers, he comments, "I own six pairs. I feel fastest in my adidas Boosts and most comfortable in my On Cloud running shoes."
If you're looking at completing a race in Europe over the winter, Olympian Stuart Hayes recommends investing in a turbo trainer (something that you put your road bike on for static indoor bike training). His basic essentials include a wetsuit, hat, goggles, swimming costume, pull buoy, paddles, road bike, shoes with cleats, helmet, watch and Hoka running shoes.
There are many brands out there emerging on the triathlon scene. Chris Stanton particularly likes 2XU and his wetsuit comes from Sailfish. For the all-important transition bag, he opts for one by brand ZONE 3.
When it came to kit for beginner triathlete Mike Jones, he spent around £50 on a tri suit and an adjustable belt for his race number (wiggle.com). He also spent £250 on a service for his road bike – but tells us, "That needed doing anyway."
We hope this short introductory article has encouraged you to research further into the triathlon race scene. Before you do that though, John Wood provides some parting words of advice, "Any training you do doesn't have to be all at one pace or effort; the best fitness gains come from varying effort and distance."
Further reading and resources
British Triathlon has links to all local clubs in the area: britishtriathlon.org
Race Check offers a service where people can review races, so you can search for events based on distance, location or date: racecheck.com
A suggested first event by triathlon coach John Wood is at Burnham-on-Sea (bospool.com)  and if you want something more challenging, visit 113events.com
TriHard offers an array of event listings: trihard.co.uk
Swimming Nature is a dedicated triathlon swim-coaching service based in London and Edinburgh:
TriTalk is a forum offering the latest triathlon news: tritalk.co.uk
Tri Coaching with John Wood (tri-coaching.co.uk) and Team Dillon Coaching with Olympian Stuart Hayes and his team: teamdilloncoaching.com
Swim Smooth offers swimming coaching services with animations to help with technique: swimsmooth.com
Triathlon coach Chris Stanton's book Swim, Bike, Run, Ready details conditioning sessions that target movement training in all planes and directions for three-dimensional strength
If you are about to take on a triathlon challenge and are currently training, we would love to hear from you. Whatever your ability level, get in touch with us and have your training journey shared: publish@fitpro.com
Where next?  Read out Dani Welter's training for multiple challenge HERE
Reference
https://www.britishtriathlon.org/media/statistics, accessed on 27 November 2017.