This week, Jack is joined by physiotherapist Jane Johnson to discuss her book, Therapeutic Stretching.
As an experienced personal trainer, author and business owner, Jane is a woman with many strings to her bow. She is currently completing her PhD, a three-year degree course funded by The Royal College of Chiropractors and Teesside University, to develop an app to aid in treating people with back and neck pain. As well as this, she runs practical professional development workshops covering all things physiotherapy. She speaks with us about her book Therapeutic Stretching.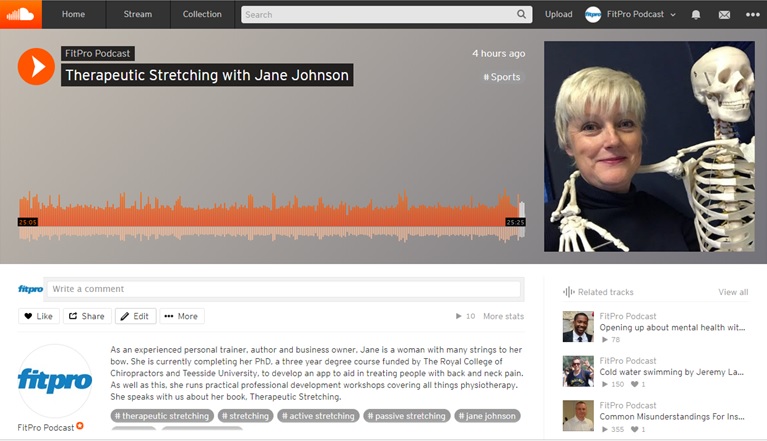 In our chat, Jane covers the meaning of therapeutic stretching. It's something you'll have heard of – and there's a decent chance that you're already using it in some capacity with your clients – but Jane explains the most effective ways you can prescribe stretches for your clients.
Active and passive stretching are the different modes of stretching, and here Jane gives some practical examples of how to prescribe active stretches for your clients, which you can begin using straightaway. Likewise, she lays out the things to avoid – or that your clients should be avoiding – with regards to stretching.
Looking at injuries, specifically sprains and strains, you'll learn about the similarities they share when being treated through therapeutic stretching. Plus, Jane explains the simplest ways to help a bad back, with a rundown of kyphotic posture (she also promised that I pronounced this correctly).
If you are interested in learning more, be sure to have a look out for Jane's books. They can all be found on the Human Kinetics website. Likewise, if you love hearing Jane talking all things stretching, then head over to her Facebook page to be the first to see all of her professional development workshops.
If you can't get enough of the FitPro podcasts, listen to our last one, here.