So many of us are curious how to perfect this Pilates move or even how to get started… Check out what Pilates Instructor Alex from Ten Health & Fitness has to share about 'Rolling Like A Ball' in this FitPro Masterclass.
In our masterclasses we look to take a dive deep into a particular move – let us know what you'd like us to explore next.
How about checking out Ten Health and Fitness' Dynamic Bodyweight Pilates online education?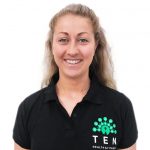 Having discovered Pilates more than 15 years ago, Alex Wachter credits her energy, recovery and injury-free lifestyle to Pilates. She practises Pilates not only because of how it can change your body, but also how it can change your mindset. Alex started her Pilates training in 2016 and is qualified the full gamut of Pilates equipment, including Cadillac, Chair, Barrel and Spine corrector. Passionate about developing her knowledge in order help people live a healthier and happier life, she is currently undertaking her Masters in Osteopathic Medicine.