How do you stay energised and healthy when busy supporting others? A plan to put yourself first is the answer, and no that's not selfish, as Jodi Montlake explains.
I've thought about this a lot recently and I think the best way to answer the question on how to build energy and thrive is first by reflecting on a time in your life when you had an abundance of both. If you consider what things were helping you and where you went wrong, this can be a great starting point in creating a plan to stay on top.
At what age did you feel your fittest?
The truth for me is I'm feeling my fittest right NOW and that's awesome since I'm aged 46 (don't bring up perimenopause!). I joined the fitness industry many moons ago, when I was 24. Tips will come later on about how I've made this happen. But first an explanation of where it all went wrong.
Can you relate? There were several years after having my two children where I continued to teach others Pilates and personal training. I felt burnt out, fatigued and suffered from headaches. There was little to zero consistency for my own workouts (other than walking and an occasional spot of tennis). In my spare time, I ate super quickly, not always wholesome. I wasn't managing my stress nor sleep levels well. Despite my physical, mental and emotional wellbeing falling into decline, I soldiered on teaching in Pilates studios and gym classes, and scheduled time for PTs. My family needed my income, plus I thought it would do me good to spend time away from home. Wouldn't it be beneficial to have work as a different focus? Good for my mental health, right? I thought about my clients, my family but not me!
I couldn't be more wrong about work …
When at home doing family and household chores, most evenings I crashed on the sofa, part way through a programme (much to my husband's annoyance), before 9.30pm. The rest of the night's sleep was neither quality nor quantity. Poor routines from a baby and toddler joining my bed made the habit of a full night's rest a challenge. Anxiety consumed me if there was a mess around the home. I couldn't properly relax, even when given the opportunity. To sum it up, I didn't feel good on the inside. I gained weight. I didn't feel energised or at the peak of good health. Not ideal for someone as a representative in fitness.
It was suggested to me to take some 'time out' from the work. With my husband saying that's OK, I was relieved – as long as it was just a few weeks/maybe months to consider what I should do next. Nervous to do this at first, I didn't want to let my wonderful clients down, some I had been seeing for over 10 years. I was scared to put more pressure on my husband financially, but I did it.
I've never been someone who likes to sit around for long. I always prefer a plan. However, a little space (more than a holiday), allowed me to reflect on what I needed most. Some time to do my own exercise. Time to earn some money, ideally while working from home, sitting on a chair. I didn't think I could do both but, after I learned some marketing and admin skills and gained confidence, I got jobs working remotely (pre-pandemic) for SMEs.
Life improved with less stress as I coped better with a busy schedule. I found time to work on my own health. I attended fitness and nutrition workshops, and sometimes I was fortunate to go on the odd wellbeing retreat. Working with enthusiasm on building new health skills (all the things I used to do when first training and newly qualified), I was invigorated. Eager to learn with more education on food, I enrolled on a health coaching course with The College of Naturopathic Medicine. I studied nutrition for everyday living, how the body works, fitness and coaching. I was the first client to benefit from all of this! Passionate about health and wellbeing again, I felt amazing and my body blossomed to be slimmer, stronger and firmer. The missing piece of my jigsaw puzzle was empowering others to achieve this too. Lesson learnt, this time I would coach without putting myself at the bottom of my to-do list.
In 2020, at a friend's 40th birthday party (outdoors in the pub, permitted to socialise again), I bumped into a childhood friend who I hadn't seen for years. She was a bundle of energy, her eyes were sparkling and I'd never seen her look so beautiful. I asked her what she'd been doing. She said she'd used lockdown to prioritise 'me time'. She ate healthier, started strength training and did lots more walking. I thought that was wonderful. I reflected on my own similar, yet different health journey. It was that conversation that triggered me to return to working in the wellness field again.
Putting yourself first
My health coaching business WE GOT THIS supports adults who want to improve their health or prevent disease and the symptoms of ageing. I use the WE GOT THIS app to deliver education, support, motivation and daily accountability on all things like obesity and weight gain, diabetes, hormonal issues, sleep and stress problems. Group and one-to-one programmes all benefit with information on nutrition, exercise, lifestyle and habit forming. I still get a good element of time working at a desk, as well as meeting clients in-person to provide consultations, Pilates or PT sessions. The balance is much better for me to work in this format, as I now have the time and energy to also prioritise myself and practise what I preach!
What a typical working day looks like to keep me healthy and energised
I start the day with no mobile. Just quiet moments, a glass of water, outdoors with the dogs in the garden to look at the sky and breathe. #mindfulness
At the moment, I'm enjoying a savoury breakfast. This includes plenty of fibre (colourful vegetables), nuts and seeds, a clean protein (organic eggs, chickpeas, smoked salmon or tahini). I also have a glass of water and a cup (or two) of English breakfast tea. #healthybreakfast
I put on my activewear (which was laid out the night before) and get ready to leave the house and take the children to school. #prepiskeytogoodhealth
I check overnight and morning messages from clients (often sharing their meals and workouts) and respond on the WE GOT THIS app.
I go on a dog walk, sometimes with a friend, or listen to a podcast anywhere between 20-90 minutes depending on the day. #outdoors #vitd #cardio #stressrelief #metime
I return home to work (or occasionally a coffee shop) coaching clients with their food, fitness, sleep and stress concerns. I love to sit on a Sissel Sit-Fit to keep my upper back, neck and hips mobile while at the desk. I also set 40-minute timers for a five-minute walk, Pilates exercises and water breaks to keep my body feeling great. #goodposture #painrelief #keepactive
I never miss lunch – it makes me hangry and lunch stops me snacking on chocolate or drinking coffee later. I enjoy a big salad or stir fry with some meat or fish, beans and fruit for a dessert. I love diversity in my diet to keep a healthy gut microbiome and it keeps food interesting. #healthylunch
Post lunch, I may go on a small dog walk or take a 10-20-minute nap. My superpower is I've learnt how to sleep any time, any place and anywhere. This is an amazing life skill I gained when pregnant with my first child. #qualitysleep #goodenergy #productivity
In the afternoon, I'm back at my desk or at an in-person coaching consultation. I enjoy seeing the children briefly after their school day over a cup of tea, nuts and dark chocolate or Greek yoghurt. Then it's back to work, planning more programme cards for the app. #healthysnacking
Early evenings, I switch between resistance training at home, sometimes at the gym, playing tennis at the club or in team matches or having rest days with nothing. #strengthtraining #tennis #restdays
I have dinner around 7.30-8pm with the family, unless it's Wednesday and that's date night out with my husband. We have no tech at the table. Easy wins for all are roasted fish or chicken, curries, noodles, stews and soups. I need to get better at batch cooking and freezing. I tend to do this with soup but nothing else. #healthyfamilydinners
Finally, I take an evening short stroll with the dogs and have a herbal tea while watching something on the telly. I love an epsom salt bath, listening to a true crime podcast with my husband and being cosy in my bed by 10pm. #healthyeveningrituals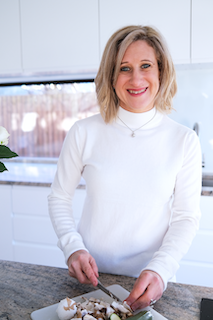 Jodi Montlake is a health coach, Pilates instructor and personal trainer. She has worked in the fitness industry since 2001 and currently supports, educates and offers accountability to any adult who wants to make a change to their health and wellbeing. Her specialities include obesity, weight management, menopause and preventative or managing chronic disease. All areas focus on nutrition, exercise and lifestyle habits. She is a coach and founder of the health business WE GOT THIS. Follow Jodi on INSTA @wegotthis.coach