As we look ahead to our first ever FitPro LIVE Workshop Series set to tour the country in 2016, leading educator and Workshop Series presenter Jenny Burrell tells us why pregnant and postnatal clients are less of a niche than you may think and how powerful getting educated in this field can be.
With over 800,000 live births in the UK every year and around 80% of women becoming mothers globally, the chances are that, whether you've planned to or not, you've already touched the world of ante-/postnatal fitness programming by default if you've been working with female clients. Although considered a 'special population', ironically, being pregnant or postnatal is more the norm than a rarity and many women will go through the pregnancy to postnatal continuum several times in their lifetime. However, many fitness professionals still consider this client population to be more challenging than, say, the typical fat-loss or hypertrophy client. I beg to differ and, indeed, hope to show you why this client population might just be a niche right under your nose.
The world of programming for the pregnant and postnatal client has, thankfully, been transformed over the last decade into an exciting, future-facing and massively rewarding niche in which there is no shortage of clients if you truly create a service that speaks to and serves the deep needs of women.
Why pre- and postnatal education is so powerful for you and your business
There's a shortage of professionals
There is absolutely no shortage of clients but an extreme shortage of passionate, well-educated professionals.
You could play a huge role in your clients' healing recovery plan
Out of nearly one million live births in the UK each year, practically none of these women will have had an in-depth postnatal physical assessment before their return to exercise. In over a decade and a half of serving this population, I can literally count on both hands the number of women who have arrived for their fitness initial screening having been checked for diastasis recti or given clear direction on correct pelvic floor activation, never mind been checked for an optimal breathing strategy at their six-to-eight week postnatal check. So, in real terms, we have women returning to the gym and other exercise scenarios not having been pre-screened or assessed as to their level of recovery or their core or global functionality before putting their body through loading exercise that could not only retard their recovery but actually, in the case of issues such as diastasis recti and pelvic organ prolapse, could make the situation worse with life-long repercussions. Ultimately, if you as a fitness professional are the next wellness professional this woman sees after her GP, there is a HUGE role for you to play in providing a specialist, supportive, well-informed and healing recovery plan.
3. You can empower women to keep moving as nature intended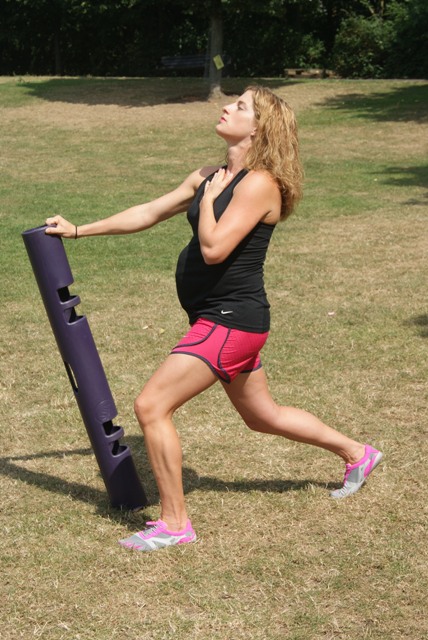 For many years, this area of pregnancy fitness throughout the trimesters has had a poor focus on functionality and been ridden with fear and a long list of don'ts. Within the fitness industry, there has been a huge emphasis on 'what not to do', potential for harm and the 'dangers' of working with this population, which has ultimately led many fitness professionals to programme and practise without a deeper appreciation of the massive potential for creating meaningful exercise prescription that's fit for purpose, functional, integrated, modern, gets results, creates happy, strong mums and, overall, empowers women to keep moving as nature intended. Most women want to keep active but need to feel safe and supported. They desperately need and want clear advice and education about movement in pregnancy and their return to postnatal exercise. But, again, good information and help is hard to find amid a sea of Dr Google and YouTube 'Mummy Blogger Experts'. Look around your gym: have you noticed how few fit pros are truly specialists in serving the pregnant woman? The chances are, there are one or two in a facility where women make up more than 50% of the entire membership! Is this the niche you've been waiting for?
There are women out there who want help but don't know where to turn
If you check out Google Trends and enter the words diastasis recti and pelvic floor to see how many women search for these two phrases on a daily basis, you'll be astounded. Women are more attuned to their well-being than ever before; they are more likely to speak up and seek help when 'things don't feel right' post-birth but where's the help? Before returning to ANY exercise programme, these women need help with understanding where they are regarding their core function and what exercise, if appropriate, they need for their level of recovery. They need help in connecting to and ensuring they support their healing diastasis and pelvic floor. Then, when they are ready to move, our role is to scale and progress their return to advanced levels of fitness by providing integrated functional programming using many of the functional tools we use with the general population with intelligent modifications bespoke to their level of recovery.
These are the most results-driven clients you'll encounter
If you are results-driven as a fit pro, then this client population is most definitely for you. Pregnant and postnatal women are some of the most highly motivated clients you will ever meet. Their adherence to prescription at this time in their life is brilliant and, whether you're preparing a pregnant mum for an 'active' birth or guiding a postnatal woman to core restoration and the strength that allows her to enjoy her new baby feeling fit and energetic, you'll get a huge sense of satisfaction from seeing your clients transform in relatively short periods of time.
The workshop
As fitness professionals, we're all surrounded by functional exercise kit but, when the client is either pregnant or postnatal, many of us draw a blank and revert to the Swiss ball, static or seated work, which is most probably down-training the average busy mum or mum-to-be. Mums squat, lunge, push, pull, bend over, rotate and balance all day long and so, for their exercise prescription to be functional and to actually prepare them for the lives they actually live, our programming needs to include these fundamental movements.
After over a decade and a half's journey in the fitness industry, which started with my membership of FitPro and my first attendance at FitPro Convention (now FitPro LIVE), I am beyond proud and honoured to be partnering with FitPro on a new series of country-wide educational events, where I'll present Adapting Modern Functional Fitness Tools for the Pregnant and Postnatal Client, a one-day live workshop packed with brand-new content exclusively created for the FitPro LIVE Workshop Series. The workshop will explore and explode a few myths around how you programme for functionality during the ante-/postnatal period using the kit we have around us all day long. Because, in truth, with a little planning and a lot of skill, most items of gym equipment and kit can be adapted for the ante-/postnatal population but, to have this confidence, your foundation education on the 'conditions' of these life phases needs to be strong and firmly in place.
You'll come away from this education full of passion for programming for pregnant and postnatal clients and armed with leading-edge pre-screening, assessment and programming skills to help you achieve the results your clients want – and so much more! We'll use functional equipment such as Bulgarian bags, kettlebells, battling ropes and ViPR and will focus on key areas, such as pre-screening, programming for function, Modern Movement-based Pelvic Floor Exercise©, the prenatal Crunchless Core©, integrated stretching protocols using dynamic integrated movement, and putting it all together to create interesting, fun, safe, effective and time-efficient programmes for the pregnant woman throughout the trimesters and to aid postnatal recovery.
For the past eight years, Burrell Education has been at the forefront of modernising the education available to fitness professionals to help them truly take their place among the healthcare team for pregnant and postnatal women through innovative, problem-solving education that will inspire you as a professional and will delight one of the most prolific yet under-served populations. You will love this education and so will your clients!
About the author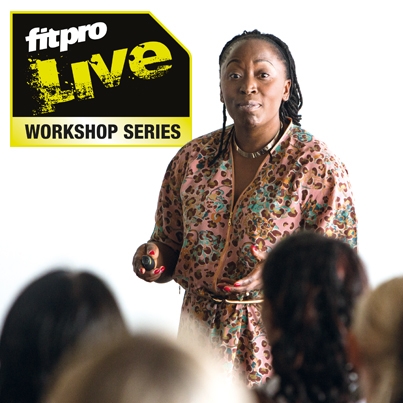 Jenny Burrell is head of Burrell Education and the UK's leading provider of fitness education for this population. She is the UK's only REPs-endorsed licensed education provider and CYQ-approved fitness education provider dedicated solely to this population. All attendees to the FitPro LIVE Workshop Series will receive a discount code for either the Burrell Education Advanced Pregnancy or Advanced Postnatal online global certification.