<top image credit: Daniel Varga>
Want to join a running club in 2018? Check out these crews – each with an intriguing twist.
Cani-Fit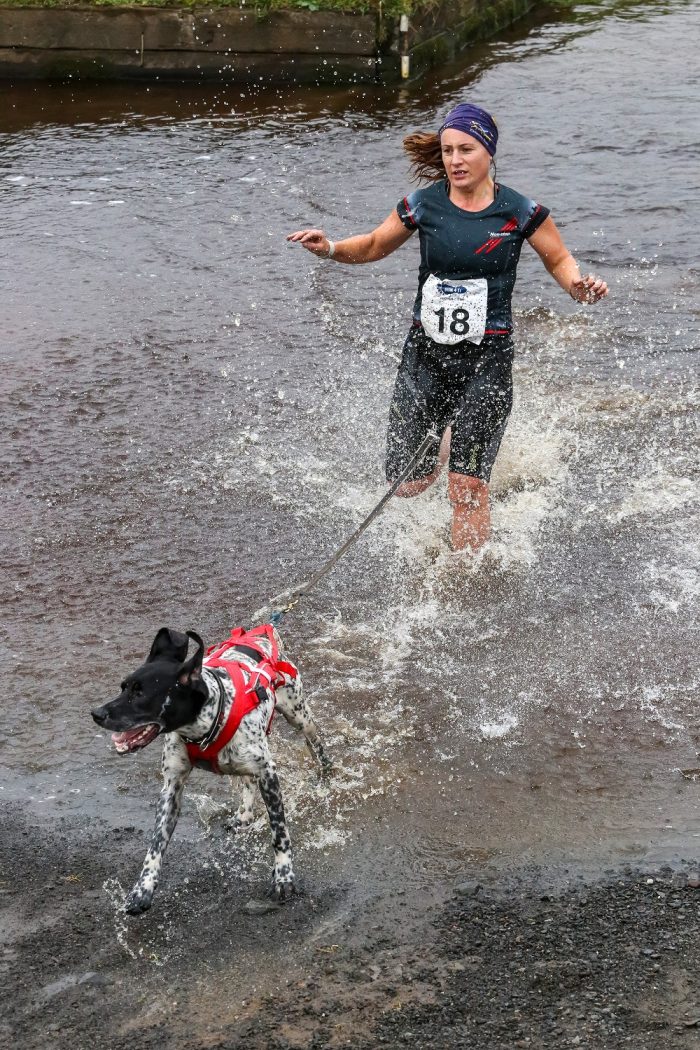 Kicking off our pick of running clubs is: Canicross is trail running with your dog; the dog's harness is attached to the runner's belt by a bungee line. At Cani-Fit in Ayrshire there are three class levels, from power walking to running 5km in under 30mins. Lindsay Johnson says, "People become hooked, as trail running is easy on joints but fantastic for fitness and strength. Most of all, they see how much enjoyment their dog gets out of it. You become in tune with your dogs; I rarely have to direct some of my dogs now – they just know what I'm thinking. We encourage every-day dog owners – with breeds of all shapes and sizes – to get fit and have fun with their dog." cani-fit.com
<above image credit: Kenny Girvan>
A Mile in Her Shoes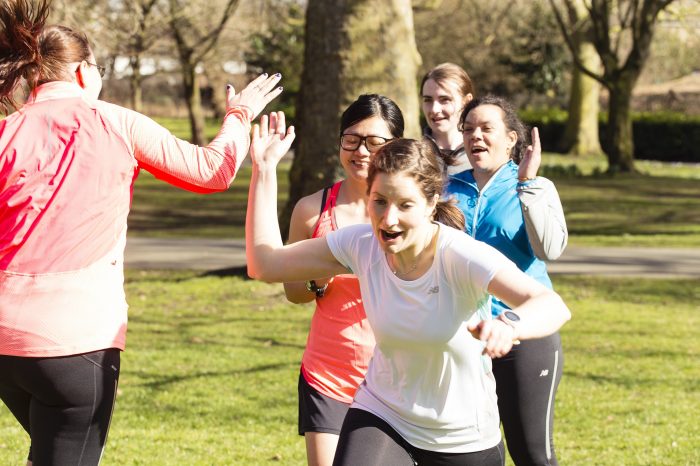 <photo credit: A Mile in her shoes/New Balance>
At A Mile in Her Shoes, the team encourages "women who may have been affected by issues related to homelessness to experience running as a way of exercising, socialising, boosting confidence and raising self-esteem." The running sessions – currently in London but looking to expand – are led by female volunteers who lead mixed ability groups and are for all fitness levels, including beginners. The charity provides clothing and footwear – donated by other runners – and brand-new sports bras and socks for the runners to wear. Join as a volunteer and you may be working alongside Fitpro's very own editor, Olivia Hubbard, who recently signed up.  "I had a fantastic time at the volunteer open morning and got involved with a variety of running games – all focused on team work and having as much fun as possible. Women of all ages volunteer and, unlike other running clubs, it provides the fantastic opportunity to become a run leader and devise your very own session. I'm very excited to be getting involved with a charity that helps to empower women," says Olivia. amileinhershoes.org.uk
Midnight Runners
The Midnight Runners is a collective in London that invites you to "explore a different side of the city at night … lit by nothing but stars and streetlights, and soundtracked by sick beats and the pummelling of our feet on the tarmac". Each month, the crew organises a themed night-time run followed by a party. Co-founder Greg Drach says, "Midnight Runners will challenge everything you think you know about running. We are a group of like-minded fitness fanatics, adventurers and running aficionados who are as likely to be entering ourselves into a burpee competition as attacking our next marathon. We all have one thing in common though: we believe fitness should be fun, social and exciting." midnightrunners.com 
Still Waters Run Deep
This collective is a creative community and innovative running crew based in the heart of Manchester. Their aim is to provide an exciting alternative to traditional running clubs, driven by the sights and sounds of the exciting Manchester landscape. They focus "on the pursuit of visually inspiring destinations and influential landmarks … and offer a unique and safe environment for all fitness abilities to explore the city streets, moving from spot to spot, and finding new ways to interact with our surroundings through fitness." stillwatersrundeepmcr.tumblr.com
Run Dem Crew, London
Formed in 2007 by DJ, poet and writer Charlie Dark as an alternative to traditional running clubs, Run Dem Crew has grown into a multi-faceted organisation with over 500 members. They say they are "committed to change and the upliftment of the next generation", mentoring young people across London and giving them the chance to explore London "in a safe, positive and supportive environment". With different groups, from the Tortoise to Elite, there's a group to suit all runners.