Looking for delicious Christmas recipes? How about chocolate brownie to see your guests through Christmas Day? Or a tasty and comforting Boxing Day hotpot to help you recover from the festivities? FitPro's resident dietitian Linia Patel serves up dark chocolate brownies and chicken, kale and butterbean hotpot, both warming Christmas recipes to power you through the festive season.
Dark chocolate Christmas Day brownies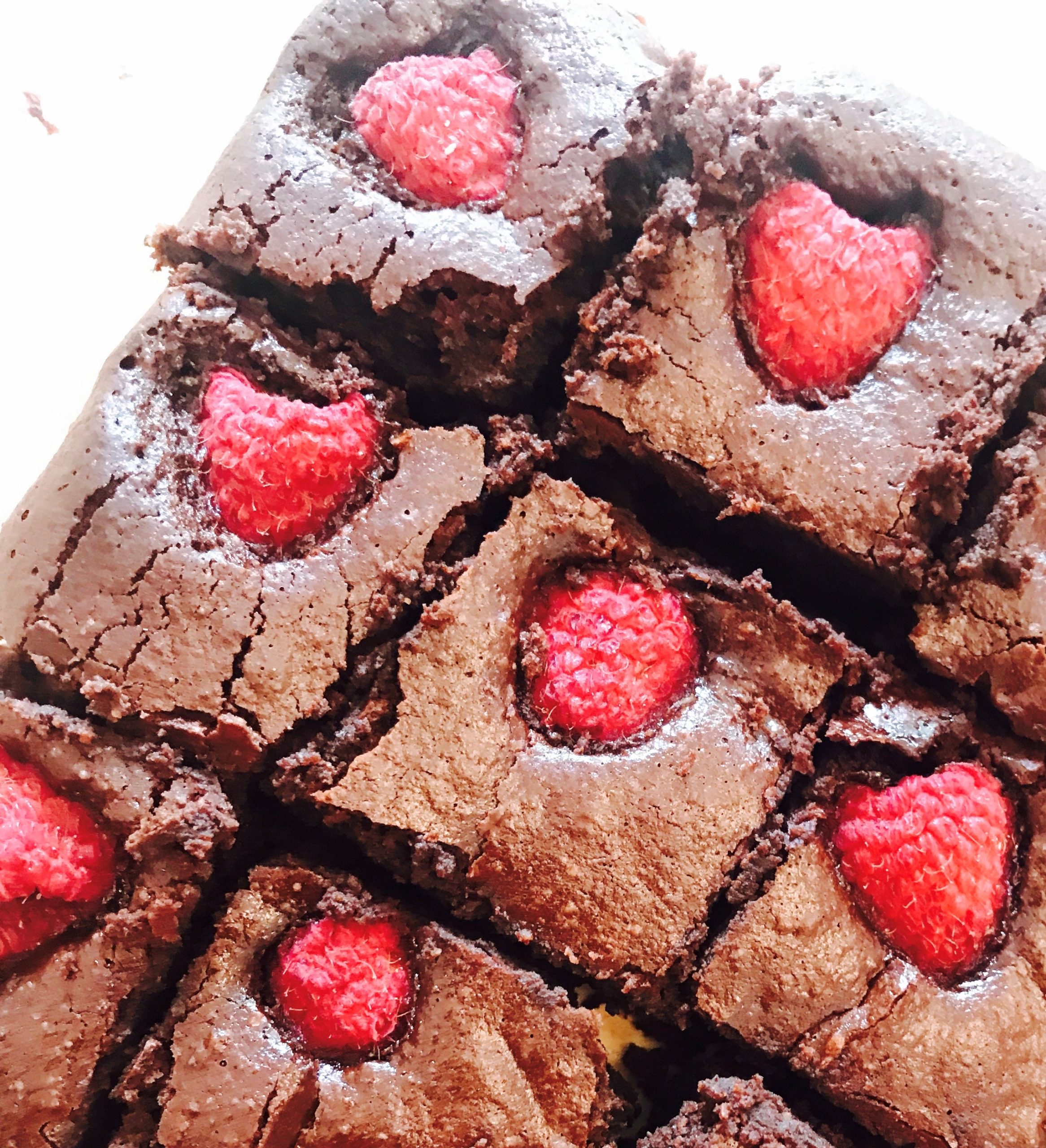 Using ground almonds instead of flour, this Christmas recipe is one of the simplest, tastiest, gloriously gooey chocolate brownie recipes ever! Being gluten-free doesn't make it healthy though … but life is about all things in moderation, so enjoy this treat.
Makes 20 / 197 calories per serving
Total time: 50 minutes
Ingredients
• 75g butter
• 250g dark chocolate (70% cocoa solids) broken into chunks
• 15g cocoa powder
• 100g ground almonds
• 250g caster sugar
• 2 tsp vanilla essence
• 4 large eggs
• 100g fresh raspberries
Method
1. Preheat the oven to 180°C/160°C Fan/Gas mark 4
2. Lightly grease and line an 8" (approx. 20cm) square tin
3. Melt the chocolate and butter in a large pan over a low heat, stirring occasionally
4. Take off the heat and add in the cocoa powder, vanilla and sugar, and mix well
5. Next, whisk in the eggs, one at a time, then stir in the ground almonds
6. Scrape into the prepared tin and smooth out
7. Press the raspberries gently on top of the mixture
8. Bake for 25-30mins or until firm to touch
9. Leave in the tin to cool completely then cut into squares
Nutritional information
Nutrient Per (51g) serving Per 100g
Calories (kcal) 197 386
Protein/g 3.9 7.6
Fat/g 12.2 24
Of which saturated fat/g 5.7 11.2
Carbohydrate/g 16.5 32.4
Of which sugar/g 16.9 33.2
Salt/g 0.12 0.23
Sodium equivalent/mg 48 92
Fibre/g 2.4 4.8
Chicken, kale and butterbean Boxing Day hotpot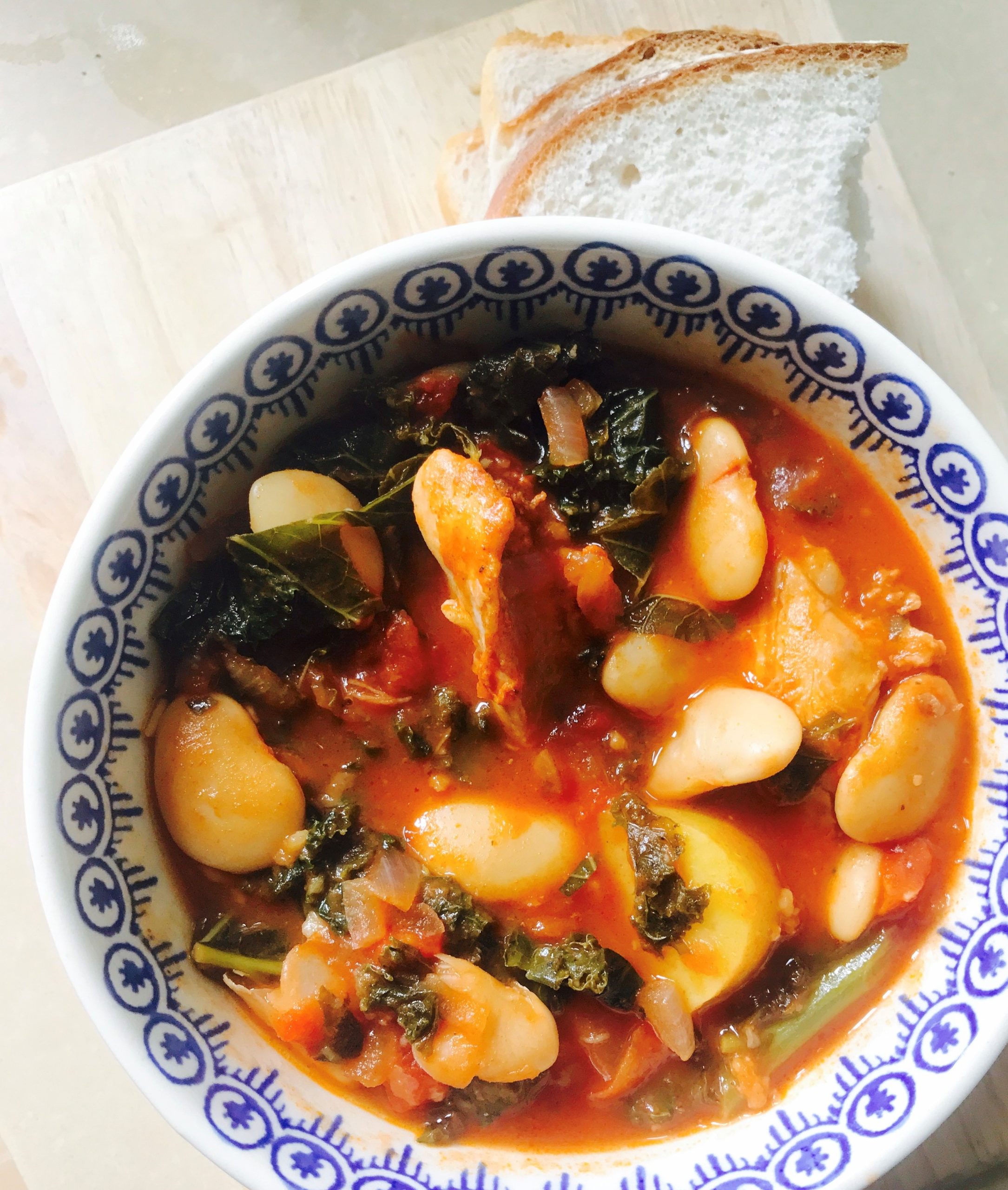 This tasty and comforting hotpot is a balanced bowl of goodness. It's also a great family meal that ensures you get some of your five-a-day in a Christmas recipe everyone will love.
Serves 4 / 338 calories per serving
Total time: 45 minutes
Ingredients
• 600g chicken thighs, diced
• 1 can of butterbeans (or your favourite beans), drained and rinsed
• 1 medium red onion, chopped
• 1 tbsp extra virgin olive oil
• 2 cloves of garlic, crushed
• 400g chopped tomatoes
• 250ml chicken stock
• 3 tsp smoked paprika
• Salt and pepper to taste
• 100g chopped kale
• Crusty bread or brown rice to serve – optional
Method
1. Sprinkle 1 tsp of smoked paprika on the chicken thighs
2. Mix in and season with salt and pepper if desired
3. Heat the oil in a shallow casserole dish over a medium heat
4. Add the chicken thighs and cook for a couple of minutes on each side, until browned
5. Remove from the pan and set aside in a bowl
6. Add the onions to the pan and cook on a low heat for 5-6 minutes, until soft
7. Add the garlic and smoked paprika and cook for a further few minutes
8. Then add the beans, chopped tomatoes and chicken
9. Add the chicken stock and mix ingredients well in the pot
10. Cook for 10 minutes
11. Add the kale on top and put the lid on the pot and cook for a further 20 minutes
12. Nestle the kale into the sauce when cooked
13. Mix the hotpot with a large spoon to make sure all ingredients are mixed through
14. Serve piping hot with a crusty wholegrain roll or brown rice
Nutritional information
Nutrient Per (422g) serving Per 100g
(without bread or rice) (without bread or rice)
Calories (kcal) 338 80
Protein/g 43 10.1
Fat/g 8 1.9
Of which saturated fat/g 1.6 0.37
Carbohydrate/g 19.6 4.6
Of which sugar/g 7.3 1.7
Salt/g 1.4 0.33
Sodium equivalent/mg 560 132
Fibre/g 6.9 1.6
About Linia Patel
Linia Patel has a BSc degree in biochemistry and physiology. Since graduating in 2006, Linia has taken up
various leading roles in performance nutrition and public health. liniapatel.com