Having the ability to keep going when confronted with the unimaginable is far from easy. Olivia Hubbard talks to personal trainer Mary Huckle and discovers how fitness empowered her to fight back against breast cancer.
"She's doing really well," says Mary Huckle over the phone. "We're doing quite short sessions." Mary tells me her client has MS and then I hear it – the passion for what she does. A passion we hope all personal trainers possess but we know not all do.
Since leaving school at 18, Mary had been working in banking and finance; however, in 2003, she was made redundant due to relocation. "I had always been into health and fitness," Mary tells me. "I thought this was a great opportunity to retrain and do something that I really enjoy anyway. I thought, 'I can do this'. After retraining as a fitness instructor with YMCA, Mary set up her own classes and began teaching circuits and legs, bums and tums in church halls initially before wanting to take it one step further."A year later, between 2004 and 2005, I retrained as a personal trainer. I thought it would add another string to my bow. Everything I had learned at YMCA really helped me in terms of marketing my brand. In total, it took around eight to nine months to complete all of the modules."
"A good start" is how Mary describes her initial training with YMCA – before then taking on pre- and postnatal fitness, as well as kids' fitness. The PT travelled to Brighton to complete the kids' fitness modules and her ambition and determination to work in this industry is evident. She wasn't an ex banker seeking a new hobby. Having set up after-school kids' classes at local schools, Mary became the go-to person for parents wanting to curb the inactivity of their children and she continued to build her pregnancy training alongside this. Reflecting on this time as "busy", Mary was filled with enjoyment and was "at the peak of my fitness". This was in 2007 and, that August, Mary was given news she just could not comprehend. "I was diagnosed with breast cancer – that put a real spanner in the works. I didn't fit the criteria for any of the risk factors. I didn't drink, smoke, it wasn't in the family and I wasn't overweight.
"I couldn't understand why. Why was this happening?"
As Mary recounts her story, I am struck by a rareity of strength that I can't relate to, only admire. Mary put her business on hold for a year and a half "because it wouldn't have been fair on my clients. I had to have surgery. I had a mastectomy and all my lymph nodes were taken out of my right-hand side, as well as my armpit. This basically debilitated me immediately. You can't even lift your arms off the bed when they take your lymph nodes out. I then had to have chemotherapy and started treatment the month after surgery. I had six months of intense chemotherapy.
"I would feel really, really bad and then, in weeks two and three, I would begin to feel better. But then in the third week I would be in for chemotherapy again. With eight cycles of treatment, I simply had to put my business on hold, which was the worst thing."
Looking forward
"I kept looking forward and thinking it was going to be over soon and that I will get stronger."
I am transfixed by Mary's words; some people come in from a bad day at work and fester in front of the television, while Mary was fighting cancer and was running, attending Zumba classes, Latin fusion, legs, bums and tums, and keeping her cardiovascular system strong.
As soon as chemotherapy had finished, Mary started to try and get her client base back. She tells me that she was "lucky" that the majority of her clients had "hung around". However, some couldn't wait, so Mary began getting the message out that she was back to work by getting her testimonials up to date on her website. Mary's fantastic website proved a reliable tool for recruiting new clients. "I was so focused on getting fit again. When you're going through breast cancer, having that focus is really good because you're always working towards something and I suppose because I always had it in me anyway, having been with clients trying to show them how to lose weight, it was a natural thing to me to have focus."
Power of Pilates
As soon as she felt well enough, Mary enrolled herself on a Pilates course at YMCA, where she learned STOTT Pilates. Her initial belief was that Pilates would be a good choice post treatment because it was "softer" than running and jumping around. She has now come to realise that Pilates is quite dynamic. "It was incredibly difficult at first because I was quite debilitated in my right-hand side, having had all the lymph nodes removed. It was such a great thing to do and really helped in my rehabilitation."
Post treatment, Mary became qualified to teach Pilates and channelled her focus on these classes and her one-to-one client sessions, many of whom were children. How does Mary keep clients coming back?
"For me, a real success story is when they're really thankful that I've helped them and given them the tools they need to go off and train alone. That, to me, is a real success story. It's all about mindset; I take clients out shopping to help get them off on the right footing. You've got to keep it real for people. As soon as you give them too much 'mumbo jumbo', they just switch off." 
Mary thinks it's amazing how people "just don't understand much about food" and describes their relationship with food as being "blinkered". Everything in moderation is what Mary tells her clients and she doesn't advocate diets. "It's all about portion control and for people to understand that they don't need so much food."
Breakthrough Runners
When social media came into play, it really was an entirely different ball game to reach out to new clients. Mary set up Breakthrough Runners (breakthroughfitness.info/running), which meets twice a week and provides the opportunity to run for busy mums with children, those who just want to have a go and run a 5K or those who want to push it a bit harder and enter a 10K Race for Life. But again, Mary keeps it real for people: "If someone can run 5km or run for an hour, that is a mega achievement."
……………………………………………………………………………
"You don't need to be able to run 13 miles or 26 miles: you have to get people in with baby steps and work upwards."
 …………………………………………………………………………..
Mary has been a media volunteer for Breast Cancer Now for quite a few years and has written exercise programmes, including running plans, which are featured on its website and in a book that comes out quarterly. The television advert was probably her "biggest" involvement.
"I think the ad is all about giving people hope. Hopefully, people will be inspired … aspired. The thing about breast cancer is that, whatever comes along, I don't let it get to the point that I'm like, 'That's it, I'm lying in bed'. I've also had the attitude of 'Come on, we can do this'. Whatever happens, you can pick yourself up again. Ever since being diagnosed, I have done talks in hospitals. I hope that my story has been inspiring. When I go to these talks, we're not talking about wigs, and we're not talking about horrible things that people normally talk about in support groups. We're actually talking in a way that gives people hope. I want people to come along and think, 'Well, if she can do it, I can'."
"I'm not scared"
Mary has a lot of clients who have had breast cancer and who have come to her Pilates classes. "It's a good thing," Mary says. "They're helping me; I'm helping them."
She adds, "When I was diagnosed, I said there must be something good that comes out of this. It cannot be all bad. I vowed to myself that I would try and help others as well. People find my website and they just call me, or tell me that they read my story in the newspaper and have kept hold of it for reference. I'm not scared to talk about my breast cancer, while a lot of people I know don't want to talk about it; they want to close that book and just forget about it. But, at the end of the day, you can't just forget about it. You can't. It's always there. We've got scars to prove it."
Present time
Mary has come to realise that it's not about helping a client to lose weight or change their diet. Working with teenagers with scoliosis, children with arthritis and clients with MS, you must dig deep within yourself. Mary's story doesn't come to an end there. She goes on to tell me about the rollercoaster of events that followed.
Mary had a second diagnosis in 2014 and has had two operations and more treatment. She has just finished five weeks of radiotherapy and still she continues to amaze by trying to keep her schedule going. "I feel a responsibility to my clients," she answers. Mary only missed two sessions during five weeks of treatment. But Mary doesn't want praise; she doesn't want a pat on the back: she's doing her job and she's exceptional at it. Where some would have admitted defeat, she didn't. Mary didn't want to think about cancer or mope around. She kept going. She kept going because that's just who she is and it was a privilege to talk to her.
To find out what you can do to ensure more women win the fight against breast cancer, visit the 'Get Involved' page at breastcancernow.org
Mary at FitPro LIVE 2016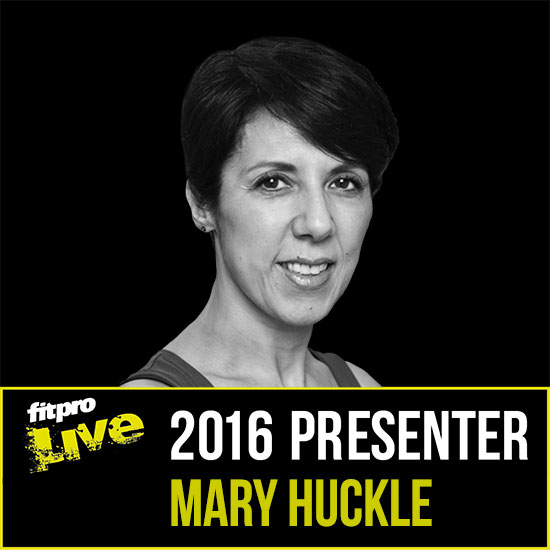 Mary will form part of the panel for the session:
Understanding the 'female factor'
In this panel, four remarkable women (Katie Bulmer-Cooke, Jacqueline Hooton, Mary Huckle and Karen Laing) share their stories and address how their experience can influence how PTs communicate to their female audience/clients more effectively. The panel will also assist the audience to better understand the female psyche and narrative. The session will close with an open Q&A.
To book your ticket to the UK and Europe's leading education event for fitness professionals, click here.