It was such a delight to chat to Laura Beckford – we truly get under-the-hood about what drives her passion to have created a Vogue recommended wellness powder. We review the product (and yes, you can grab 20% off), we chat about business and dig deeper into adaptogens.
Laura is the co-founder of Supernova Living alongside her husband Jermaine Beckford. Jermaine is a professional footballer in the UK. After becoming dissatisfied with the clubs protein powders, they started experimenting with organic vegan proteins and the results were immediate. No bloating or stomach aches without whey or casein. More energy and focus without the addition of artificial sugars and sweeteners. Quicker recovery and less fatigue or cramps.
The FitPro community can get 20% off Supernova Living until 31 January 2023 by using the unique code FITPRO20.
In our chat we discuss:
What adaptogens are in a nutshell and the uniquess of their wellness powder.
What drew Laura to start her own business and how it truly is a passion project.
The ongoing research of adaptogens.
Inspirations and what drives Laura.
How the business has changed since its creation and that they have learnt through this.
How her presenting career has helped – including some super helpful advice.
She gives some powerful advice for those of you starting out in business.
Key things she has learnt about herself.
Laura talk about working with her husband Jermaine and what they have learnt together about each other and business.
Don't forget to make the most of 20% off Supernova Living until 31 January 2023 by using the unique code FITPRO20.
Want to know more about adaptogens? Dr Linia Patel gives us the lowdown in her 'Understanding Adaptogens' blog.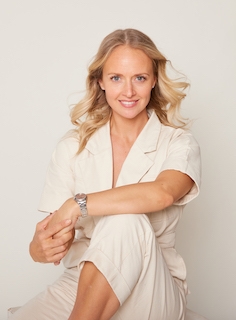 Co-Founder Laura Beckford, started her career at 13 as a TV presenter, moving to London at age 17 to take over from Fearne Cotton on GMTV's Diggit. After working on CITV, MTV and Sky One and releasing a single with Ben Ofoedu from Phats + Smalls, she started a specialist children's casting modelling agency, 'Ology Kids Casting'. With both of her parents vegetarian, her father a reiki master, aunt a Naturopathic Nutritionist, Laura has been surrounded by wellbeing advocates from the start. With a peaked interest in it as a way of living + a desire to share it with the world she studied homeopathy, health + wellness. It is a lifestyle she has always adopted. Laura is passionate about producing products that assist everyone in the lives they lead.