David Howatson, educator and master trainer with Technogym, Power Plate and British Rowing, explains how to become a fitness educator and start coaching the coaches.
"Mate, your job looks really fun! How did you get into it? And … how much does it pay?"
The first question is posed in every course I have taught across my 10 years in the education side of health and fitness. As for the second question, you'd need to buy me a cocktail and a steak dinner to get the answer out of me. No matter the audience, no matter the country or setting, I get those questions as people see a role that's never been on their radar. Perhaps it's never occurred to you either until now. How do we get started in the world of education and have the privileged job of coaching the coaches?
Are you ready to become a fitness educator?
Step one on the road into education is to identify which sector you want to work in. There can be a lot of crossover in different areas but we can simplify by splitting it into three parts:
Education providers: organisations that offer recognised qualifications such as Level 3 PT
Equipment providers: fitness brands that offer education with the tools they sell
In-house: gym chains that provide courses to upskill their staff members
Becoming an in-house educator can be one of the quicker routes as you might get a cheeky promotion from within. Gym chains often seek out the highest performing PTs or instructors to upskill and deliver their internal learning. If you are not lucky enough to be headhunted, then get pestering your manager or anyone you know from head office. Let it be known that you are looking to develop – the company might not want to lose your PT numbers but will want to keep good people in the organisation. Don't be put off if you work for a smaller independent or run your own facility either. Start creating your own workshops for fellow team members – you never know where it could lead.
The route to external education might prove trickier than the internal model. With that in mind, there are a few key things you'll need before you start applying. Let's look at those here.
Academia
Employers who need educators or master trainers are often looking for experts in a specific area of fitness. Common sense dictates that big, well-known brands are after the rock star instructor – someone who can go out to deliver their methodology with all the necessary verve and vigour. These organisations also need that person to be able to roll out a set lesson plan and have a deeper level of knowledge than most of the people they'll be expected to teach. Having a PHD isn't a necessity but being highly qualified in a specific subject and going after a company that trades in that area is a big tick.
Getting some teaching or assessing specific qualifications is a good place to start. Having certification in teaching is often a basic requirement on a job description. A degree might be out of the question so starting with AET (Award in Education and Training – previously known as PTLLS) is a tremendous way to add to your existing skill set. Knowing everything there is to know about a topic is wonderful but can you deliver the information in a structured, eloquent fashion based on learning outcomes? Courses in education and teaching can better arm you to approach the job – how we deliver information is as important as the information itself.
Equipment providers looking for educators will put applicants through practical assessment. Knowledge of the company's range is essential no matter how many sexy qualifications you hold. That might sound obvious but, in many cases, interviewees rock up having never touched that latest piece of kit which they'll be asked to demo. Big boo boo.
Experience  
For those of us still running towards the highest level of qualification there is a second option – work like a monster across multiple disciplines to gain as much experience as possible. An adaptable person is extremely attractive to potential employers. A role in education is likely to take you somewhere different every day – a course with Level 2 leisure centre staff on Monday, the S&C coaches of an F1 team on Tuesday, then a group of physiotherapists at a hospital on Wednesday.
That ability to adjust your approach to cater to the needs of the group is arguably the most important facet of being an educator. Get some time in sales, operations or any department that exposes you to different people and different environments. Experience level can be as important as the height of your qualification. A jack of all trades can be just as useful as a professor in the wonderful world of wellness.
Networking
Being known within the industry is becoming easier than ever thanks to social media. Using the medium for good rather than evil is likely to catch a fitness brand's eye. There is a delineation between an influencer and an educator (let's not open that can of worms here, it'll make a mess), but the truth is your online channels could help get a foot in the door. Creating educational content that is fun and rooted in fact could spark a conversation with someone who can give you a leg up into education.
Back in the real world there are plenty of opportunities to have face-to-face interactions with decision makers. At conventions and trade shows look at those displaying their wares as a captive audience. Don't be afraid to seek out that group that you want to work with and ask about the opportunities they might have. My route into education came thanks to making a good impression on an epic salesperson whose wife was a member at our studio.
Take the chance to speak to anyone external who comes into your place of work. Build up a relationship with them because they might just help you along the way. These chances can always crop up in those courses you physically attend. Making a good impression on the coach gets you noticed – over the years I've come across some superb attendees whom I have suggested for upcoming roles. A note of caution – educators talk! If you've been a disruptive force, Billy Knowitall or Lilly Lookatme on a training course then it's likely your teacher that day told their teacher friends. I'm not looking for the biggest or the quickest or the best looking person in the room. The most engaging people draw us in, not the people who like listening to/looking at only themselves. It's the person with the intangibles needed to make it in education who lights up.
Intangibles
Charisma – Creativity – Adaptability – Self-awareness – Empathy – Open-mindedness – Initiative
The above are welcome traits in educators and master trainers. The ability to relax, then lead in a room full of fit, clever people isn't based on a single tangible asset. Letting all those traits flourish is much easier as an educator if you park your ego. We each need a certain amount of the egotistical about us to be able to work in fitness so don't park it completely. A bit of an ego is needed to drive the session but, if you think you are the best thing since bread came sliced, then you've already lost the room.
Personality cannot be added with a filter. That social media phrase is important to have in mind when thinking about getting into the game. Enrapturing a room full of strangers is a skill that not everyone possesses. If you feel like you do have the right character to deliver but don't impress in that type of situation, then there are solutions. There can be value in pulling yourself out of the fitness bubble to find another avenue for upskilling. Disclaimer – if you are particularly dull or have zero sense of humour, then skip the next paragraph or two as this strategy will not work for you.
A few years ago, I was in a bit of a rut as a teacher. Frankly it was getting repetitive. At the time I was delivering courses for an equipment provider in a well-known budget gym chain, which shall remain nameless, and it was frustrating me to the point of breakage. I blamed the gym chain, I blamed the course content, I blamed the level of the PTs, I even blamed the guy mopping the floor and emptying the bins. At the time I thought my personality was ideal, my knowledge levels were nice and shiny plus I'd been in the role for a couple of years so why was my delivery not on point?
Things clicked after watching back a session I'd filmed at the aforementioned gym chain. Seeing that big chunks of the group were not engaged, I started to just go from point A to point Z in a straight line. I was telling a linear story to cover the bits they needed to know from the lesson plan, never stopping to add some spice or sizzle because I was getting nothing back from the audience. Having given myself a slap, I chose to roll my comfort zone up into a little ball and kick it into space by joining an improv class. Learning about improvisational comedy is like a box of fluffy ducks – it's just lovely. The only option is to throw yourself into it. The entire thing is built on the principle of 'yes and' where you always roll with whatever another improvisor has said no matter what their line of thinking is. That's not to say you agree with everything, but you embrace the idea then see where it leads. I have applied that principle in my day-to-day work ever since. Using the ideas of the people in the room, as well as their skills, to drive the session, I just steer the ship. Embrace the madness and always be open to zig zagging your way from point A to point Z. If you can do that, then you'll make it in education.
Author Bio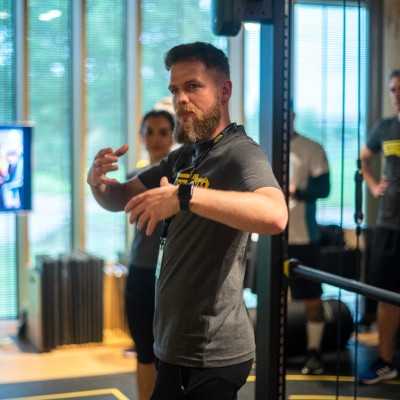 David Howatson has over a decade of experience in the fitness industry. He currently delivers education, creates content and presents internationally for Technogym and Power Plate as well as being a member of British Rowing's Go Row Indoor master trainer team.