Four-time boxing world champion Ricky Hatton talks Manchester, staying out of the pub and the importance of education.
Olivia Hubbard: How did your school friends react to you hitting up the boxing ring several times a week when you were just 10 years old?
Ricky Hatton: I played football when I was young and I used to do kickboxing as well, so I don't think anyone was surprised when I took up boxing. I was never the biggest kid, so kickboxing didn't really suit me as I need to get in close and punch. Boxing was a better fit and, after I started, I never looked back. My school friends were always very supportive.
OH: Tell us about your loyalty to Manchester City football club and your Blue Moon fight entrance song?
RH: My dad was on the books at Manchester City so I come from a blue family. Man City has always been in my heart and we've been on something of a rollercoaster over the years. We had it hard for a long time and now we're the best team in the country. Sadly, my brother Matthew chose to support Man United.
Blue Moon has been Manchester City's anthem for years and I used to sing it on the terraces myself. It was an obvious choice when I became a pro and the version I used is a faster, rockier version by a band called Supra.
OH: What's your proudest fight moment?
RH: Beating Kostya Tsyzu in front of 22,000 at the MEN arena. He was the number three pound-for-pound fighter in the world at the time and had been the best light welterweight for a long time, but I managed to break his heart and force him to quit on his stool.
OH: Which athletes have you come to admire?
RH: My sporting heroes were Nigel Benn and Roberto Duran because they were so ferocious and exciting. Both were absolute warriors who left everything in the ring. I used to look at them and think 'that's how I want to be'. I like to think I gave people the same excitement and I now also train Nigel's son, Conor, which is a great honour for me.
OH: Deciding to come back after your three-year break was a monumental moment in boxing history. Tell us about this decision.
RH: I wanted to prove to myself that I could still get myself in great shape and do it in the ring. It didn't go my way, but I got what I wanted out of my comeback. The people of Manchester turned out to see me again and I really can't thank them enough.
People have said to me, 'Ricky, why did you pick such a tough opponent for your comeback?' but that's not me. I don't choose easy fights. I need that challenge to get the adrenaline going in and, looking back, I'm proud of what I achieved that night.
OH: Your fan base is more than impressive. What's the most memorable thing a fan has sent/said to you?
RH: Anything I receive from my fans is always memorable and I'm still very proud of my fan base. As long as they don't send me a Man United shirt I'm happy.
OH: How do you successfully keep focus in the ring? Do you use any visualisation techniques?
RH: I didn't have any visualisation techniques as such. I obviously used to imagine what my opponent would be like and I used to visualise myself winning and getting belts around my waist, but really focus is hard to lose when you have a guy in front of you who wants to take your head off. My trainer, Billy Graham, was great at working on a game plan and I knew that as long as I did what he told me, I'd win.
OH: How would your diet differ pre-fight and post-fight? What would your nutritionist advise?
RH: He'd probably tell me to stay away from the pub! No, really, I lived like a monk when I was in training camp and only ate healthily. It was about having good food in small portions often and taking the right supplements. It's no secret that I used to have a blow-out outside of training camp and put on weight. Looking back, that probably took some time off my career, but every fighter needs a way to let off steam. Now that I train fighters, I can tell them how to look after themselves and point out all the ways that I went wrong.
OH: Which sport would you hate to be made to watch?
RH: None, to be honest with you. I like most sports because I admire the hard work and sacrifices people make to get to the top.
OH: In what way do you think your attitude has changed since becoming a trainer? What advice are you offering to aspiring boxers?
RH: I became a four-time world champion despite me not always having a great diet. I know that most boxers won't achieve what I did if they live like I did outside of camp. I advise them to follow my example and to work with the best nutritionists.
OH: Which young boxers have got your backing on the future road to success?
RH: I believe all the boxers I train are on the road to success. The three Upton brothers (Anthony, Pauly and Sonny) are all on their way to titles and it's only a matter of time before Reuben Arrowsmith and Sam Evans follow them.
I've also got Zhant Zhakiyanov, who is boxing for a world title, and a young Belarusian called Kiryl Relikh who I believe is going to set the light welterweight division on fire. Conor Benn, Nigel's son, is still an amateur, but he's got that mean streak his dad had and he'll definitely be one to watch.
OH: What areas of strength and conditioning do you focus on at the Hatton Academy?
RH: We try and focus on maintaining or increasing power and speed. We have a full-time coach now working with the lads. Blain Younis looks after all the lads in the gym and also is our master trainer for our training courses. S&C has become a huge part of boxing over the last few years. So much so we have decided to offer it as part of our instructor training and it will be launched in the New Year.
OH: What do fit pros need to do in order to become part of the Hatton instructor team?
RH: All they need to do is sign up to one of our training courses. Regardless of their ability or boxing knowledge, it is designed for all levels. We have a huge variety of abilities becoming instructors and the course is designed to give them all the tools they need or add to the existing ones they have.
OH: What areas of education are covered in the Hatton instructor training modules?
RH: Our main focus is to educate fit pros on how to deliver a safe and effective boxing session. We teach all the punches and basic stance and guard but, most importantly, we teach them how to become a good boxing instructor. To achieve that you have to know how to hold the pads, why you are doing it that way and how/what makes a great session structure.
OH: What does fitness education mean to you and in what ways do you deliver education?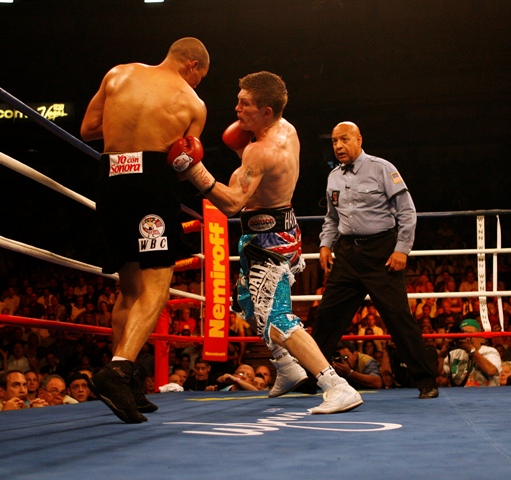 RH: Education is important in all aspects of sport; I needed educating on fitness and nutrition to achieve what I did. We deliver our education through actually doing the drills and learning as you go. Our courses are very practical: this way you get to experience what you want your customers to experience. It also makes it fun but we also provide a manual so you can refer back to it at any time.
For more information on the Hatton Academy, visit hattonacademy.com
Now you've read the piece, head on over to our social pages and let us know what you think!
Twitter: @fitpro_online
Facebook: https://www.facebook.com/fitproltd/