Embrace the coming trends of 2020 and ensure good client retention.
We know there'll be a January rush of people heading to gyms, fitness classes and other offerings to improve their health as a new year's resolution. However, we also know that this influx of clients will likely drop off over the year. Sundried1. carried out a survey on 4,000 people and found that only 10% thought their resolution would last beyond three months. So, how can you make your fitness offerings as relevant as possible to retain those clients?
Understanding what is popular in the coming year allows you to focus your skill development and class offerings on areas that are going to attract the most clients. The American College of Sports Medicine (ACSM) asked 3,027 health and fitness professionals who are connected to the ACSM brand what they think the most popular trends will be for 2020. Responses came from all over the world: Australia, Brazil, Canada, China, France, Germany, Japan, India, Italy, Russia, Singapore, Spain, Taiwan, United Kingdom and the United States.
2020 Results
| | | | |
| --- | --- | --- | --- |
| 2020 Rank | Trend | 2020 Rank | Trend |
| 1st | Wearable technology | 11th | Exercise for weight loss |
| 2nd | High intensity interval training (HIIT) | 12th | Functional fitness training |
| 3rd | Group training | 13th | Outdoor activites |
| 4th | Training with free weights | 14th | Yoga |
| 5th | Personal training | 15th | Licensure for fitness professionals |
| 6th | Exercise is Medicine (EIM) | 16th | Lifestyle medicine |
| 7th | Body weigt training | 17th | Circuit training |
| 8th | Fitness programs for older adults | 18th | Worksite health promotion and workplace well-being programs |
| 9th | Health/wellness coaching | 19th | Outcome measurements |
| 10th | Employing certified fitness professionals | 20th | Children and exercise |
ACSM past president Walter R Thompson PhD, FACSM, the lead author of the survey, said, "No survey is completely 'fair'; however, with our extensive reach, we are confident in our survey results."
FitPro probed further and, while this survey provides a good snapshot of what is popular in the coming year, it doesn't show what's here to stay and what has been on the decline. So, we have compared 2020's findings to ACSM's five years of previous results to discover the most interesting developments and created graphs to more clearly show the changing trends. From this, we discovered some interesting developments. We reached out to respected industry leaders to better understand why the industry has moved in the way it has.
Wearable technology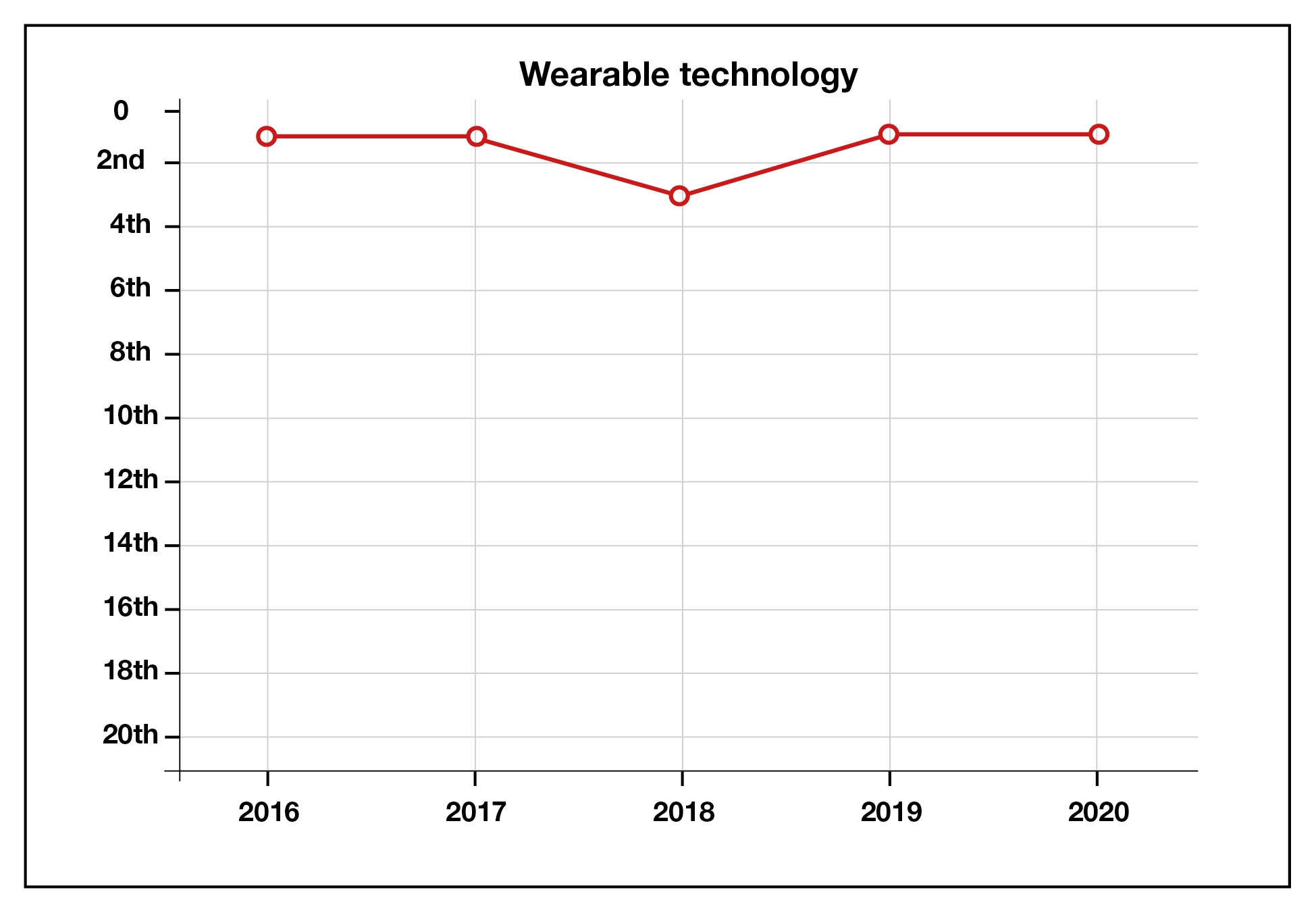 The popularity of wearable technology will likely be no surprise. Having not been a measured category before 2016, it became the most popular trend in 2016 and 2017, dipping slightly to third place in 2018 before going straight back to the top for 2019 and 2020.
Companies like Apple, Google, Myzone and others have created smart watches and other physical activity trackers. We reached out to chief executive officer of wearable heart-rate monitor company Myzone, Dave Wright, to better understand this trend's popularity. He sees wearable technology's popularity stemming from the advancements in smartphone and Bluetooth technology. This has meant that data can be collected and displayed easily in the palm of the hand. He feels that the success of this trend "comes down to the analysis of the data and presenting that in a clear, concise format for the benefit of the user."
Group training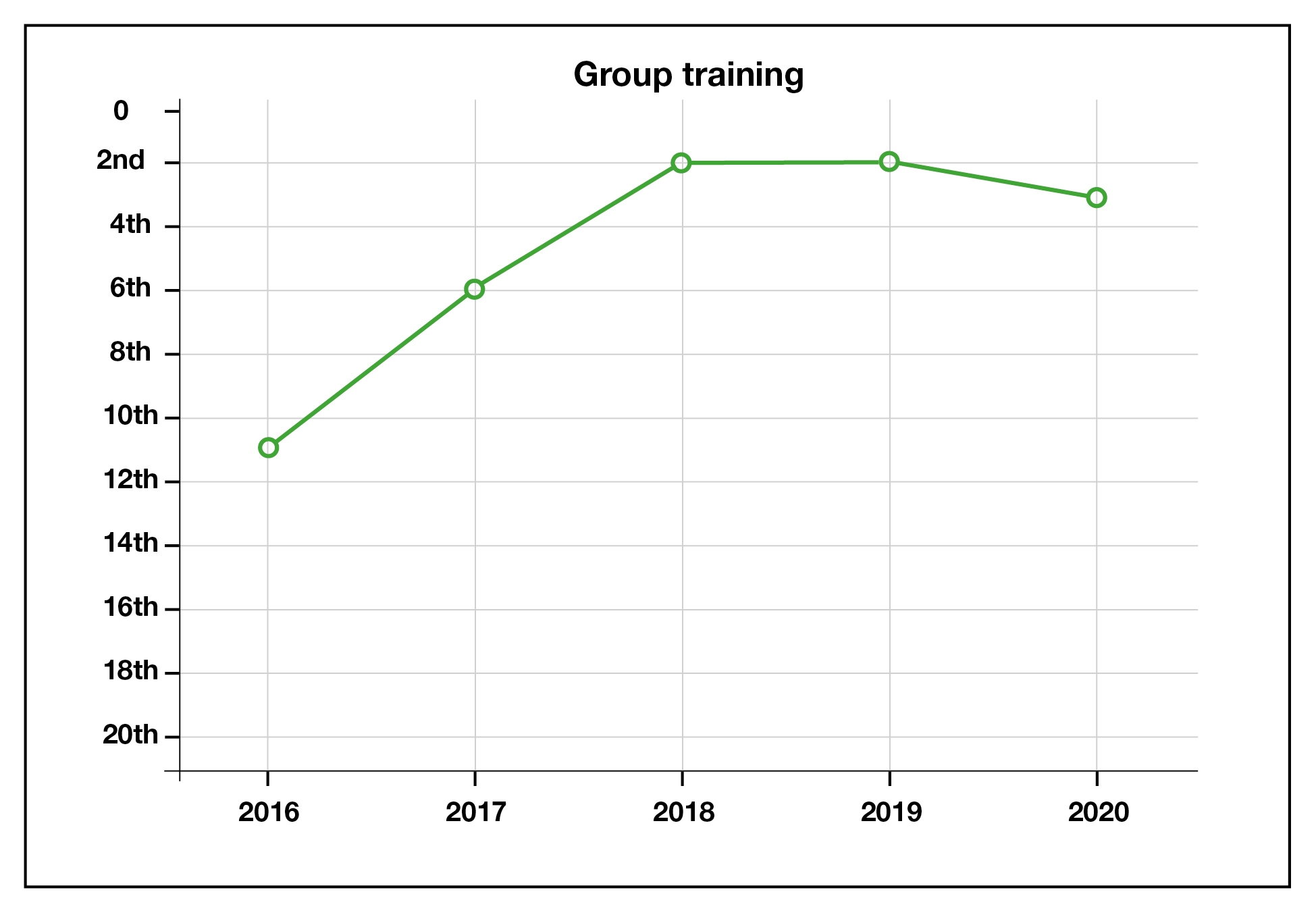 Group training is unique in that many of the categories that make up the ACSM's survey also make up the trends within group training itself. Marcus Kingwell, chief executive officer at Exercise Move Dance UK, feels one of group training's biggest strengths is its flexibility to adapt to the most popular trends. This is likely to be the reason it rose to second place in 2018 and has stayed in the top three since.
He believes the way to ensure group training's continued success is making sure fitness professionals are properly qualified and supported for the unique requirements of each type of group exercise. It also relies on listening to both participants and instructors to understand what they want, like and need to support the individual instructor in developing offerings that reflect the trend.
Yoga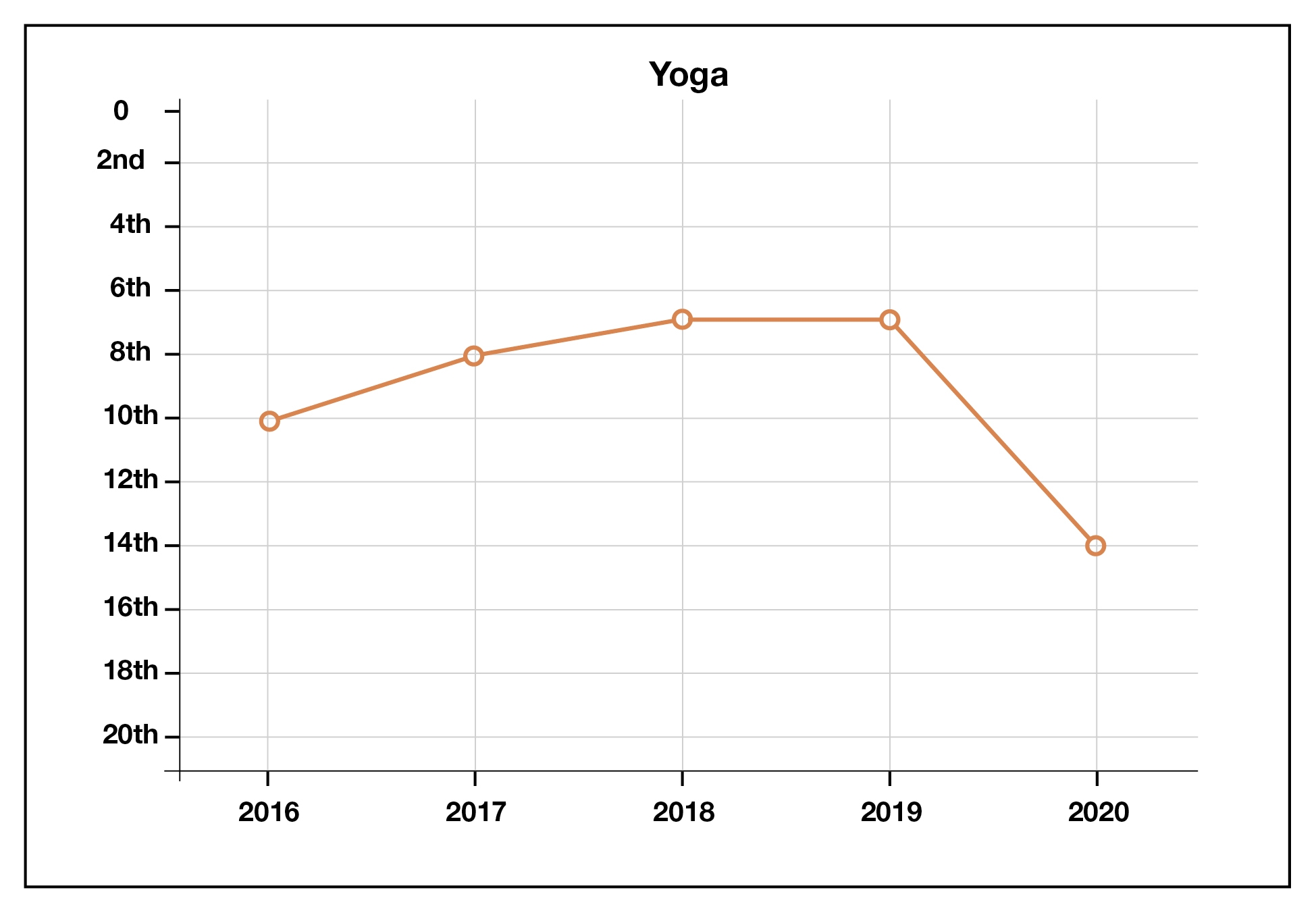 Yoga is an interesting trend to explore. Over the past four years, it has ranked in the top 10, staying in seventh position for the past two years but then dropping seven places for the 2020 survey.
We reached out to the founder of Freestyle Fitness Yoga, Jayne Nicholls, not an unfamiliar name to avid readers of our magazine, to get her comments on these developments. She feels that the visibility and popularity of the trend is the result of yoga, alongside Pilates, becoming aligned with the genre of Mind/Body in 2000. Why it has remained popular she feels is due to the range of yoga styles, which makes it extremely marketable.
With regards to the ACSM's survey showing its popularity dwindling, she feels the opposite is happening as, anecdotally, her business is "largely teacher training now and it is growing". She thinks that the yoga results from the survey are unrepresentative as, she says, when many fitness instructors qualify as yoga instructors they move out of the ACSM domain.
Exercise is medicine (EIM)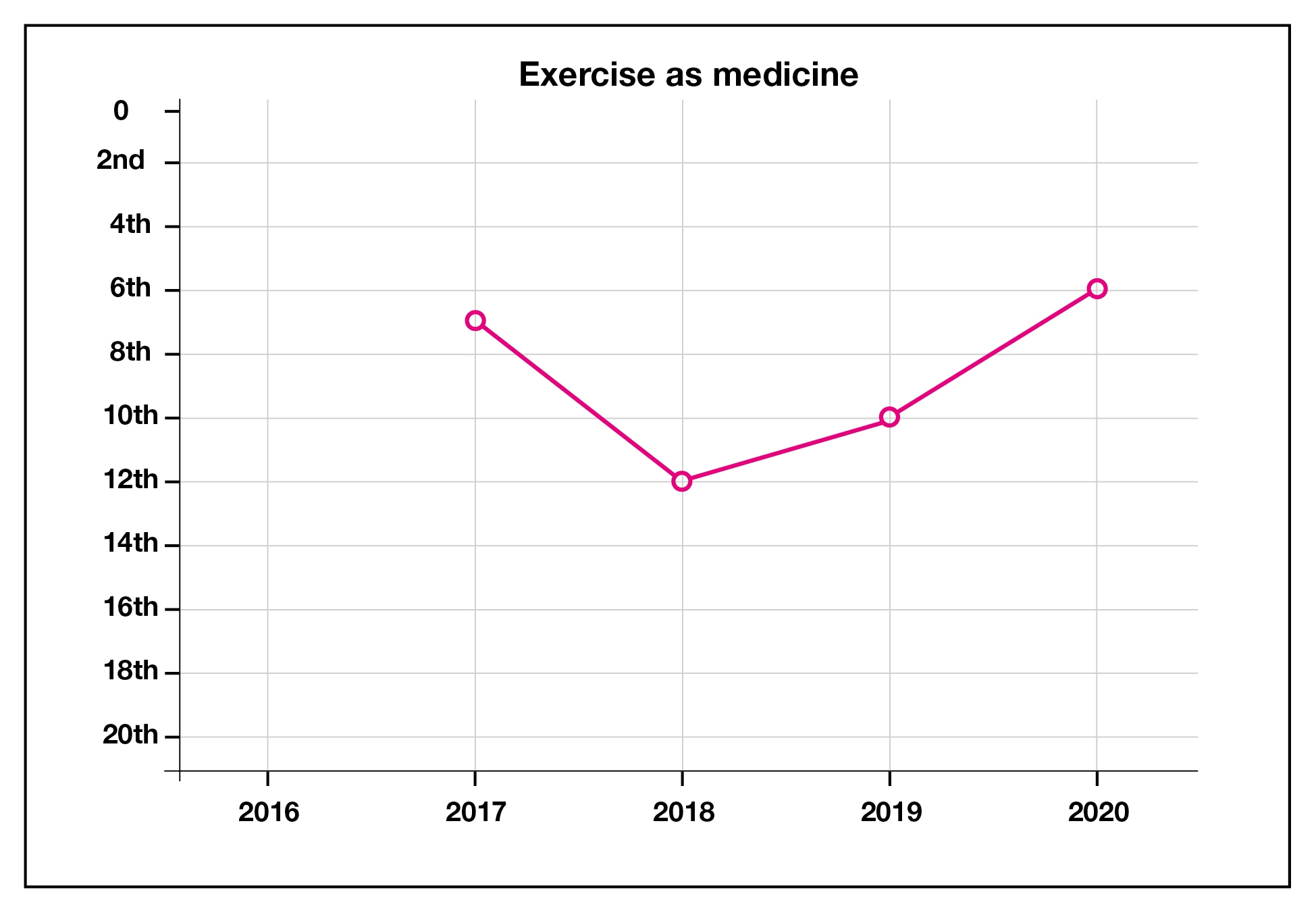 This is another trend worth discussing as it didn't rank in the top 20 in 2016, while this year it is sixth. Exercise can be beneficial for all; however, EIM is based on the idea that physical activity should be prescribed in some cases as it can prevent, treat or alleviate the symptoms of chronic diseases. Through our own research and feedback as a news outlet, insurer and education provider, we saw the importance of EIM and tailored training for those with chronic conditions. Because of this, we reached out to respected teachers from across the industry to develop our 'Movement is Medicine' continued professional development courses:
Cancer and exercise – the basics
Joints and bones
Parkinson's pro
Sciatica: Symptom or condition? Training for the fitness professional
Our courses have been tailormade to offer advice and information to group fitness trainers and personal trainers to help train and support clients with these chronic conditions.
Bodyweight training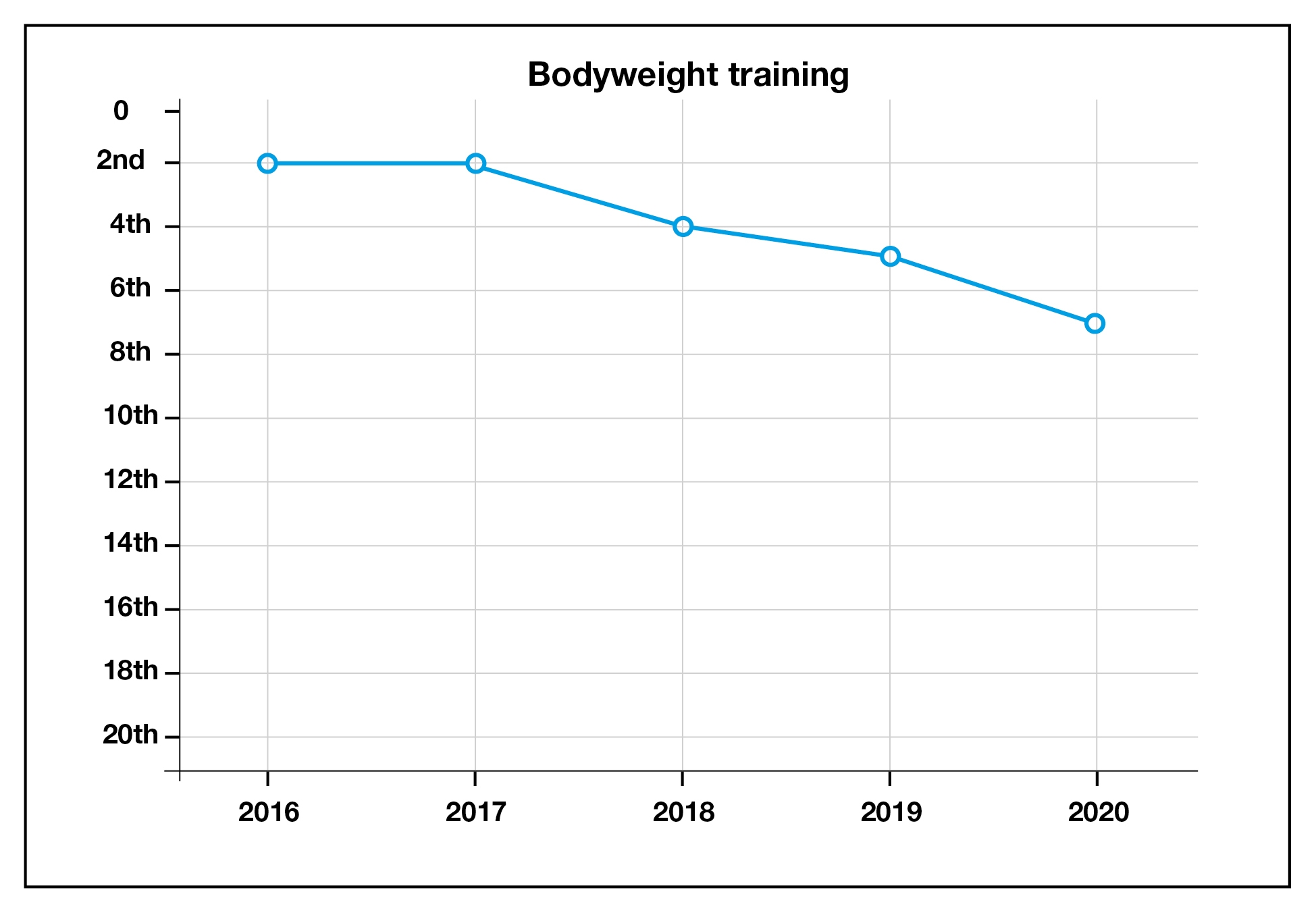 Bodyweight training has stayed in the top 10 since 2016. It has, however, slowly been losing popularity each year and, in 2020's results, it ranks seventh.
We explored what the future may hold for bodyweight training with FitPro's national trainer manager and ViPR education manager, Aaron Barnett. He thinks a large part of why it has remained within the top 10 since 2016 is because you need no equipment and just your creativity to utilise this training method. However, he feels the slow decline in popularity may be because the amount of gain you achieve from bodyweight training is limited, whereas with something like loaded weight training there is new kit coming out for it, which he thinks "makes it easier to keep training fresh and interesting". Aaron feels that "bodyweight training will always hold a relevant place in the industry but, like any trend, will fall into elements of a well-rounded programme."
While the ACSM's survey produced insightful data, it is global so it may not reflect your unique market. We hope this information is useful in planning for the coming year and encourages you to explore new avenues in your education and career.
Do you agree with our industry leaders' comments or even the survey itself? If you have an opinion, then please do get in touch via email: info@fitpro.com
References:
https://www.sundried.com/blogs/training/research-shows-43-of-people-expect-to-give-up-their-new-year-s-resolutions-by-february
Thompson, Walter R. ACSM's Health & Fitness Journal23(6):10-18, November/December 2019. doi: 10.1249/FIT.0000000000000526. Link: https://journals.lww.com/acsm-healthfitness/Fulltext/2019/11000/WORLDWIDE_SURVEY_OF_FITNESS_TRENDS_FOR_2020.6.aspx