Get in the Christmas spirit and keep active while doing it. Whether it's yoga in a big heated tent or a parkrun dressed as Santa, there's plenty going on across the UK over the next month.
We're all guilty of overindulging when December comes around. The dark mornings followed by even darker nights always seem to tempt more people into the pub for 'just a quick drink' after work. Here's a list of active options to keep you from succumbing to temptation this festive period – or to at least balance it out!
Taking place in a heated pop-up marquee on Pear Tree Cafe's lawn, Battersea Park, oyoGO is putting on Vinyasa Flow yoga classes throughout the day. oyoGO provides weekly classes across many of London's green spaces, connecting you with nature as much as possible. Of course, it's December, so the heated marquee is a must – no one feels connected with nature when they've got frostbite. The director of the wellness and yoga company, Hannah Paradise, ran us through the schedule, where she promises a day of stretching, toning and breathing, helping you to restore and reset before you head into the party season!
"It kicks off at 7am with Santa's sunrise salutations led by Kim Hartwell, followed up with brunch in the Pear Tree Café.
"The evening events get going at 5:45pm with breath work trainer Richie Bostock leading you through Beats & Breathing, a 45-minute guided breathing class where you can immerse yourself into a meditative state.
"The final class of the day starts at 7pm. Eggnog and Downward Dog is a 60-minute Vinyasa Flow class led by Lululemon ambassador Mariel Witmond-Bateman and surrounded by Christmassy fairy lights.
"Afterwards, follow this up with a drink or two at the Pear Tree Café's pop-up bar in the marquee – life is about balance after all!"
Tour guide Hazel loves London and sharing its history and uniqueness with its people. With a number of different festive tours available, there are all kinds of opportunities to enjoy Christmas in the capital. From finding out about traditions on A Victorian Christmas, to exploring the streets and landmarks that Charles Dickens knew so well on A Christmas Carol Walk, or if you want to step more into modern times, Hazel also offers a Christmas Lights in London Walk, and a special Soho-Ho Christmas Treasure Hunt.
"Give your brain and legs a workout while meeting new people and discovering Soho along the way with our fun-filled Christmas treasure hunt," enthuses Hazel.
"As well as cryptic clues to unravel and canny riddles to solve, there will be bonus challenges, too, just to keep you on your toes."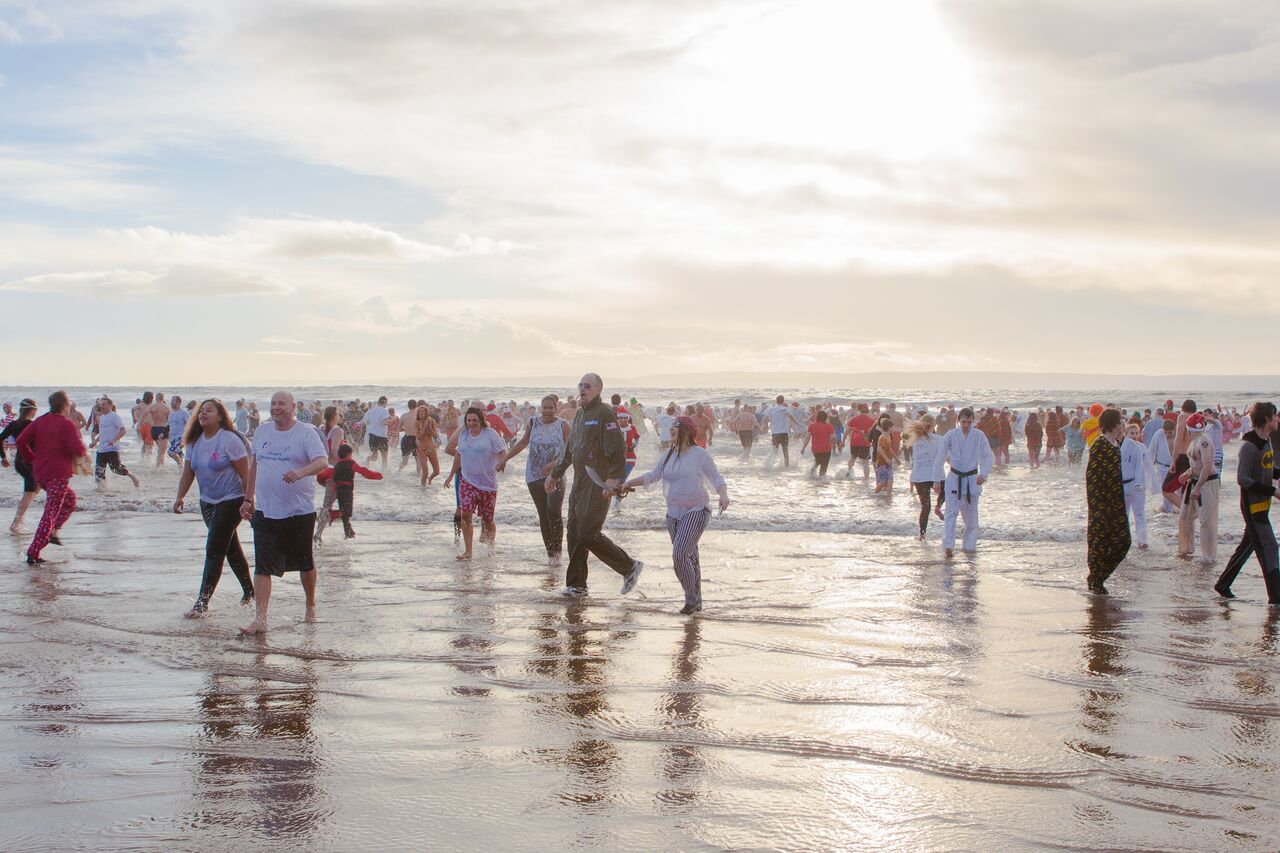 Cold water swimming isn't for the faint hearted, but that hasn't stopped thousands coming to Coney Beach for the past 53 years.
"We are delighted to be the nominated charity for the iconic Porthcawl Christmas Morning Swim," said Prostate Crymu. "The swimmers enter the sea at 11:45am. Whether just a little dip of the toes or a short swim if you're brave, participation in this year's Christmas Morning Swim will help support men in Wales with benign prostate disease and prostate cancer."
We took a look at prostate cancer in the latest edition of fitpro magazine, so we're all for supporting this Christmas swim if you're nearby. Earn your dinner and support a worthy cause while doing so.
This year, participants have been encouraged to follow the superhero theme for the dip – Aquaman is probably a good shout; I don't think he's too bothered by the cold water.
"It really is the South West's ultimate Christmas destination!" says Jamie Dann of Icescape. The largest ice rink in the UK provides plenty of room for novices, with penguin stabilisers and figure skating extraordinaires to share the ice, so you won't feel guilty about hogging all the room while you triple axel your way across the ice.
"It is the largest covered winter ice rink in the UK. Skaters can take to the ice come rain or shine with a clear canopy decorated with glowing festive lights. We also have an amazing covered seating area with an alpine-themed Lodge Bar being raised at the end of the rink looking over the ice at one end, and at the other end you have the snow slide."
"If ice skating isn't for you, there's still plenty to do at The Tropicana. Visitors can see Santa in his grotto, jump on one of the fairground rides, meet Pippen the mascot penguin, enjoy a mulled wine or hot chocolate in the Lodge Bar, and try some tasty food from Bare Grills Smokehouse!"
But while it's nice to enjoy these different festive quirks, sometimes what you want is a good old-fashioned Santa Dash.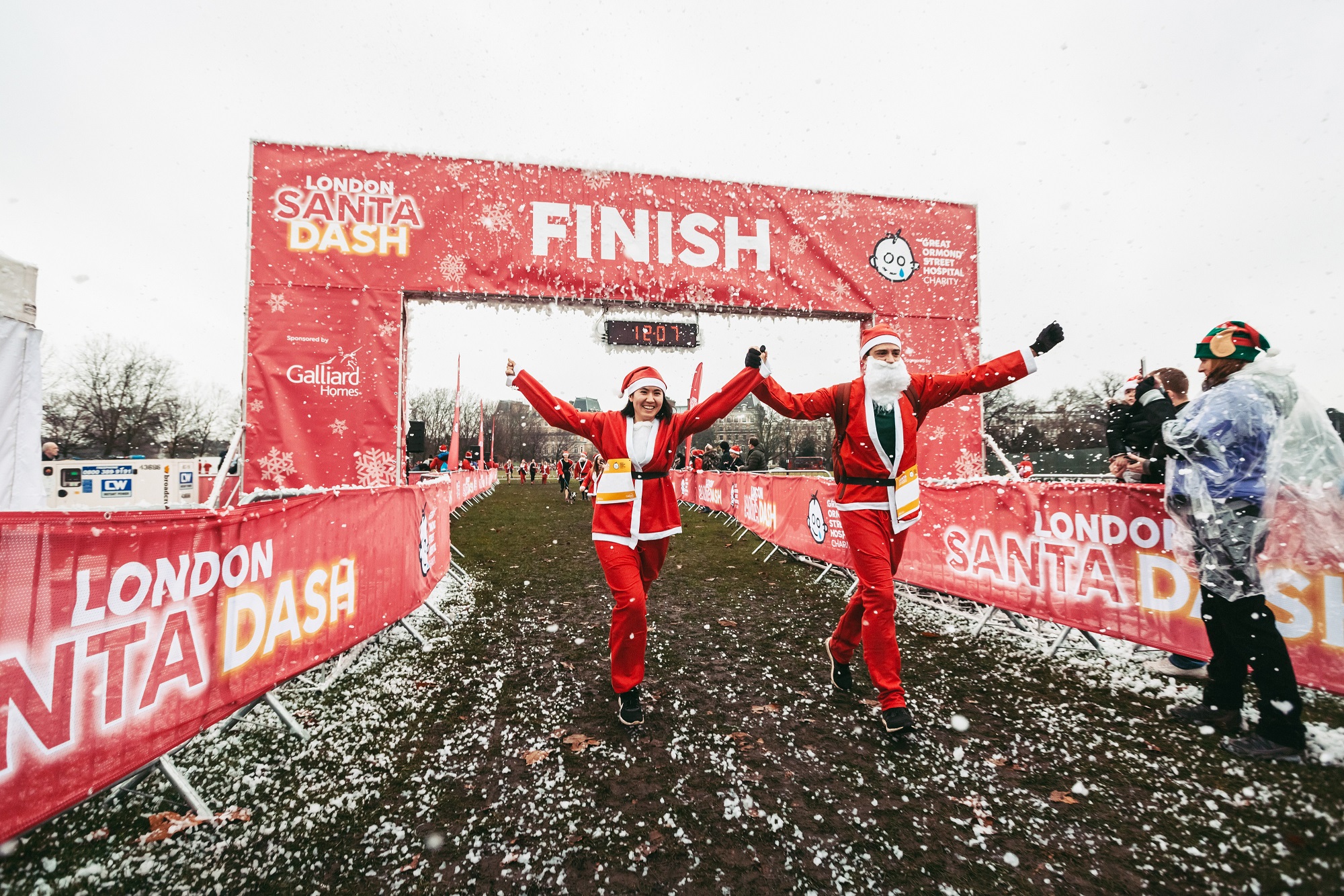 Dress up as Santa for a 5km or 10km run that will help the seriously ill children that Great Ormond Street Hospital (GOSH) cares for. Whether you're a seasoned pro looking to get a PB in your festive get-up, or a new runner who wants a fun event to test themselves, the Santa Dash is a chance to show that Saint Nick doesn't deserve the portly reputation he's gained over the years.
"The event is open to adults and children, and runners will receive a free Santa suit to wear as they make their merry way around the course," says Laura Savory, head of community fundraising at GOSH.
"Participants can capture the perfect festive Instagram photo or seasonal selfie in a sea of Santas, run to the rhythm of the Samba band playing along the route, then relax with a mulled drink and mince pie at the end of the race in the event village."
She also advises that dogs are welcome to take part, with a special nod to any furry fellas that do the run in fancy dress, too.
"The flat course makes the Santa Dash the perfect event for all levels of fitness, so whether you're looking for a gentle jog, aiming for a personal best to blow away the December excesses, or prefer a walk and a natter with friends, there's something for everyone. The course is fully accessible for participants in wheelchairs, and the London Brass Band will serenade attendees with festive classics during the day," says Laura.
For your entry fee of £20, Wigan's Christmas Dash is offering a Santa suit, turkey sandwich, mince pie and mulled wine for its runners – so plenty to keep you going until the finish line. Wish FM will be playing the festive tunes to keep your spirits high as you circle the 1k loop – perfect for younger runners or beginners who won't manage the full 5k.
If you feel as though Father Christmas gets all the attention, and Dancer, Prancer and the rest of the boys are pushed to the side, then look no further than the Stansted Park Reindeer Run. Situated in Hampshire, the event is offering up a free t-shirt, and all proceeds go to the RNLI who are the chosen group for the event. It asks that you raise £50 for the charity, with Go Ape offering a family ticket at its Tree Top Adventure for the person who raises the most money.
Running for its 13th year, the Christmas Pudding Dash is showing that there's nothing unlucky with the number, welcoming runners of all persuasions for a mud-filled 5-mile race, or a 2-mile fun run. You'll be greeted with a mulled wine, Christmas pudding, and your finisher's medal at the end. Nothing unlucky about the number 13 for this race.
So whether running or swimming, ice skating or walking, there are all kinds of ways to stay fit all over the country. Those few extra potatoes come Christmas day won't matter and not moving from the sofa all of Boxing Day won't be questioned. Stay active this December – it's worth it in the long run.