In FitPro's 'Exercise Explored' Aaron Barnett takes a closer look at the plank. We uncover what a plank is and why we use it with our clients, as well as how we can scale and explore the plank beyond its traditional form.
We see Abi Bott, women's health coach and midwife-in-training, taking us through a vast selection of plank exercises that will keep your clients entertained and progressing.
Remember to check out our other exercise explorations via the FitPro blog.
Author Bio: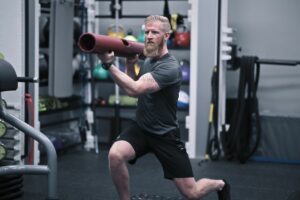 Aaron Barnett is Head of Education and Coaching at ViPR Global.
Aaron is homegrown at FitPro. He has been a member of the FitPro family since the inception of ViPR group programming as national coach for VGF and the MOSSA ViPR workout. Since then, Aaron has developed and designed the ViPR Kids concept, supported the development of ViPR LMT1, 2 and Active Aging and has grown through the ranks of ViPR Global to owning the responsibility of head of education and coaching. Aaron is also kept at the forefront of FitPro development as the national trainer manager for the FitPro trainer team.
As part of Aaron's commitment to remaining at the forefront of functional training he is proud to have recently completed the Gray Institute GIFT programme, becoming a Fellow of Applied Functional Science. He believes that by learning, sharing and collaborating with the best in function this will serve ViPR Global in remaining the number one functional training tool!