Group exercise manager Faye Edwards shares what a well-performing team looks like to her and gives tips for addressing issues within the team.
A well-performing team is one that communicates well and understands good team work ethics. A well-performing team also delivers to an excellent standard and is given the tools and support it needs in order to do so. The team members fully understand the brand's objectives and core values and execute their work responsibilities with passion and professionalism.
So, how do we keep these standards up?
In order to help maintain these standards, having scheduled team meetings allows the team to openly discuss any challenges and contribute to resolving any issues, along with helping to boost team morale. Regular one-to-one meetings is also an important part of ensuring the team performs well, giving team members the support they need to develop and improve performance through positive feedback and reflection. Utilising resources and tools to enhance individual and team development is an asset that the team requires to achieve successful outcomes.
Most importantly, we need to recognise individual skills and expertise that contribute to the whole team effectiveness and motivate team members to deliver their set outcomes.
Tackling underperformance
Underperformance would be a situation in which any team member is not delivering their daily responsibilities to a high standard. This could be for many reasons, for example, personal issues that impact on professional practice, which can then impact on service delivery. If the standard in team performance starts to decrease, an initial conversation should be had to check where the team member is at and to establish what the reason may be for a decline in their performance. In this one-to-one meeting, I would revisit expectations and offer any support to ensure they have the tools they need to improve and meet their work expectations.
It's important to review and monitor performance on a regular basis, offering targeted goal setting and giving constructive feedback to encourage improvement. Using tools such as reflective practice, having an empathetic approach and giving support contribute to improving behaviour and performance. Through regular one-to-one meetings and performance reviews, I would use honest dialogue, strength and weakness analysis and action planning. Allow the team member to identify their perspective on their performance and them give constructive feedback. If ego is impacting on performance levels, I would address this with the member of staff, again through honest dialogue and reflective discussion.
If improvements have not been made after one-to-one discussion and support, then this may progress to the formal route of HR involvement and, worst-case scenario, dismissal. However, I believe that, when the recruitment process is of a high standard, and with support, training and development, it is very rare for it to escalate to this level. The ultimate goal is to always keep the team morale and performance standard high through training and development.
In the case of a team member jeopardising the whole team's morale, the team can be reminded of the brand's expected behaviours and values and a one-to-one should be held with the individual to address their professional practice. If conflict between team members is an issue, I would use conflict resolution tools or mediation to ensure that a high level of professional standard of delivery is maintained.
In short, to ensure team members work smoothly together, regular check-ins and team meetings are delivered. Tools such as group activities and team building also help to motivate and improve staff morale. I feel it is very important to acknowledge individual efforts and contributions, recognising that each person is a valued member of the team.
Where to next? Find out why Digital Ain't Easy!
Author Bio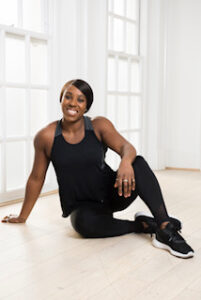 Group exercise manager, celebrity trainer and founder of F.I.T Jam Dance Movement, Faye Edwards is renowned for her high energy and positive influence. Faye started her career in the fitness industry over nine years ago and has a wide array of expertise, from bodybuilding competitions, to concept creating and events, to fitness conventions and retreats both in the UK and internationally.