Deafblind UK to take on Three Peaks Challenge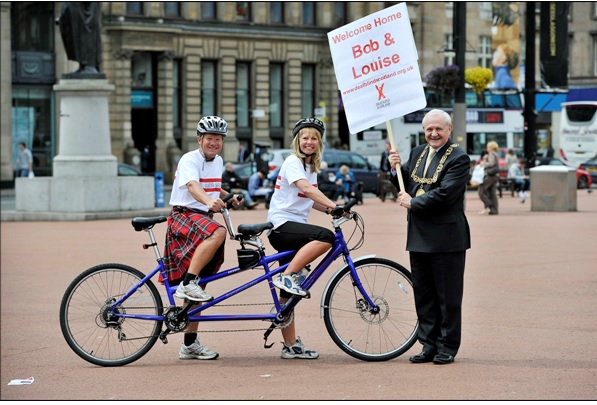 Bob Nolan, chair of Deafblind Scotland (DbS), has decided that his first project in his new role is to take on a challenge that is believed to have never been done before by a deafblind person.
Guided by his wife, Louise, who is also deaf, Bob will climb Ben Nevis on 18 June, Scafell Pike on 22 June and finishing with Snowdon on 25 June. Their good friends, Jerry and Fred, will guide Bob as front riders on his tandem on the two cycling legs to complete this epic journey.
In response to why Nolan has decided to take on the challenge, he said, "Sadly, the incidence of deafblindness is growing in the UK with more than 400,000 people now struggling with the everyday challenges of normal life. I want to raise awareness and let people understand that while dual sensory loss is isolating for so many, it doesn't have to be. With the right support, deafblind people can lead full and active lives and still fulfil their dreams. I hope that by completing this challenge I can inspire others to come forward, and with the help and support of DBUK and DbS, achieve their own ambitions whatever they may be."
Nolan was born deaf with a progressive sight loss that started to impact on his life in his childhood years, leaving him now with less than 3% vision. This has never held Bob back, and as well as recently retiring from a successful and fulfilling career with Shell, he has chaired Deafblind Scotland for more than 17 years, backpacked solo around the world, crossed England on foot, run numerous marathons, cycled 1000s of miles for charity, loves sea swimming, and even started his first deaf pop band at the age of 16. Bob's 'cup half full' approach to life and extraordinary belief in making the most of what he has inspires us all, and like Helen Keller once said, he also believes, "Life is either a great adventure, or nothing."
We asked Bob what he was looking forward to most about the challenge and what he was dreading.
Nolan said in response to the challenge, "I am looking forward to climbing Ben Nevis as that will mean the training is over. The thing I am least looking forward to is cycling the hills; not the uphill climbs as you might expect, but the fast descents. I struggle to anticipate corners and changes in light anyway, but at speeds in excess of 40mph, I have to put all my trust in my guides and, as the world rushes by, it's terrifying!"
Find out more at:
 In other news…
 YMCA embraces new standards

This week, we learned that YMCA Awards has become the UK's first awarding organisation to achieve accreditation from the Chartered Institute of the Management of Sport and Physical Activity (CIMSPA) across three new qualifications.
The introduction of qualifications that align with professional standards have been designed to meet the demands of employers, and to demonstrate that PTs and instructors possess the right skills, qualifications and experience for prospective employers.
The new qualifications are:
YMCA Level 2 Certificate in Gym Instructing
YMCA Level 3 Diploma in Personal Training (Practitioner)
YMCA Level 3 Diploma in Gym Instructing and Personal Training (Practitioner)
Andrée Deane-Barron, group education and skills director of Central YMCA, said: "The fitness industry has been crying out for qualifications that reflect the knowledge and skills employers are looking for, and through extensive collaboration with industry experts, we have been able to create them."
Tara Dillon, CEO of CIMSPA, said: "I would like to congratulate YMCA Awards on becoming the first awarding organisation to embrace the new CIMSPA professional standards for gym and personal training by offering qualifications that will address the knowledge and skills the fitness industry requires."
Dillon added, "Employers in our sector are looking for an increasingly skilled workforce and so I commend YMCA Awards for their speed in bringing these qualifications to market."