Women in senior levels of fitness are lagging behind but a new era of powerful players is changing the landscape, says Karen Lisa Laing.
In October of last year, Britain dropped out of the top 20 most gender-equal countries for the first time. The Global Gender Gap report1 presented at the World Economic Forum found Britain had dropped to number 26. At senior management level within the fitness, leisure and sports industries, the trend is similar. Across the major health club and gym chains in the UK, women in senior management positions are the exception. At general manager level there are more but they are still in the minority. These trends are common across the leisure and sports industries. According to Sport England, 49% of the national governing bodies (NGBs) they are funding have less than a quarter of their board membership made up of women.
Season for change
At a time when campaigns like #ThisGirlCan are pushing forward an agenda to engage more women in sport, and with the emergence, this year, of the Women's Equality Party (WEP) – the fastest growing political party in the UK – it could be argued we are in a season for change. "We definitely need more women in senior management positions in health clubs," says CEO of the Chartered Institute for the Management of Sport and Physical Activity (CIMSPA) Tara Dillon. "It is a male-dominated world."
"Leisure management events tend to be a very male affair," says general manager for Sandwell Leisure Trust Chelle Jones. "People are still gobsmacked when they ask for the manager and I appear."
Senior roles
So why aren't there more women in senior management? It could be as practical as the unsociable hours required of a busy leisure club manager, which don't fit with family life. "It's difficult for women to do both," says Jane Waller, co-founder and director of FitPro. "Peak hours in a gym tend to be peak hours at home." Dillon adds, "Women aren't necessarily bypassed; they just have to make choices when it comes to family."

It's a question Women in Fitness Empowerment (WIFE) founder Jacqueline Hooton posed when she created the first all-female fitness conference in March 2015 (wifeevents.com). "I wanted to know where all the female voices were in the industry," she says. Hooton felt women were massively under represented at industry events. WIFE was set up to create more female role models by giving them a platform and a network. The first conference was attended by over 80 female fitness professionals, with speakers like Katie Bulmer-Cooke, Charlotte Ord and Rachel Holmes. The idea has since grown to incorporate nationwide networking events, a second conference and online campaign #AWomansWord, which has featured on BBC news.
Moving on up
There are notable exceptions to the male dominance trend: Jane Waller, co-founder and director of FitPro; Jennie Price, chief executive of Sport England; Dame Tanni Grey-Thompson, chair of the Women's Sport and Fitness Foundation Commission and chair of ukactive; and, of course, Tara Dillon, CEO of CIMSPA. Dillon came through the ranks of the industry from life as a gym instructor to her current position, which includes working to improve standards in the industry. "When I was 26, I set myself massive goals and have stuck to them," she says. "I just ignored the fact that everyone around me was a bloke." Waller's FitPro journey also began as a gym instructor, where she recognised the need for offering advanced education to instructors. "I've never felt like I wasn't taken seriously," she says, "but it did take time to build trust."
Group X heroes
While at the top levels of gym management women are scarce, the picture is very different among fitness training providers and the group fitness sector is predominantly female. "Look to events like the International Fitness Showcase in Blackpool and it's almost wall-to-wall women," says Jones. There are also women like Rachel Holmes, Katie Bulmer-Cooke, Jayne Nicholls and Charlotte Ord achieving great success carving out careers as fitness entrepreneurs. "I've never seen being female as holding me back," says Ord. "I've always thought that, if I can do something as well as my male counterparts, I'm at an advantage."
So, how could the fitness industry benefit from gender equality? According to the WEP, unleashing women's full potential could add 10% or over £150 billion to our GDP by 2030. Women in Sport (womeninsport.org) and analysis from the Global Gender Gap report say the same thing: gender equality correlates directly with economic success. It stands to reason: use your entire workforce effectively and it's win, win.
Business women
Amanda Herbert, co-owner of marketing agency Syren, specialises in helping global corporations to market better to women. "Many industries are beginning to benefit from embracing female values of collaboration, coaching and mentoring," she says.
At 27, Jones became the youngest female general manager for the Sandwell Leisure Trust, a fact she puts down to doing things differently. "I went to conferences and seminars. I found out what independent fitness professionals and business owners were doing and I started implementing it on the gym floor. No one else was doing it. It worked," she says. At a time when the fitness industry is being asked to respond to the public health agenda and when the media wants to know how to engage more young women in sport, are women the key? Surely the industry, its earning potential and arguably the health of the nation is only set to gain from gender equality? "If you want to increase the uptake of women in exercise, we need women in leadership who know how to engage young women," Hooton says, "And we need more attainable role models."
"The lines are beginning to blur," adds Herbert, "but women need more role models who they can aspire to be like."

"There's been a meteoric shift in the last 10 years and things are changing," concludes Dillon. "We're not there yet but we should be pleased with how far we've come."
Take it to the top: So you want to be a successful woman in fitness?
Jane Waller, co-founder and director of FitPro
"Learn from other people's mistakes and
don't get involved in politics."
Tara Dillon, CEO of CIMSPA
"Set goals, see it and go for it. Let
me be your example. Opportunities
for women in senior management are
genuinely there."
Chelle Jones, general manager for
Sandwell Leisure Trust
"Go to industry events. Learn from
people who are already successful and
then implement what you see. Don't be
afraid to do things differently."
Rachel Holmes, fitness presenter and
entrepreneur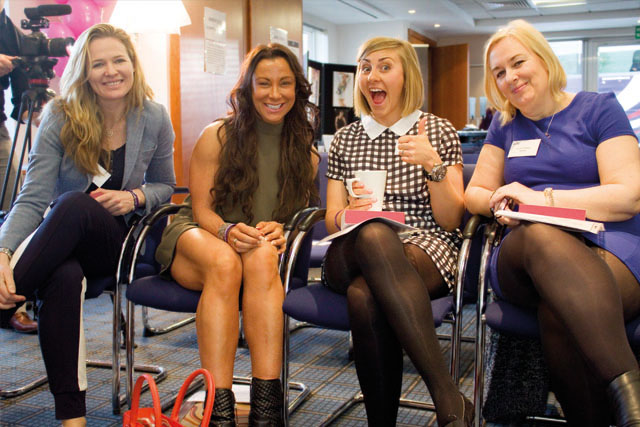 "Carve out your own career path –
create your own job and your own role.
The virtual world is a complete game
changer. Decide who you want to be
and who you want to attract, then go
out and find them."
Charlotte Ord, fitness entrepreneur
and TV fitness expert
"Getting to the top for me has been
about being prepared to take big risks
and having amazing mentors. Be hungry
for knowledge and invest in your
education. Who you know can really
open doors for you too. Make connections
and network."
Jacqueline Hooton, WIFE founder
"Seek out role models and connect with
a network of like-minded women.
Women behave differently in an all-female
group and are more likely to stick
their hands up or step forwards, so seek
out those women and have confidence
in your abilities."
Katie Bulmer-Cooke, fitness
entrepreneur and TV fitness expert
"Have positive influences around you.
When someone else believes in you, you
really feel you can take on the world. In
my case, it's my mam, dad and husband
saying, 'I know you can/will' when I
share with them my latest business idea.
Positivity breeds success!"
Biography
Karen Lisa Laing is a writer and journalist specialising in fitness and women's health. Karen runs writing courses for fitness professionals. She also teaches Pilates and pre-/postnatal fitness and co-directs the fitness business Fit School with her husband Chris in Essex.
 Click here to read Fitpro's  Q&A with Danielle Sellwood, visual director at Women's Sport Trust