Sarah Grocutt investigates the role of blue space, outdoor physical activity, health and wellbeing.
What is blue space?
In academic literature, blue space is defined as outdoor surface water. There is growing international literature exploring how water can assist in restoring and promoting health. Many researchers have been fascinated by the psychological effects of water, whether it be a waterfall, the sea, a river or a lake, and there have been many studies into and benefits recognised of how being near water lifts one's mood and helps one to feel less stressed, connected to nature and generally improves our wellbeing.
The attraction of water is not new; many traditions, cultures and countries have been using water as a natural healing place for many years. On a recent trip to Budapest, where I had the opportunity to visit their historical local spas, it was fascinating to see a medical centre attached to the spa offering a range of treatments for orthopaedic and health conditions, as well as offering holistic therapies. Also, on a study trip to Finland, I investigated how cold water treatments help with a range of orthopaedic conditions. These facilities are used by many – those seeking time out to invest in their health and wellbeing and, especially, the elderly seeking alternative treatments.
Connection to physical activity
Blue space refers to natural aquatic environments, such as oceans, lakes, rivers, waterfalls and even swimming pools. Blue space has the presence of water in an outdoor setting, which has many benefits for our wellbeing; for example, there are many opportunities for various physical activities and exercise to take place, such as swimming, wild swimming, surfing, kayaking, paddleboarding or simply walking along the shore. In fact, Pasanen et al state in their studies that the overall recreation patterns in England show that walking in a coastal region tends to last longer compared to exercising in an urban green space.1 Engaging in water-based activities provides cardiovascular exercise, strengthens muscles and improves overall fitness.
Participating in a new leisure activity for different groups and populations in a blue environment can also offer many benefits. Britton et al conducted a study on participants with a range of medical conditions who took part in a variety of water recreation activities, such as learning new skills, as well as including therapeutic interventions such as hydrotherapy using the ocean environment. Their studies revealed an overall improvement in their mental, psycho and social wellbeing results.2 The common wellbeing indicators included self-esteem, self-efficacy, confidence, resilience and other psychological benefits.
Australia's most popular recreational destination is spending time outdoors –particularly the beach with its many positive associations such as relaxation, enjoyment, social interaction and taking part in physical activity. However, Job et al argue that not everyone has access to blue space and outdoor environments.3 The Australian population has an increasing amount of people with disabilities, partly due to an ageing population, and these groups can face challenges accessing beach or water activities and miss out on opportunities and participation. A survey undertaken on 385 coastal residents from Southeastern Australia indicates that 21.8% of Australians are unable to participate in beach activities, with 15.8% stating disability or old age of 65+ as being a barrier. Possibly this could be due to lack of transportation and beach access requirements.
Although blue space provides both physical, mental and social outcomes, there are some populations within our communities who don't have equal opportunities and access to blue space.
Blue space and mental health and wellbeing
Blue exercise has been shown to have positive effects on mental health. Generally, being in nature can reduce stress, anxiety and depression, while increasing feelings of happiness, wellbeing and self-esteem. The combination of exercise and exposure to nature's beauty enhances mood and promotes relaxation. Research and data gathered by Grocutt when interviewing participants' motivations for long-distance walking and desired routes shows the attraction of the sea was evident and important to them; the participants embraced the open space, the sense of freedom to captivate and the multisensory space when walking along the coast, which enhanced both mood and wellbeing.4 Likewise, spending time near water has been associated with reduced symptoms of anxiety, depression and improved mood, as a blend of the visual appeal and soothing sounds of water creates a serene environment that can boost mental wellbeing. According to Kelly, blue spaces help to regulate the activity of anxiety and panic within our brains and that being next to or in blue spaces creates a reduction in stress and improvement in physical fitness and self-esteem.5
Increasing mental health issues in adolescents are steadily rising globally and statistics highlight the importance of physical and psychological wellbeing and the need to provide accessible and engaging exercise in gyms and urban settings. However, there appears little evidence on the benefits of physical activity in water. McKenzie et al suggest swimming, kayaking and surfing may provide additional benefits6; participation in adventure and action sports is known to create opportunities to foster positive psychological outcomes such as self-esteem and resilience.
There is much evidence to suggest that surfing can act as a therapeutic intervention and help achieve other benefits. Surf Therapy is defined by the International Surf Therapy Organisation (2019) as an intervention that combines surf instruction, surfing and group activities to promote both physical and psychological wellbeing. Wheaton et al data shows that by getting into the 'zone' or experiencing 'flow', a temporary state of focus and joy where the person is immersed in the present moment, this surf space can offer a different spatial experience such as a temporary escape, dislocating people from everyday life.7
This temporary escapism from a mundane routine of life appears to help promote health and wellbeing.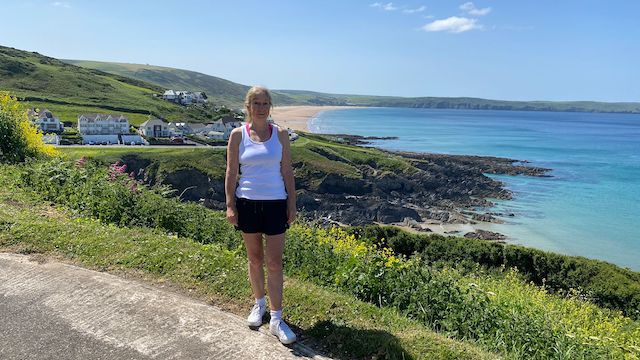 It appears that coastal visits are associated with greater stress reduction, happiness and connectedness compared to other outdoor natural settings and, particularly, where physical activity takes place both in the water and by exercising alongside the water. Pasanen et al data suggests that, for those who are fortunate to live in close proximity to a coastal region, adults in England tend to be happier and healthier than those in land, partly because they engage in more outdoor physical activity.1
Author Bio: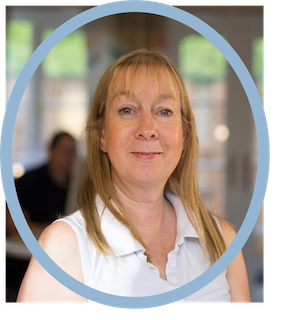 Sarah Grocutt is a science teacher, physical educationalist, Pilates and outdoor health and wellbeing coach. Her interests are in outdoor physical exercise, health and wellbeing, physical activity and connectedness through landscapes, where she is studying for an MA in Outdoor Education at the University of Worcester. She works as an educational consultant for many schools and colleges, teaches group exercise classes and works therapeutically outdoors with students and clients. She is the author of Mind-Body Pilates, integrating Pilates and wellbeing in indoor and outdoor environments. For more information on workshops, an introduction to outdoor therapy and individual sessions, visit www.fitness-excel.com Instagram @fitnessexcel1.
References
Pasanen TP et al (2019), Neighbourhood blue space, health and wellbeing: The mediating role of different types of physical activity, Elsevier, Environmental International, 2-7.
Britton E, Kindermann G, Domegan C and Carlin C (2018), Blue Care: A Systematic Review of Blue Space, Interventions for Health and Wellbeing, 60-61.
Job S, Heales L and Obst S (2023), Tides of Change: Barriers and facilitators to beach accessibility for older people and people with disability, an Australian community survey, International Journal of Environmental Research and Public Health, 20(5,651): 2-3.
Grocutt S (2023), Interpretive Phenomenological Analysis of Pilgrims Internal and External Motivations: Experiences on the Portuguese Camino de Santiago.
Kelly C (2021), Blue Spaces, How and Why Water Can Make You Feel Better, London, 28-29.
McKenzie RJ, Chambers TP, Nicholson-Perry K, Pilgrim J and Ward PB (2021), "Feels good to get wet": The unique affordances of surf therapy among Australian youth, Frontiers in Psychology, 2-3.
Wheaton B, Waiti J, Cosgriff M and Burrows L (2020), Coastal blue space and wellbeing research: Looking beyond western tides, Leisure Studies, 39(1): 83-95.