We're all feeling it. That impending sense of trepidation, as we strap ourselves into the slippery slope of a ride, freewheeling us all uncontrollably towards the cold, winter months. And this ride has no means of steering and certainly no brakes. And we all know, it's guaranteed to be an adventure-filled few months of diverse elements and weather changes. Emz Watts gives her top tips.
The hazy, sun-drenched outings on bikes, blissful long runs and outdoor training sessions, in tree-lined parks, with magical sunrises and near celestial sunsets to accompany our exercise, are fast becoming a distant memory.
So for those of you who love exercising outdoors, it's time for your training program to transition, requiring alterations and adaptions to ensure your regime is safe, achievable and still enjoyable.
It is a quintessentially British characteristic to discuss (and of course, moan) about the weather, but when it affects your usual training schedule, it's time to rethink and replan, but rest assured, it doesn't mean your love affair with outdoor training must come to an untimely end, in fact it's an opportunity to take your training to a whole new level, take yourself out of your comfort zone (even if you are kicking and screaming the whole way).
For some, outdoor winter training is the arena where they thrive, but for many of us, it takes a lot of spirit and determination to get ourselves out there.
So, let's start with the benefits of training outdoors in winter…
We all know that being outdoors brings us a wealth of health benefits. Exercising at any time, boosts your mood, due to the endorphins your body releases when working out, but this is even more beneficial and vital during the winter months. Being outdoors, even in the winter months, also increases your vitamin D absorption due to the natural sunlight which reduces your risk of suffering the winter blues (S.A.D – Seasonal Affective Disorder). Plus you have the added benefits of the fresh air, freedom of movement and being at one with nature!
You also increase your immunity by exposing yourself to the cold weather and we all know that with the winter comes an onslaught of bugs and illnesses, so build your defenses by getting out there as often as you can!
Now we've covered just a few of the benefits, let's make the experience more comfortable for you.
What do I need to train cosily and safely in winter?
Even in the cold, outdoor exercise will cause you to sweat, so you need to dress differently and layer your clothes in a way that allows you to start your training session feeling warm and shed layers as your training intensifies.
Start with your base layer: Start with polypropylene (a "moisture-wicking" fabric) that pulls the moisture away from your body, unlike materials like cotton, which absorb sweat. Polypropylene helps sweat evaporate quickly, so you don't feel wet and clammy, which will make you feel uncomfortable.
Then add a mid-layer: Ventilation – Now this is important to allow your base layer to work. Cover your base/wicking layer with an item that provides insulation, but with ample ventilated openings to regulate body temperature in cold weather, something with zips and/or mesh sides.
Finally, add an outer layer: This should be a waterproof shell, such as a nylon jacket or Gore-Tex waterproof jacket – it's an ideal top layer to ensure you stay dry. This should also have high vis/reflective sections to ensure you are seen if training at night.
Most often unconsidered is your extremities. It's vital you protect yourself. Invest in good, thermal gloves and thermal socks, a hat and a snood for really cold snaps. Make sure your trainers are suitable for the terrain you plan to venture to, we recommend a good non-slip sole designed for outdoor/cross country if you're off-roading. Throw in a good head torch and if you are road running, especially at night, add a body reflector/light to make all other road users aware of your presence.
Finally, let's talk about safety in a little more detail. As a female run coach, I encourage my female clients to avoid running solo and the same applies to men too, even during the day. We all know how good it feels to track our runs, celebrate our improvements, our PBs and then sharing it with the world via social media!!
But in this day and age, it's vital to stay safe!!
You may have taken all the steps mentioned above to stay safe; from high visibility clothing, to head torches etc, but have you ever stopped to think about your last running post on social media that shows your route or location?
So if you do post your achievements (and rightfully so!) please ensure you either delete/block out the road names or ensure you take a different route each time you run! It's a terribly sad thing to have to be aware of, but if you are publicising your regular route online, you could be potentially making yourself a target!!
Yes the cold, grey weather isn't always appealing and yes, it would be very easy for our primal hibernation instincts to get the better of us, but will that stop us…
There's a resounding NO.
By training through the winter months, you not only improve your health, immunity, hormones, sleep, heart health and mental wellbeing, but it also gives you the upper hand when the spring begins to show her beautiful promise of sunnier days. You'll be fitter, faster and firing off the start line of the new year primed and ready to attack anything life has to throw at you.
Author Bio: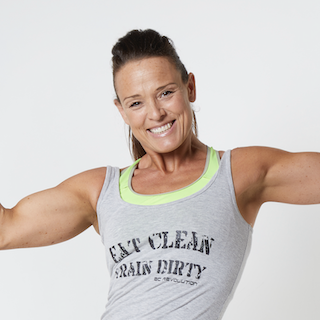 Emma (Emz) Watts of Bootcamp Revolution is an Advanced Level 4 Personal trainer, Nutritionist, health & fitness consultant, OCR advisor, health and fitness writer, fitness model and business owner with over 20 year's experience in the health and fitness industry.