We caught up with JP to chat about the art of questioning. When you master this skill the communication and connection you share with your clients transforms. This webcast is full of gems..
Go check out JP's latest blog… 'How well do you know FLOW?'
A little bit more about JP: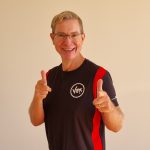 John Polley (JP) is an international presenter, writer, global brand ambassador, mentor, master instructor, movement consultant and creator of the Next Level – a series of mentorships which many award-winning fitness professionals have in their repertoire. His passion is understanding human beings, not just human bodies, and he teaches from a fundamental principle that 'everything is connected to everything'.
In 2019, the last face to face conference before the world changed, JP won the prestigious Exercise New Zealand Educator of the Year award, despite living in Perth Australia. Despite not being able to travel thereafter, he was still shortlisted for the same award in 2020. During the Covid era, he continued to build his audience and is a staple on education platforms, webinars and podcasts.
As an educator he has a knack for making the complex simple and brings a conversational, human and humorous atmosphere to everything he does. His intention is always to create an experience for students, and not simply, a workshop or blog. Using his knowledge, creative teaching strategies and superb ability to connect with an audience, we hope you enjoy what he shares with you here.