For ViPR master trainer Aimee Nicotera, the opportunity to present ViPR 3D for the first time in the UK was always going to be a truly memorable occasion. Not just memorable for Aimee but for all the delegates who attended her energetic and expertly crafted sessions. Olivia Hubbard put Aimee in the spotlight at FitPro Live to gauge what the overall reaction to ViPR 3D was over the weekend.
ViPR 3D was created with the traditional group fitness participant in mind. It was designed to bridge the gap between linear, traditional strength training and whole-body integrated training using ViPR by combining the best of both worlds. The bricks were formatted to utilize many of the ViPR series and incorporate movement in all planes of motion, improving aerobic capacity and allowing for a fun and rewarding experience.
The rising 3D energy
At FitPro Live, Aimee Nicotera, sporting a red bandana, was all smiles and exceedingly quick off the mark with her responses. I asked her to describe the atmosphere in the FitPro Arena during the ViPR 3D session.
Bright eyed, she replied, "They were like, 'What is this ViPR thing all about and how are we going to use it in a class?' but, as the class went on, I could see them – they just started smiling more and more, they started moving better and better, and it seemed like the enjoyment and energy continued to rise."
A personal perspective
You can't help but feel motivated by the 3D master training team. On stage, they demonstrated carefully choreographed moves in sync to uplifting music, the backdrop to a chorus of professional instructions accompanied by determined attitudes. The delegates, working hard, felt continuously engaged to achieve their fitness best. I wanted to know whether there was a particular area of ViPR 3D that Aimee enjoyed.
"One thing I love about 3D is that we move to the music," she replied. "In my heart I have a special place for just moving to the music, and I really love how music helps us move better and can facilitate better movement in people. And I love it when people find their natural rhythm and they start really moving with this load and, before they know it, they're getting their cardio and strength and you can see that they're just having an amazing workout experience."
3D for the very first time
I asked Aimee what it felt like to present ViPR 3D for the first time in the UK. "I love it! I love it!" she said with enthusiasm.
"I think all humans are basically the same. We have more in common than separates us, so the experience I think is similar – people aren't sure what to expect but as soon as you start moving with it and playing it, you start connecting on other levels and having fun. People are open, ready and eager to learn something new that can help them motivate their clients and their classes."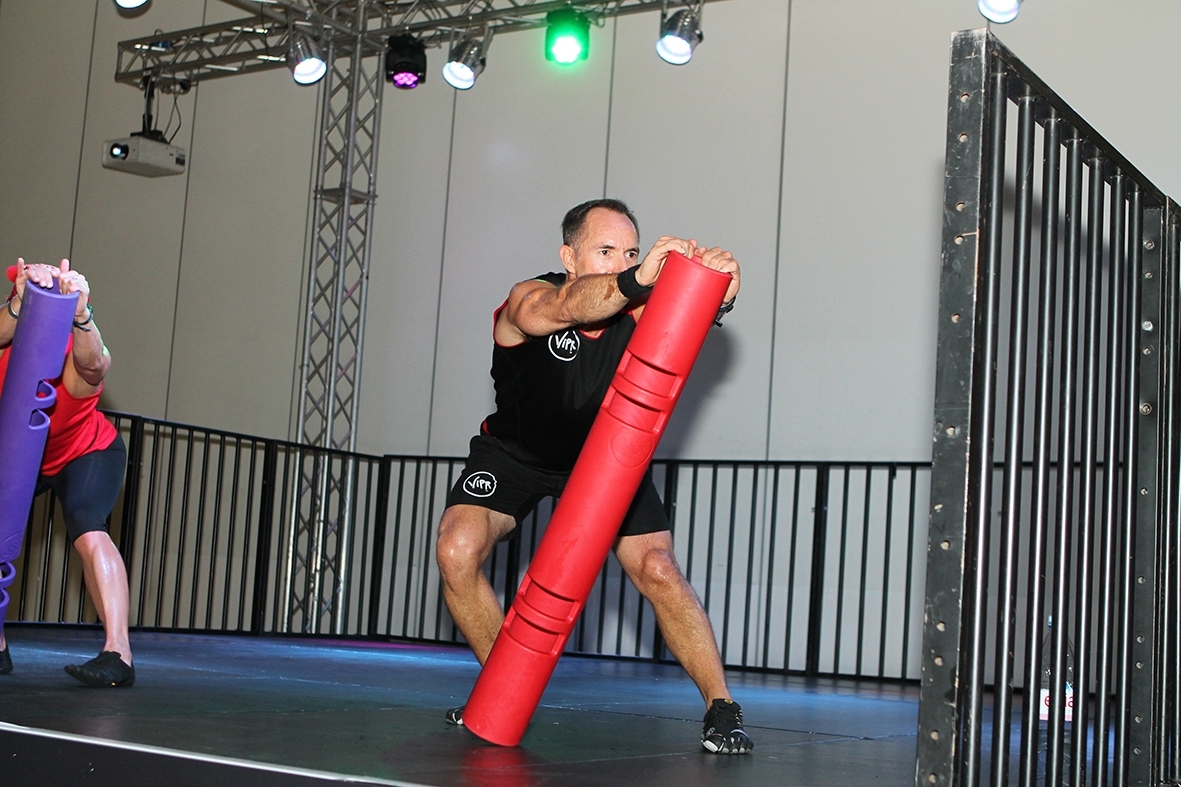 Darren on board to teach new releases
Darren Orton, HR and office manager at FitPro, is a master trainer for ViPR Group Fitness and was eager to present the ViPR 3D and Athletic masterclasses at FitPro Live.
He said, "I was very excited to join the UK ViPR Group Fitness master trainer team in 2013 and launch the eagerly awaited ViPR 3D and ViPR Athletic programs at FitPro Live."
Darren comments that it's great to bring the benefits of whole-body integration and Loaded Movement Training to the UK group fitness market, combining strength, cardio and functional training using 3D rhythmical movement.
"The energy and enthusiasm in the ViPR Group Fitness sessions at Live was sensational and the atmosphere was electric," he concludes. "I simply can't wait to teach the new releases – Release 4 3D and Athletic rock!"
The vital ViPR reaction
So, the master trainers have had their say, but how did the delegates react to the ViPR 3D launch at FitPro Live 2014?
In full swing, one delegate, who is a group X instructor and planning to become a ViPR instructor later this year, said, "I found the ViPR 3D class absolutely brilliant. I really enjoyed it. It was a lot harder than I expected it to be but so much fun."
Raising the positivity bar one notch higher, she added, "Absolutely brilliant! It was tough and it makes a huge difference the amount of weight on the tool – the manoeuvrability and the coordination – maybe I could have gone a little bit lighter!"
Further reflection was made on the fitness element of the class itself, as she added, "What made the class different than anything else I had ever done was the total fitness side of it – I didn't feel that any part of my body wasn't worked today and, from that, you get a really good workout in a short space of time and I think that's what everybody needs now. The problem today is the factor of time – people haven't got the time. When you've got things like this – ViPR is perfect. Absolutely perfect."
It was ViPR in particular that caught the eye of the delegate, as she targeted all her session choices around the ViPR programs. There was a general consensus that, on the day, FitPro Live provided instructors with extremely dynamic workout sessions and second-to-none educational content to inform, educate, and inspire all who picked up ViPR. Well, I don't know about you but I'm ready for a 3D session – where will you be attending yours?
To watch Aimee's full interview: http://bit.ly/1uNXMWq
To watch the delegate's full interview: https://www.facebook.com/ViPRGroupFitness
To find out more about ViPR 3D click here: http://www.viprfit.com/VGF.aspx