Industry organisations UK Anti-Doping (UKAD) and ukactive are to collaborate on education programmes to support gyms and leisure facilities to encourage clean sport and exercise.
The partnership will see joint research into the awareness and education of image and performance-enhancing drugs (IPEDs) in physical activity settings, including body-image issues for young people. The announcement follows a recommendation made in the UK Government's Tailored Review of UKAD, published by the Department for Digital, Culture, Media and Sport in January 2018, which set out the opportunity for UKAD to influence the fitness sector and to work with representative bodies to promote improved guidance and knowledge on the use of safe supplements.
The partnership, announced at UKAD's Clean Sport Forum in Cardiff's Principality Stadium, will explore attitudes around IPEDs among gym users and how best to support operators, coaches and personal trainers to help keep sport and exercise clean.
Trevor Pearce CBE QPM, UKAD chair, said, "Doping is a complex problem reaching beyond athletes competing on the field of play into other areas of society. It is right for us to be working closely with the fitness industry to support them to educate gym users and those who may go down the high-performance path into elite sport."
According to Pearce, the industry can no longer ignore "the crossover between those using IPEDs to look a certain way, and those looking to improve their performance in sport." The UKAD chair also called for body-image pressures among young people to be addressed.
Amanda Hudson, UKAD head of education, said, "We believe more work needs to be done to ensure gym users can make informed decisions about how they train, including access to information on safe and healthy ways in which to do so. UKAD's role in this partnership recognises the cross-over between people using gyms and playing sport, where the anti-doping rules and list of prohibited substances apply. We also wish to play our part in protecting the health and well-being of this increasing number of physically active people." Hudson added that UKAD and other agencies were concerned about misusing substances as a shortcut to improving health and fitness.
Huw Edwards, ukactive public affairs director, said, "With leadership from the fitness sector, we can ensure that people of all ages make informed decisions about whether to use supplements, and that starts with a joined-up approach to the education of staff, gym users and athletes."
For more information, visit: ukad.org.uk/what-we-do
*
A good week for…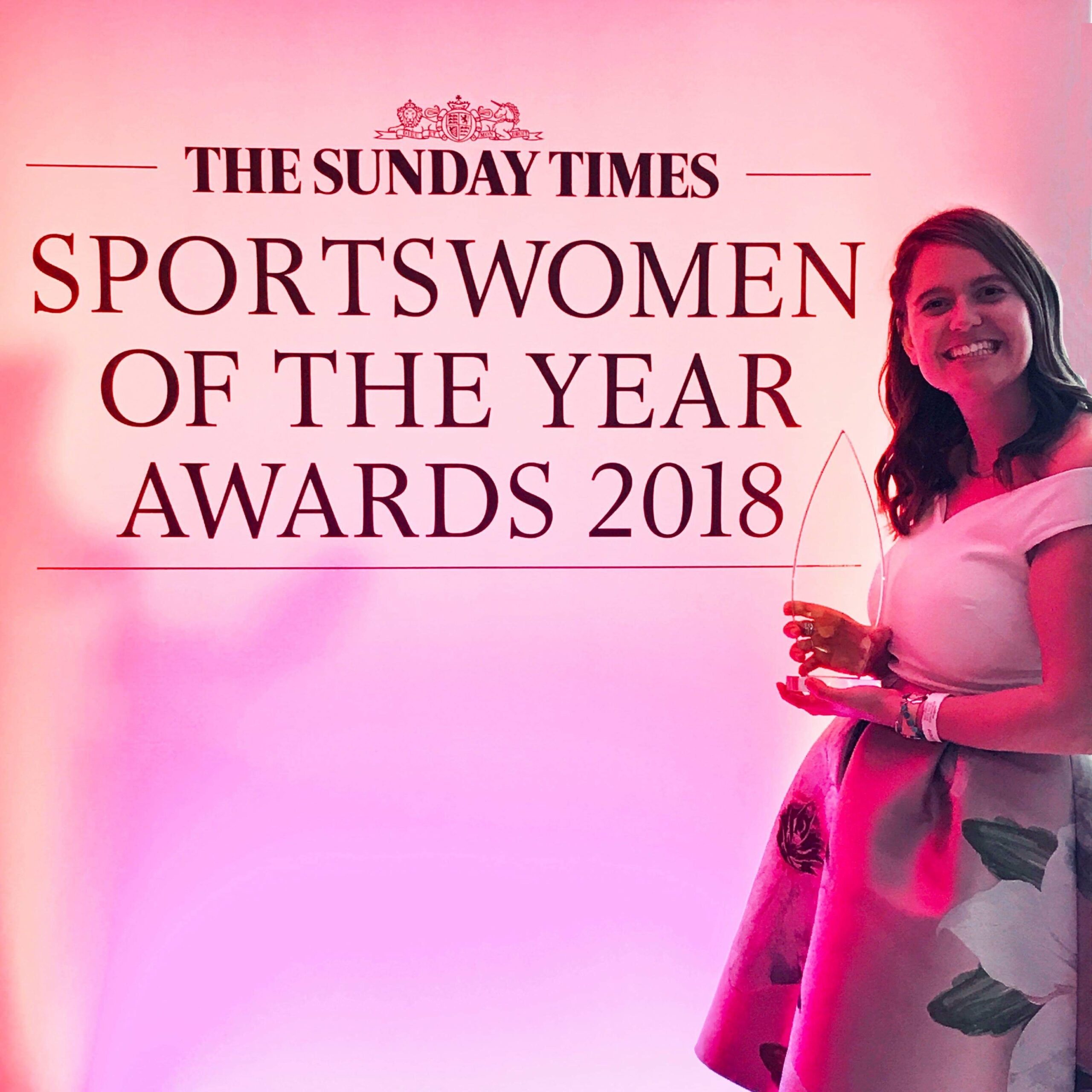 Alex Paske, The Mintridge Foundation, wins the Grassroots Award at The Sunday Times Sportswomen of the Year
We are delighted to share the news that founder and director of The Mintridge Foundation, Alex Paske, won the incredible accolade of The Sunday Times Sportswoman of the Year in the Grassroots Award category at a star-studded event at News UK in London on 1 November 2018.
The awards are supported by the Sport and Recreation Alliance, UK Sport, Sport England, and Women in Sport.
Alex felt honoured to be among such trailblazers in the world of sport such as Jessica Ennis-Hill, Kate Richardson-Walsh, Sue Anstiss MBE, and Dina Asher-Smith who has set the athletics world on fire this year, along with the mastermind of 'This Girl Can' campaign, Jennie Price CBE. England Netball ambassador, Eboni Beckford-Chambers, was among the first winners of the evening along with her England team mates. Netballers certainly know how to party!
On speaking about her success, Alex said, "I probably don't yet realise what we have created and this has given me an opportunity to take a step back and look at this incredible journey and where we are taking it to next! We have big, big ambitions!"
For more information about The Mintridge Foundation, visit: mintridgefoundation.org.uk
Winners 2018
1st: Dina Asher-Smith
2nd: Lizzy Yarnold
3rd: Katie Archibald
The Sunday Times Sportswoman of the Year
Georgia Hall
Young Sportswoman of the Year
England Netball Squad
Team of the Year
Menna Fitzpatrick and Jen Kehoe
Disability Sportswoman of the Year
Alex Paske
Grassroots Award
Trish Deykin
Helen Rollason Award for Inspiration
Jennie Price CBE
Lifetime Achievement Award
If you want more news, here's out piece from last week on the government's 2018 budget announcement