Have you got that get-up and go?
Loads of you have asked for us to delve deeper into the Turkish get-up – so we had to deliver.
Check out this video from Travis Mattern which is part of FitPro's masterclass series.
Enjoy!.. and let us know how you get on ✔️
Author Bio: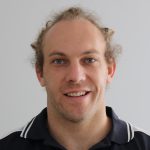 Travis Mattern is a qualified personal trainer with over 10 years' experience, working in various settings. His niche and expertise is Bootcamps and Functional Training. Travis is the Co-Founder of Fitness Education Online, a leading provider of online professional development for personal trainers. He has written more than 10 approved courses and consulted on more than 15 approved courses. Travis has also co-authored the book 'The Bootcamp Blueprint' and presented on the topic internationally. Fitness Education Online is home to one of the largest Facebook communities of personal trainers in Australia, with over 15 000 members.
What's next? How about giving the headstand a go with Rachel Watson?
And how about signing up for our bi-weekly newsletter to see more of this kind of thing? Sign up now!