In the Autumn issue of Fitpro magazine, we interviewed UK athlete Craig Winspear. As the excitement continues to build for the third Invictus Games in Toronto this month, we share more exclusive competitor interviews. This week, we hear from Lucas Purser and Sarah Frankosky. Both competitors are from the U.S Air Force – here, they reflect on their experience in the Warrior Games, the event from which Prince Harry took his inspiration to form the Invictus Games.
Read the Fitpro Magazine article and read Craig's story here
Note: You will need to use your Fitpro membership details to login.
Sarah Frankosky
Sarah will be competing in the swimming discipline in the Toronto Games 2017. She was injured in a skydiving accident during technical school. As she was performing her seventh jump using a civilian drop zone, Sarah hit a runway light when she landed and suffered a traumatic brain injury, resulting in double vision. "When I look at something, I see two of them, one stacked on top of the other," says Sarah. At the Warrior Games, Sarah competed in Archery.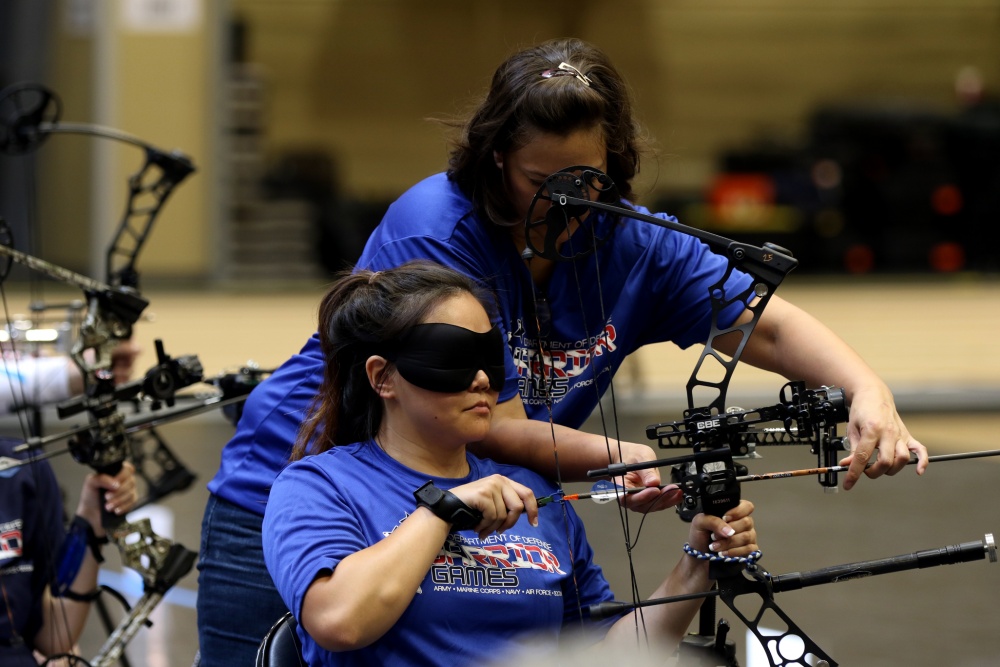 Image credit: Sgt Joshua Brownlee
FitPro: When did you first hear about adaptive sports and what would be your advice for individuals who may be reluctant to get involved?
Sarah Frankosky: I first heard about adaptive sports when I was working at Randolph Air Force Base, Texas. I support anyone who is interested in getting involved to take the leap of faith. You never know who you may meet or what sport you may enjoy. I met one of my best friends at the 2016 Air Force Trials, and because of the Air Force Wounded Warrior programme, I learned how to shoot archery blind and how to play sitting volleyball.
My advice for someone who may be reluctant to get involved in adaptive sport would be that you really don't appreciate how great and exciting life can be until you get out of bed and become part of something. People go through the same mental and physical struggles, so just allow yourself to try and give other people a chance to take you in.
FitPro: Tell us about the excitement of being part of the forthcoming Invictus Games community?
SF: It means a lot to have so much support going into the Invictus Games. I have support from my family, friends and co-workers, which makes me want to show them my abilities. However, it's the worldwide Invictus community that makes me want to prove that I have earned my place on the team and can represent the United States the best I can. The span of the Invictus community adds excitement to the whole experience and motivates you to push harder.
FitPro: What made Master Sgt Zarah Hartstock such a brilliant coach when you competed in archery at the Warrior Games?
SF: I could not have asked for a better partner at the Warrior Games in archery. Competing in a sport I had never done before is daunting, especially when you are blindfolded. Zarah's amazing ability as an archer, but also her calm personality, really helped me to perform. With her assistance I knew I was in good hands.
For the full write up of Sarah's archery achievements, visit: https://www.defense.gov/News/Article/Article/805710/novice-earns-silver-medal-in-visually-impaired-archery-at-warrior-games/
FitPro: You must admit that your achievements are remarkable considering you had never shot a bow until a few months before the Warrior Games?
SF: Absolutely, it is amazing what your body can do and what challenges it can overcome. Our minds and bodies are so much more flexible towards adversity than we think. We just have to go in with the right attitude to accept change and welcome new skills.
FitPro: How is your training going for the Toronto Games in September for the swimming? What key areas have you focused on?
SF: I am focused on endurance for swimming. I will be swimming in all the individual events, so I need to be able to keep my energy up. The 100m is the most physically tasking for me, and the best way to prepare is to increase my stamina. I am also working on technique, which I have learned is so essential to competitive swimming. I want to use my energy efficiently and want to cut off time in my events.
FitPro: What advice from your teammates has stuck with you since you first got involved with adaptive sports?
SF: The best advice I have received from my teammates has been to take care of my body. I have always been a 'bull in a china shop'. I go full force all the time and sometimes I push my body too hard. I have learned to listen to my body and allow it to recover more. Now, instead of pushing through pain, I let my body recover and build it up towards harder training. I have also learned the importance of strengthening my whole body instead of focusing only on cardio or repetitive drills. Our body works as a unit, and the best way to prevent taxing it too much is to have it strong overall.
Interview: Lucas Purser
Retired Senior Airman and New Yorker Lucas is a single-arm amputee competing in swimming, track/field, cycling, and sitting volleyball in the Invictus Games 2017.
Image credit: Samuel King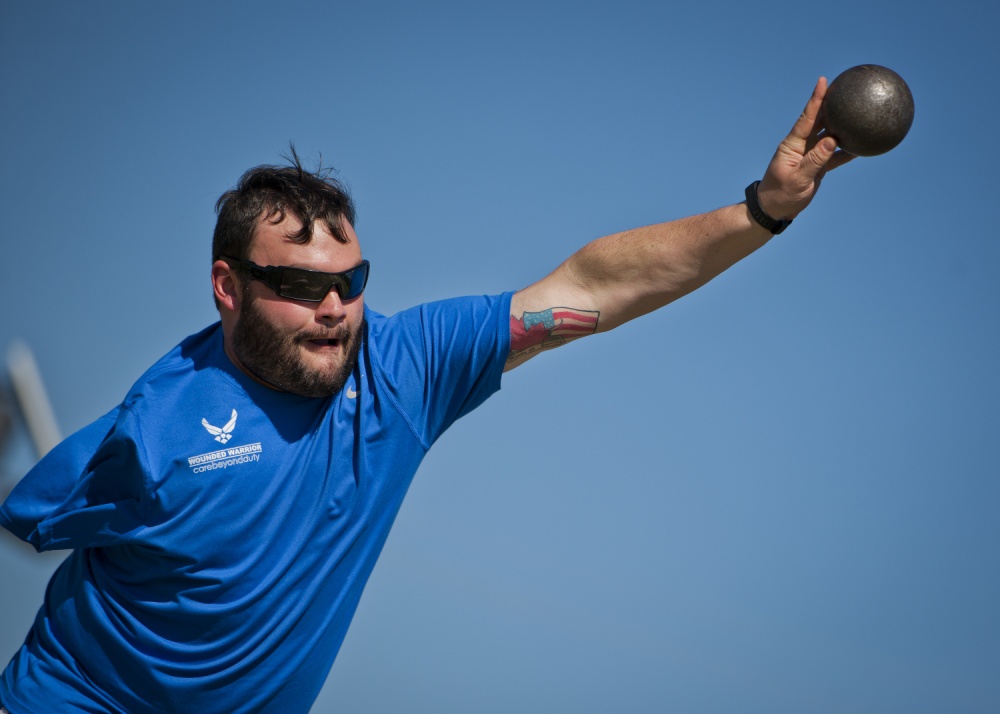 FitPro: Tell us about your experiences of the Warrior Games and how did the Wounded Warrior programme help your recovery?
Lucas Purser: The Warrior Games gave me competition back in my life when I thought that chapter was over. When you have people and coaches constantly urging you to do your very best, you feel confident when it's your time to shine at the Warrior Games. Air Force Wounded Warrior (AFW2) played the biggest role in my recovery. After the amputation of my right arm, I sunk into this deep, dark hole of depression. AFW2 grabbed me, and the rehabilitation power of sports gave me the confidence to go beyond Olympic-style sporting events and do bigger and better things. I would not be where I am now without the supportive attitude of AFW2.
FitPro: When did you first hear about the Invictus Games?
LP: I first heard about the Invictus Games during the closing ceremony of the Air Force Trials in Las Vegas. Although this is my first Invictus Games, I know that it's going to be tougher competing against different countries, instead of the branches of the military facing off against one another like the Warrior Games. Being selected for the 90-player roster for Team USA is an honour in itself, and representing the United States again, you can't put a price on that.
FitPro: Where are you training in preparation for the Games? Are you able to share with us specific drills that help prepare you for the field competitions?
LP: I'm mainly doing my training on the Buffalo State College Campus in Buffalo, New York. It is only about an hour and 30 minutes from Toronto. My training consists of just going out to the field and throwing the shot put and discus, with the occasional video recording to see how my form is and if it needs correcting. I also go to the gym and workout every night except Sunday, that's when I give my body a rest. I usually spend between an hour and 30 minutes to two hours in the field, and two hours in the gym lifting weights and cardio.
FitPro: How has the bike been adapted for you to ride?
LP: I had a recumbent bike modified for me last year. All the controls are on the left side of the trike. This includes all the braking mechanisms, gears and the safety mirror.
FitPro: Which strokes will you be doing in the swimming discipline, and what training techniques have you incorporated to focus on balance and strength training?
LP: I plan on doing the back stroke and freestyle for the swimming competition. I could go on and on about the training I received from first starting swimming a couple of years ago in AFW2 to the present time, but for me, just getting in the water and working on my lung capacity and endurance is more than enough. Five lung surgeries sure takes a toll on those things.
FitPro: How long do you spend training in the pool?
LP: I usually spend about a couple of hours a day in the pool for about two days out of the week.
FitPro: Have you noticed a difference in your attitude and well-being as a result of training for the Games?
LP: Training for the Warrior Games is one thing, but training for the Invictus Games is a whole different ball game. I see myself more motivated than ever to get outside and train for these Games. Even with a couple of setbacks during the year, I still have the attitude and motivation to get out to the gym, pool and field to train.
FitPro: What advice would you give to other athletes who may be reluctant to get involved with the Invictus Games?
LP: The best advice I can give to those who didn't make the Invictus roster is get back out on that bike, get in that pool, throw those shot puts and discus, and hit the gym. Every time you practise a discipline, you become one step closer to making the team next year. I did this exact same thing and successfully made the team. Get out and train!
FitPro: What made you want to compete in so many disciplines? What role did sport play in your life prior to your injury?
LP: I am a very competitive person in general. I have played sports my whole life, everything from the great sport of ice hockey to lacrosse. Being a competitive person, I wanted to compete in the most sports possible to not only push myself to train, but to set as many personal records as I can, and when the next year rolls around, I love to see me crush those old personal records.
What is the Warrior Games?
Participation in the Warrior Games empowers wounded warriors to focus on their abilities and teaches them to cope with the new 'normal'. The Air Force integrates adaptive sports and reconditioning programmes as part of recovery and rehabilitation plans. The Air Force Personnel Center manages these and other programmes aimed at restoring wellness and function for seriously wounded, ill and injured airmen. For more information on the Air Force Wounded Warrior programme and other Airman programmes, visit www.afpc.af.mil
In 2013, Prince Harry witnessed the Warrior Games for the first time, inspiring him to create the Invictus Games. Except, Prince Harry wanted to make Invictus bigger and he wanted to make it more international. Both Lucas and Sarah will be going for gold on 23 September in Toronto. For more information about the forthcoming Invictus Games, please visit the Invictus Games Foundation website: https://invictusgamesfoundation.org/
As ever, we would love to hear your comments about the features. Get in touch with us at: publish@fitpro.com or send us a tweet at: @fitpro_online