There's nothing quite like a meatball and these veggie versions have just the same lovely comforting feel as the meaty kind. This makes a fab supper dish that all the family will love. The Hairy Biker's share their recipe and Linia Patel offers her nutritional analysis.
Serves 4 | 249 calories per serving; 337 calories with sauce
Prep: 25 minutes | Cooking time: up to 50 minutes
 Ingredients
100g brown lentils (or 250g ready-cooked)
1 tbsp olive oil
1 small onion, finely chopped
1 medium carrot, grated
100g spinach or chard, washed and finely shredded
1 garlic clove, finely chopped
1 tsp cumin
½ tsp cinnamon
½ tsp cardamom
50g breadcrumbs
25g pine nuts, lightly crushed
Zest and juice of 1 lemon
2 tbsp finely chopped parsley
1 egg, beaten
Sea salt and black pepper
 Sauce
1 quantity of tomato sauce*
1 tbsp harissa paste
Small bunch of parsley, finely chopped
Squeeze of lemon juice
Tomato Sauce recipe
Makes 1 quantity | 350 calories | Prep: 5 minutes
Cooking time: 45 minutes to 1 hour or more
1 tbsp olive oil
1 large onion, finely
chopped
3 garlic cloves,
finely chopped
2 x 400g cans of tomatoes
200ml red wine
1 tsp dried oregano
pinch of cinnamon
sea salt and black pepper
Heat the olive oil in a large saucepan. Add the onion and cook it very gently until it's soft and translucent, stirring regularly. Add the garlic and cook for another minute or so. Add the tomatoes and wine, together with the dried oregano and cinnamon. Pour in 100ml of water, then season with salt and pepper. Bring the sauce to the boil, then turn down the heat to a simmer and cover the pan. Cook for 30 minutes, then take the lid off the pan. The sauce can be used like this while it's quite thin, or you can cook it for longer, uncovered, until it has reduced and thickened. The recipe can be varied – for example, swap red wine for white if you want a lighter, less robust sauce, or use thyme or rosemary in place of oregano. The pinch of cinnamon adds a hint of sweetness to offset any acidity in the tomatoes.
Preparation
Cook the lentils according to the packet instructions and set aside. If using ready-cooked lentils, you will need 250g.
Preheat the oven to 200°C/Fan 180°C/Gas 6. Heat the olive oil in a frying pan and add the onion and carrot.
Cook over a low heat until the onion has softened, then add the spinach or chard. Continue to cook until the greens have wilted and softened – if using spinach, cook until any liquid evaporates.
Add the garlic and cook for another minute, then add the spices.
Season with salt and pepper.
Add the breadcrumbs, pine nuts, lemon zest and juice, plus the parsley to the lentils, then add the cooked vegetables.
Stir in the egg and the mixture should clump together.
Form the mixture into 12 balls of about 40g each and arrange them on a baking tray.
Bake them in the oven for 10-12 minutes until lightly browned.
Put the tomato sauce in a large, shallow, flameproof casserole dish or a deep frying pan and stir in the harissa paste, some of the parsley and a squeeze of lemon juice.
Add the lentil and spinach balls in a single layer.
Cover the dish with a lid and heat through on the hob for a few minutes until everything is piping hot.
Sprinkle with the rest of the parsley and serve at once.
 Nutritional analysis
| | | |
| --- | --- | --- |
| Nutrient | Per serving (g) | Per 100g |
| Calories (kcal) | 386 | 87 |
| Fat/g | 14.3 | 3.2 |
| Of which saturated fat/g | 1.8 | 0.4 |
| Carbohydrate/g | 33.6 | 7.6 |
| Of which sugar/g | 13.9 | 3.1 |
| Fibre/g | 7.9 | 1.8 |
| Protein/g | 14.5 | 3.3 |
| Salt/g | 2.3 | 0.5 |
 Linia's verdict
Lentils are nature's balanced and mixed meal. They contain good, slow-release carbohydrates, protein and fibre. They are also naturally low in sugar and saturated fat, and are rich in minerals such as copper and manganese, and vitamins A and K1. These meat-free meatballs are therefore perfect for vegetarians/vegans or for a meat-free meal (and we should all be trying to get in a few of those!). As a main meal they could be served with a small portion of wild rice, quinoa or whole-wheat pasta. If you want a low-carb option, spiralised courgettes or cauliflower rice would also be perfect accompaniments.
 Author biography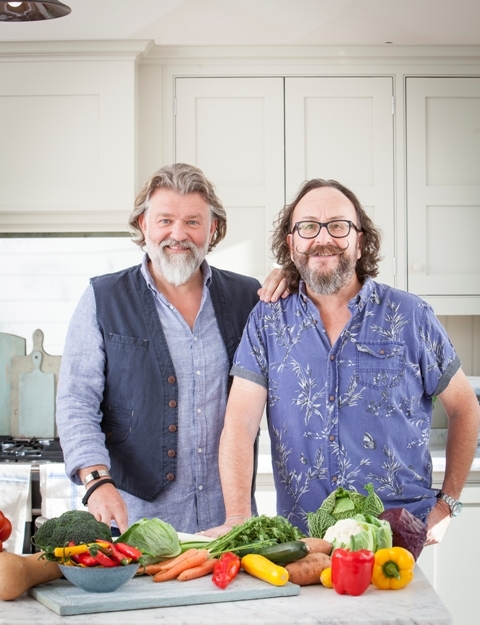 Si and Dave met on the set of a TV drama in 1995 and have been cooking and motorbiking together ever since. They have now written more than 20 cookbooks. In 2012, the boys shed more than six stone between them on The Hairy Dieters: How to Love Food and Lose Weight. They have also created a range of low-fat sauces (available in Asda and Ocado), launched an online subscription-based weight-loss club (The Hairy Bikers Diet Club), and published an acclaimed autobiography, blood, Sweat & Tyres.
Linia Patel has a BSc degree in biochemistry and physiology. Since graduating in 2006, Linia has taken up various leading roles in performance nutrition and public health; liniapatel.com