The element of fun and a good experience is vital for the success of a running club finds FitPro reporter Olivia Hubbard after a session at the Clapham Common Run Club.
Casual in aqua
Created and plucked from imagination in 2011, Run Club began in Putney before expanding to further locations: Clapham Common, Battersea Park and Wimbledon to name just a handful. The club was launched in order to provide an engaging, fun, varied and highly motivational running session for beginner and intermediate runners. The 'non corporate' nature of Run Club ensures the club doesn't operate too similarly to a commercial business whereby you are forced to 'buy a souvenir' at the end of your session, which takes the shape of a branded t-shirt. Nor are you labelled 'the navy blue team' with a loose dangling bib obstructing your running shoulder as you attempt to gracefully sprint to a finish line.
Run Club on Clapham Common began at the reasonable hour of 09:30 and the meeting point was the bandstand on the common. Run Club's aqua t-shirts were the signifier that I had stumbled across the eager Run Club team, who were ready to start the moderately intensive exercise class.
Keen Dean coaches the sprints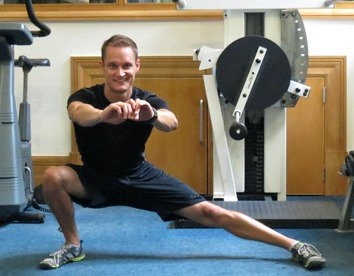 Dissimilar to his Hollywood namesake, fitness coach James Dean possesses skills that reach so much further than a casual jog around the common's pond. Dean merges a variety of training tools, from his Pilates classes to his dynamic core sessions. At first glance, coach Dean poses a welcoming stance, evoking a 'can do' attitude that eases and relaxes all newcomers to the group. The coach has been working in fitness as a personal trainer and group exercise instructor for four years following a career switch. The change was made because Dean had "had enough of sitting in an office chair writing emails and conducting performance management appraisals". Dean teaches his favourite classes, from Pilates to indoor cycling to Run Club. The most important thing for him is being able to meet some of the most interesting people, helping them to improve not just their fitness but also their overall well-being. Past experience for the fitness coach has included a short stint as a fitness model on QVC, as well as experience as a Pilates coach in Milan, the coach also met Hugh Jackman in Winchester to sign his PAR-Q when he was on location filming for Les Miserables so he could workout in the local gym. A chuckle later and then the line "he's in really good shape" in reference to Jackman suggests a casual acquaintance, naturally.
Catching the last tube
The warm-up exercise was based on the build up of speed over a short distance, from the slowest walk, to a brisk shuffle and finally to 'catching the last tube', which resembled a walk just shy of a restrictive jog. The atmosphere throughout the session was indeed inclusive, relaxed and most definitely dynamic. Dean carefully constructed an uplifting experience from the initial dynamic stretch to final high knee jump midway through warming those muscles up. It was beginning to pay off; I was fully benefiting from an extensive warm-up, contrasted with my own off-balance lunges on the walk up to my regular Tooting Bec Common jog, adding in a swing of the arms for good measure.
Take a day off on Friday
I ask Dean,"What particular training tools do you think are most successful for those attending Run Club and why? Talk me through the technicalities of the core sessions and sprint sessions."
"The single most important tool in any training regime is to keep turning up," says Dean. "If you keep turning up and are consistent, you will improve. Run Club keeps you turning up through a combination of factors: it's fun, it's sociable, it caters for mixed abilities, it's on at a location near central London almost every day of the week (except Friday – life's too short to work out every day), it's always varied, it's never boring and it gives you a goal. Many of our members are also training for events, from 5ks to triathlons to marathons, but we also have members who simply come to improve their fitness in a fun, sociable group."
So much more than a jog
He adds, "We aim to have a social every month or so, where we simply hang out after a session. Away from Run Club our members have gone on to form their own friendships: completely independent of Run Club one group went on a ski holiday recently; two other members met at Run Club and are now engaged to be married. You couldn't make it up!"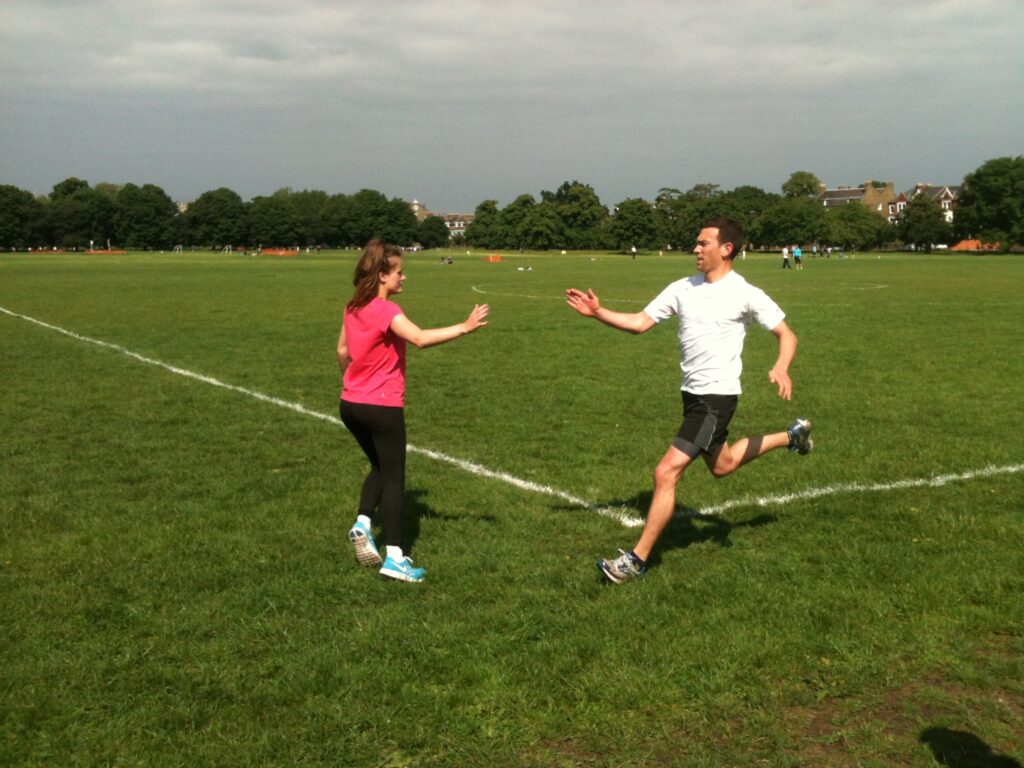 Training with variety
Run Club focuses on both sprint and core sessions and variety is key to the way in which the session is constructed. Sprinting aside, the session also includes fartlek runs, threshold runs, long, slow duration runs and hills to name a few. The variety included in the session enables progression every week for clients attending Run Club. We move on to the core sessions, which seek to incorporate a wide range of muscle groups. According to Dean, core is key. He uses this training to improve people's core engagement, whether it is running or cycling or another type of training. Sessions end with static stretches, which are held for just 20-30 seconds before changing to another stretch.
Presented as an 'inclusive club', Run Club goes by the tagline of 'all welcome'. I wanted to find out how a running class can be designed for all. How can someone who has just run a 10k train alongside a member who took the tube just one stop to the bandstand meeting point and was suffering from an impromptu stitch from the walk over? I ask Dean, "How do you devise running classes that cater for such a diverse range of ability?"
"All sessions are run around 200-400m small loops and time intervals, so no one feels left behind, and are mixed with running technique drills, as well as cross training such as core work or strength training," he tells me. "If you can't run for two continuous minutes or if you are a sub 40-minute 10k runner, or if you can't do one press-up or you can do 100, you will feel challenged and get a good workout."
Bumpy road from the kebab house
Don't be fooled – James Dean is not going to make his members throw away their bacon sandwiches before training, nor is he going to turn down a sociable drink at the Sun in Clapham Common old town. "I've been enjoying running for as long as I can remember," he says. "Then I discovered the pub and the kebab house. After three years at university (I read English and physical inactivity)! I was two stone heavier, so I decided I needed to shape up and went for a run. I lasted 2½ minutes and was nearly sick (and I was running downhill)! It was a bumpy road back to enjoying running after that but the experience meant that I knew what others should avoid when regaining their fitness through running." He adds boldly, "It also meant that I would never take fitness for granted again."
He concludes,"You have to work at being fit but the payoff is amazing. It also gave me a lot of empathy for anyone looking to regain their fitness who isn't super fit or a natural athlete."
Further afield
When you think of 'experience' what comes to mind? Experienced coaching? A run over challenging terrain? Or what you take away from the session? I ask Dean whether Run Club partakes in any long distance runs.
Dean's off the mark with an enthusiastic "Yes!" He informs me about the running events, which typically fall on Sundays. At Run Club, these Sunday event days are essential for those who are training for longer running sessions in order to help them work on their mile progression. Members participate in a group run to train as a team and improve personal fitness. Recently, many members took part in the London, Manchester and Vienna marathons, and either achieved their first marathon or smashed their previous personal best, in part thanks to Run Club and their long Sunday runs. During one session, Run Club had a Sunday social long run in Richmond Park.
"The next big event on the calendar is the inaugural Run Club London 10k/boat trip/barbecue up the Thames on Saturday 19 July," says Dean. "Meeting on the south side of the Thames by Hammersmith Bridge, the picturesque river run will take us 10k to our finishing point in Richmond. The run will be timed in true park run style by the Run Club's coaching team, giving those involved a great chance to crack their personal best on this fast scenic route.
"After the race, we're taking a Thames river cruise taking in the sights while enjoying a BBQ. Another running event taking place that a number of members are targeting is the Amsterdam Marathon in October," Dean concludes.
If you're packing your trainers for Amsterdam after reading that, then view Run Club's website here: http://www.runclub.co.uk/
If not – book a ticket anyway, because you'll probably see Run Club celebrating down at a famous watering hole. Just look for the big smiles, the 'can do' attitude and a sea of aqua and you've found them!