Looking for a new job in the fitness industry? Founder and managing director of FitLinks, Alina Cooper shares her advice on how to use social media effectively in recruitment.  Click HERE to listen to Alina's podcast and while you're there, catch up with our other podcasts.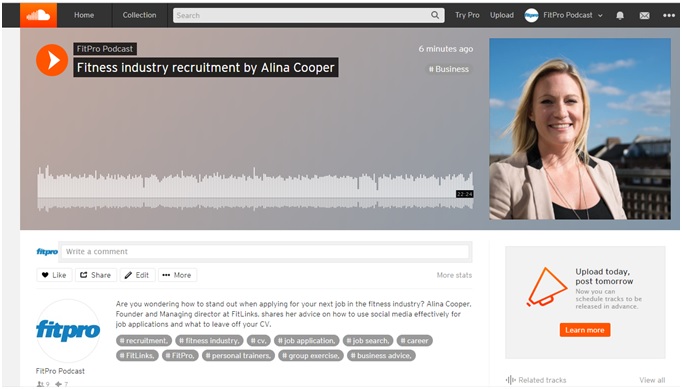 In case you missed it…  Alina's column from the Spring issue of Fitpro magazine:
Using social media to recruit 
Competition for top talent in the health and fitness sector is rife. Alina Cooper shares her top tips on how to use social media effectively to recruit. 
As the industry grows and diversifies, it will be even more important for companies to convey their wants, needs and culture via their websites and other digital touchpoints. There are six key things all companies should be doing:
Add a professional careers page to your website and post live vacancies
Keep the application process simple – printed application forms are a thing of the past; everything should be online
Use an Applicant Tracking System to professionally manage your recruitment and save you time and money
Post to relevant industry job boards
Use digital marketing tools to recruit: social media, SEO, Google AdWords, etc.
Embrace video
When it comes to digital, the stats speak for themselves. There are currently more devices connected to the internet than there are people on Earth, which means 40% of people socialise more online than they do face to face. A whopping 350,000 tweets are sent, 2.4 million queries are searched on Google, and more than 680,000 pieces of content are shared on Facebook every minute. With this in mind, you can't afford not to embrace technology! In this article, we are going to look specifically at why and how to use social media for recruitment.
Why use social media?
Social media allows companies to:
Reach candidates faster and at a lower cost
Engage with their target audience and easily identify whether the candidates are a good cultural fit
Develop brand awareness, allowing employers to reach more candidates that they may never find through traditional hiring methods
Drive more referrals
Target passive job seekers
How to use social media
As with any digital marketing strategy, it is essential to understand your target audience. Ask yourself, what platforms do they use, what type of content would appeal to them, and what would attract them to your company?
This information will then allow you to create a content plan that directly targets your chosen audience. Simply creating a social media account, posting a few messages and waiting for contacts to find you is not going to cut it.
Which platforms to use
Choosing which platforms to use is very much dependent on who you are targeting and how you want to communicate with potential candidates. There is no hard and fast rule for this, but at FitLinks we have found the following to be the most successful:
Facebook
Facebook is still the biggest social network out there. With more than 1.3 billion registered users, it has twice as many people as its closest competitor. Start by creating your company page and invite people to 'Like' it. Getting your network to grow organically is very challenging on Facebook; therefore, you will need to pay to extend your reach to new audiences.
Target audience – everyone! Due to its reach, we recommend advertising all roles on Facebook.
Twitter
The great thing about Twitter is that your messages can be seen by anyone, but getting your message to the right audience requires a little bit of thought. Using hashtags are key to your posts being seen. For example, the use of hashtags such as #jobs, #hiring, #work and #fitness will attract job seekers and expand the reach of your content.
Target audience – management, admin, finance and sales.
Instagram
Instagram is a great marketing and branding tool that will add to your candidate experience. You can share pictures and videos and, as with Twitter, you can use hashtags to help candidates find your content. Instagram allows you to share via images what goes on behind the scenes. We recommend sharing pictures of your workplace, candidates for whom you've helped find jobs, events you participate in, fun activities and job ads.
Target audience – fitness professionals.
LinkedIn
Used for targeting professionals, LinkedIn currently has more than 467 million users. In addition to its paid search tools, you can use it to share different types of content and to headhunt your target employees.
Target audience – board-level, management and sales.
As much as you may fear it, in order to compete for top talent it is essential to embrace technology. If you don't have the in-house expertise, FitLinks can help. We offer a full array of recruitment support packages to help you recruit efficiently and effectively.
About the author
Alina Cooper is the founder and managing director of FitLinks, providing job board and talent-matching services for the fitness industry. She has more than 13 years' experience in the health and fitness sector. fitlinks.co.uk
Where next?  Discover six apps to help the mind . Click here