Last year, we reported on the Hackney Half Marathon, pounding 13.1 miles in a balmy 28ᵒC. On 8 October, we got to know Hyde Park pretty well. FitPro communications and content editor Olivia Hubbard tells us how she got on in the 2017 Royal Parks Half Marathon this month.
I note that I'm a bit late in delivery here – I'm still downloading the abundant amount of Fitbit data collated on race day. This half marathon is known for being the 'pretty one'; it's also the eco-friendly one. I have to admit, I did feel less triumphant being handed a wooden medal at the finish. This year marked the Royal Parks Half Marathon's 10th birthday and 16,000 runners were on the invite list. The route sees runners take in the capital's world-famous landmarks on closed roads and four of London's eight Royal Parks – Hyde Park, The Green Park, St James's Park and Kensington Gardens.
My friend, who encouraged me to enter, had only just taken up running and was in 'new runner' mode. She had bought most of Holland and Barrett's energy gel offerings and never left for a run without a generous dousing of Vaseline on her lips. I was running and fundraising on behalf of mental health charity MIND and my pal was running for Parkinson's UK. My training had begun extremely well; I had clocked a comfortable nine miles in mid-August and manoeuvred myself around the rocky footpaths that surround Ullswater Lake in the Lake District, completing varying hikes. I know how to have fun on holiday. I also studio cycled at Boom, performed muddy burpees in my local park and did downward dogs in my bedroom. When your room resembles a rabbit hutch, this is hard.
Then, the bad training days happened. September was annoyingly warm; Regent's Canal shimmered in the sunshine, which then encouraged hipster canal boat soirees – inviting and distracting. Also, I wasn't part of my running group anymore: one member went to Texas and found BBQ ribs, another sloped off to Manchester and another pair went about collecting their Centurion ultra running t-shirts. So, I trained solo.
We got a cab to Hyde Park on race day (not my idea); the driver wanted every detail of the route – just what you need when you have pre-race jitters. "And then you go around Hyde Park and double back on yourself?" he asked. He then wanted to understand how you donate and the JustGiving page process was lost on him. Luckily, a cluster of runners could be seen out of the window and I could see the race village through the trees.
I did my own warm-up (paying close attention to opening up my chest; I would always experience pain if I didn't) and didn't bother with the stage affair, but I still found myself in the toilet queue four minutes before the start gun went off. TV presenter Ben Fogle was nervously waiting alongside me. I chose to pack myself into the 'blue wave' around the two-hour mark. I was aiming for sub 1hr 50mins, so I arrogantly decided I would feel better overtaking rather than being overtaken. How wrong was I? The first 5km were fairly slow – not a bad thing; I was forced to put the brakes on and reserve energy. Yet, seeing the 1.50 pacer on the other side of the road heading in the opposite direction was disheartening. The crowds were sparse near the Strand, probably because everyone was buying falafel wraps in one of many Prêt a Mangers. Metal boulders were alarmingly close to eager runners and I had to halt before I flung myself over one – too eventful so early on. Also, overtaking was near impossible; I rubbed too many elbows on that stretch and heard too many tuts.
Running up the mall was pretty glorious. The crowds were good here, too, and Wham's Wake Me Up Before You Go Go encouraged my head to nod: not like Paula, though. When I saw the half-way sign as we entered Hyde Park, my pace quickened (I ran a quicker second half than the first). The Backstreet Boys' Everybody saw me into mile eight, so now I had some head nodding along with pitchy vocals. Upon reaching mile 11, I felt a niggle in my right leg – I kept going but this stretch was the slowest of all the miles. Thank goodness for Groove Armada's I See You Baby.
A few friends were dotted about the place: how nice. I couldn't hear them and I only saw them on the final 400m. I crossed the line in 1.48 minutes. There wasn't a lot of time to hug my wooden medal – a banana was offered and then an empty carrier bag to put the sweets and varying types of flavoured water inside. I slumped onto the pavement with another finisher. Our dry lips chomped down on the mushy fruit. It was then that I thought of my friend, who I later found – clutching her tin of Vaseline.
Lap splits for those who love stats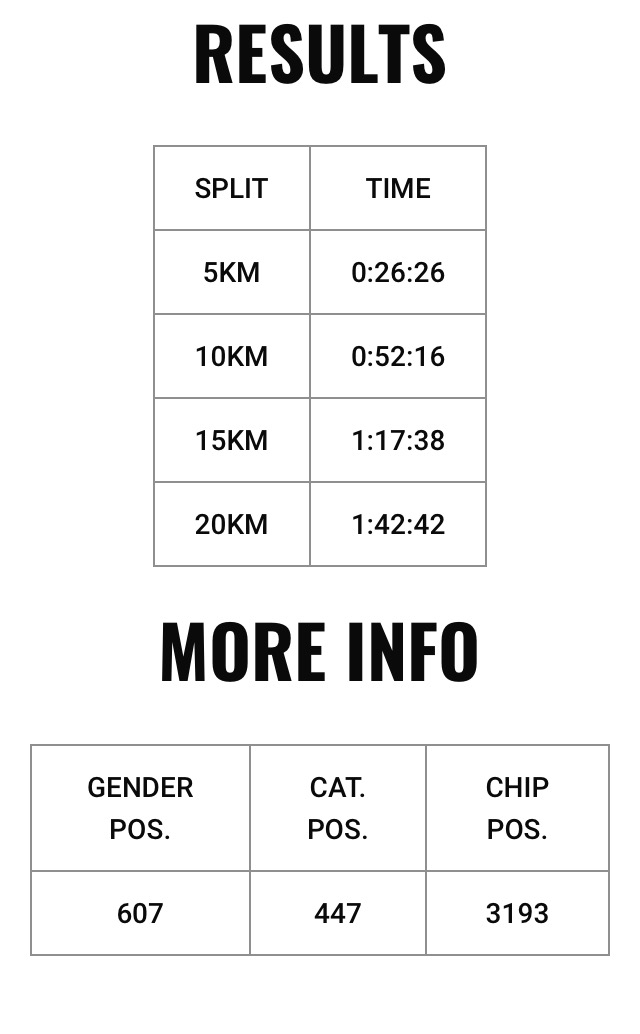 For those who don't – the race video: