In the winter issue of Fitpro magazine, our Q&A feature was with Kiko Matthews, who in January 2018, after surviving a rare, life-threatening condition, attempted to row across the Atlantic – solo and unsupported.
Well, last month, Kiko broke the Atlantic rowing record, just months after having neurosurgery, and became the fastest female to row solo and supported! Commencing in Gran Canaria, Matthews finished the challenge in Barbados after 50 days at sea, beating the previous record by one week. What makes this victory even more remarkable is that Matthews, before taking on the 2,800-mile challenge, had never rowed before. Her aim was always to inspire others and to empower women, and what Matthews has achieved is incredible and what she has done for women's sport is outstanding.
We caught up with Kiko following her world record success and she had the following advice for fellow fit pros, "My honest advice is to think 'what's the worst that can happen?' And when times were tough, I would think about how it doesn't matter, as I'm doing more than a large proportion of people, so just enjoy it. Once you start to enjoy it without the pressure then it becomes a lot easier. What's next? Well, it involves bikes, plastic awareness and some long distances. Oh and I'll be SUP-ing a good chunk of the Mekong River this winter, but that's more for fun."
In case you missed our interview with Kiko before her challenge commenced, you can read it below, and for detailed blogs throughout her row, capturing all the highs and lows, visit: kikomatthews.co.uk/updates/
Rowing to empower
FitPro: Kiko, tell us more about your condition.
Kiko Matthews: Most doctors don't see or diagnose someone with Cushing's syndrome; it's quite a rarity. The tumour would have been there for five or six years, but the symptoms didn't appear until very late on. I remember sitting on the edge of the pool thinking that my legs looked really skinny – I was trying to lose weight at the time, so I thought it must be working! I then remember this big, podgy belly, which definitely wasn't the same size as my legs, but I didn't think anything of it. Other symptoms included spots, hair on my face, and a metallic taste in my mouth. A tumour was found on my pituitary gland that was 6mm in length. My memory became shocking; I would have conversations with people and forget what I was saying mid-sentence. I was urinating sugar and was losing about half a pound of weight a day. I went from 11 stone to just over 10 stone at this point.
Cushing's syndrome
Kiko Matthews developed a much rarer type of the illness, known as endogenous Cushing's syndrome, which is caused by the body producing more cortisol than it needs. The most common reason for this is a tumour (an abnormal growth of cells) that develops in the pituitary gland, which is a pea-sized gland in the brain. It produces the adrenocorticotropic hormone (ACTH) that stimulates the adrenal glands, which in turn releases cortisol into the blood. The tumour can disrupt the normal workings of the pituitary gland so it produces excessive amounts of ACTH. This causes the adrenal glands to produce too much cortisol. Less commonly, a tumour develops inside one of the adrenal glands, which leads to Cushing's syndrome. Another less common cause is a tumour developing inside the lungs and producing the ACTH hormone, known as ectopic ACTH syndrome. Tumours that develop inside the pituitary or adrenal gland are usually benign (non-cancerous). Other than the symptoms of Cushing's syndrome, they don't usually pose a serious threat to a person's health. Tumours that develop inside the lung can sometimes be cancerous though and it's unclear why these tumours develop.1
FP: Why this challenge?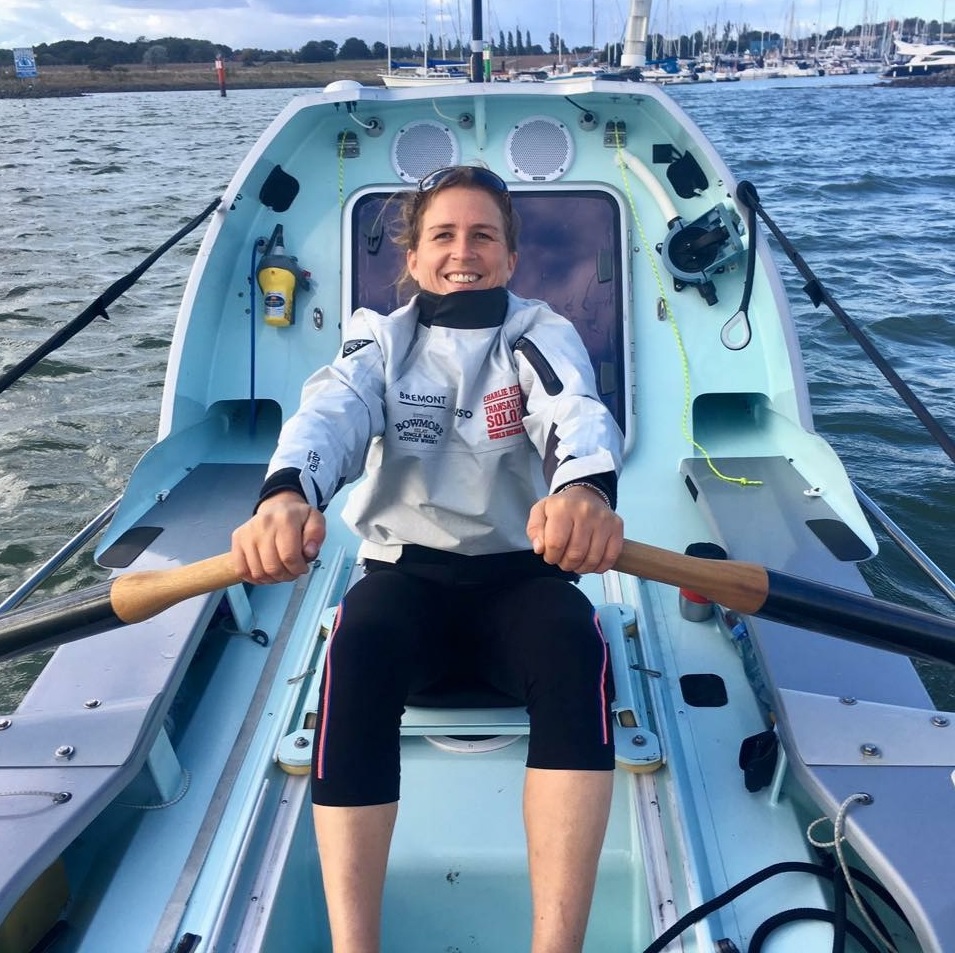 KM: I was always really sporty at school and later set up a paddle-boarding company, which is awesome for a whole-body workout. I will not just be looking to add my name to the list of only five women who have successfully made the solo crossing, but will also be aiming to cross the ocean in a world-record time of 45 days; 11 days less than the current record of 56 days. I will follow in the direction of the trade winds, which will aid my crossing, but that doesn't mean it will all be plain sailing.
FP: Who have you taken advice from?
KM: My world-class carbon fibre boat holds the world record for the fastest solo male, Charlie Pitcher, in 2013. With everything that is needed to sustain me for the duration, it is a feat of engineering. As a non-rower, I not only had to get fit and learn all about the ocean and life at sea, but I also had to learn how to row. I am working closely with Charlie (Rannoch Adventure) and Guin Batten (silver Olympic medallist and world-record holder for ocean rowing). By the time I leave for Barbados, I will have spent up to 1,000 hours on board.
FP: What will life on board be like?
KM: The weather has a large part to play in the comfort of the row, and anything from mirror calm seas to 40ft waves will be encountered, not to mention the dark nights, flying fish in my face, sleep deprivation, muscle pain, blisters, sea-sickness, loneliness and potential hallucinations. Each day, I'll be rowing for up to 16 hours (on a bad day) and consuming three high-calorie meals (6,000kcal of high-protein dry food; a personal favourite snack is pork scratchings). I believe that sleep is so important for recovery and mental state, so when I hear people telling me that they would just watch videos and write a blog, I'm thinking – if I have time to write a blog, I'd rather sleep. I'm very good at having short bursts of sleep and naps, so I think that will help.
FP: What will be your motivation when the odds are against you?
KM: My motivation is my women. I have set up '100 TogetHER', a collaborative community that encourages women to get involved with my challenge. I'm asking women and groups for their support and, in return, I will put their faces and company names on my boat. My aim is to empower women, and the challenge proves that anyone can attempt anything, given the right attitude, belief and support. Post-challenge, I will be looking to put other women through a similar experience, using stand-up paddle boarding or ocean rowing, and also mentoring and supporting them.
FP: How is your training currently going?
KM: I have been going to Fit 8 in Wimbledon village; the training is functional and rehabilitative. The sessions have taught me to have more control in my movements. I usually do bodyweight training for strength in the gym. The gym staff knows they only have five months with me, so I train four times a week. I want a mixture of stretching and opening up my body, etc. Some parts of my body are really flexible, other parts are not. I really enjoy cycling on the road and love overtaking MAMILs – middle-aged men in lycra!
FP: Who are you raising money for?
KM: Having spent a month at King's College Hospital in London and 24 hours in ICU, I would like to take this opportunity to give something back for the amazing care I received from everyone there. King's is fundraising for a new state-of-the-art intensive care unit that will be built on top of the hospital, with a garden that allows for the life support machines to still be connected if outside, with floor-to ceiling windows providing natural light, and many facilities that make time in the unit more enjoyable. King's continues to look after me with the utmost professionalism to not only ensure I am cured (again!), but also in time to continue with my mission.
 To get involved and donate to the King's College London fundraising project, visit kikomatthews.co.uk