Christine Longster went to her first ballet class at the age of four and has had a love affair with ballet ever since. After being accepted to the Royal Ballet Upper School, despite a teacher telling her she was too plump and too short, at the age of 13 Christine found herself at ballet boarding school with aspirations to be a professional dancer. Here she tells us how she turned these aspirations into a fitness career and shares her experience of being on a TV show called Big Ballet.
At ballet boarding school I put on a lot of weight and they said I had to lose it. I probably lost too much weight and then I became run down and got glandular fever. The doctor said I couldn't dance for 10 months and my father wouldn't let me go back to ballet after the illness. It was the start of the fitness boom at the time; I went to my first fitness class, which was very Jane Fonda – it involved ballistic stretching. I thought, "I can do this." So, I went to audition at York University to be an aerobics instructor.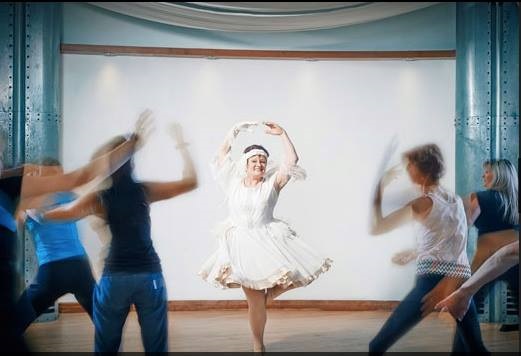 In those days, dance wasn't really accepted in the fitness industry. I can still remember the first class I ever did: it involved a half turn, a star jump and a turning knee lift. When we performed that, everyone was literally like wow! I had a lady who did my BODYPUMP™ class and she always looked miserable. I asked her why she didn't come to the BODYJAM™ class. She replied, "I can't because I have a false hip." I said, "Of course you can!" She came to my class for 15 years and told me it had changed her life.
Fast forward to 2014 and, while I was working at Bannatyne's Health Club, I received an email from a production company asking if there were any 'plus-sized' women who were interested in ballet. I've always been a size 10/12 but I'm only 4' 11". I hadn't done ballet for 30 years but I needed closure. I rang the producers of Big Ballet and told them what size I was but they said they were looking for 'bigger girls'. My friend yelled down the phone, "She's really short! She is big!" I sent a video and got accepted for the audition. I had been down the thin side of the ballet world and I thought maybe it was time to see what the other side of the ballet world is like.
There were two days of auditions and, once I'd been accepted on to the show, I did six months' training at the Northern Ballet with Monica Loughman and Wayne Sleep, who were inspirational. We trained on Thursday and Friday nights and all day Saturday and Sunday. It was really tough because I was teaching as well.
The performance was an amazing experience; I had 100 people from my classes cheering me on. I'm so glad I did it because my mother died four years after the performance and that was the last time she ever saw me dance. She turned to one of my friends and said, "That's my daughter on that stage!" Yet, when she spoke to me, she said, "How ridiculous, a 52 year old dancing on the stage!" I had been bitter about ballet for so long but I can now enjoy it.
Big girls aren't going to be ballet dancers on the stage – they aren't. But it doesn't stop them from enjoying classes and not feeling intimidated. I think from doing Big Ballet, I was able to reach out to everybody. I have class participants say to me, "You were amazing on that show, Christine." I'm probably the biggest I've ever been in my life but it hasn't stopped me from enjoying ballet and getting involved.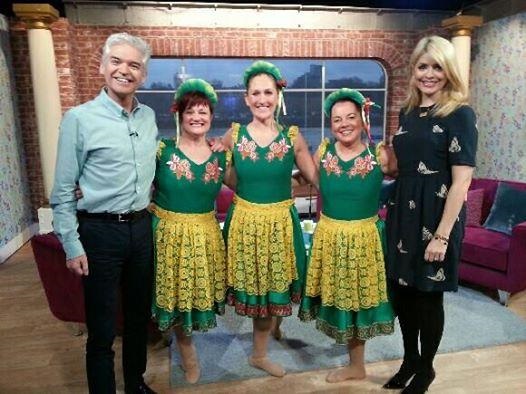 (Christine pictured here, first dancer on left)
The importance of the warm-up and cool-down in dance
Recently, editor Olivia Hubbard spoke to Edel Quin, MSc and MFA dance science programme leader and dance lecturer at Trinity Laban Conservatoire, about the importance of warming up and cooling down to prevent injury in dance. She found that, despite the most recent research, dance is still behind in applying the principles of warming up and cooling down relative to other sports. Quin believes that's partly because of a lack of awareness of how and why, but also potentially due to a culture that pain and injury is an accepted part of the 'suffering artist' persona. Despite positive developments in vocational dance training programmes, a challenge remains in reaching the independent or private studio teachers, as well as general fitness instructors who deliver through dance. More needs to be done to encourage the application of the latest scientific guidance for basic safe dance practice. Quin said, "It's important that an experienced dance instructor is able to find a balance where the movement material is sufficiently challenging fitness and skill levels, but isn't chorographically challenging to the point that form becomes compromised."
Here are some resources you might find useful to explore this topic further:
One Dance UK offers a series of healthier dance programme talks, resources and symposia: onedanceuk.org
National Institute of Dance Medicine and Science offers a performance optimisation package that
includes a musculoskeletal and fitness screen: nidms.co.uk
Safe in Dance International offers courses and recognition for dance teachers in the application of dance science informed healthy dance practice: safeindance.com
International Association for Dance Medicine and Science offers free resources for dancers and teachers and hosts an annual conference, including a specialist Day for Teachers: iadms.org
People Dancing (the foundation for community dance) offers an online introductory course for safe dance practice and other resources and events: communitydance.org.uk
Have you got a story to share? Get in touch with us: publish@fitpro.com