Dr Rashmi Becker, MBE, looks at diversity in the fitness industry.
Equality, diversity and inclusion in physical activity is widely advocated but progress in the sector has been slow.
Consider these statistics:
One in five people in the country (14 million people) has a disability. Yet, according to Activity Alliance, disabled people are twice as likely to be inactive compared to non-disabled people. At the same time, seven in 10 disabled people want to be more active.
When it comes to ethnicity, Sport England data finds just 52% of Black adults and 48% of Asian adults are meeting the Chief Medical Officer guidelines for activity levels compared to 61% of the whole population.
When you consider the intersection of different groups, there are further inequalities. For example, Sport England highlights that gender inequality in sport and physical activity is more pronounced for Asian women and the sector has "failed to engaged women of different ethnic backgrounds".
I established Step Change Studios to provide more opportunities for disabled people to be active through dance. We support people with physical, mental and sensory impairments to take part. I have always been passionate about fitness and, alongside dance, trained in indoor cycling and exercise to music. Despite national campaigns promoting physical activity to different audiences, classes and gyms around the country do not reflect the diversity of their community.
Having seen the disproportionate impact of the COVID-19 pandemic on particular groups of people, and through a series of conversations with colleagues in charities which support blind and partially sighted individuals, I created an initiative called Dance Dosti. Supported by Metro Blind Sport and funded by Vision Foundation, this ambitious programme is focused on engaging people from a South Asian background with sight loss. Dance Dosti has been involved in creating over 100 video and audio dance workouts in different languages and running a series of in-person dance programmes.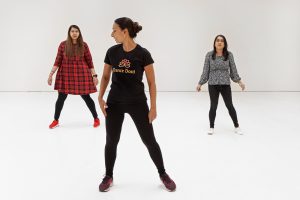 Dance Dosti has also sought to gain insight from fitness professionals on their perceptions and experience supporting people with sight loss.
Our survey of over 100 fitness professionals revealed some interesting findings:
73% of respondents rated the fitness sector as 'poor' in terms of access and inclusion of people with sight loss.
86% thought accessibility of the fitness venue/equipment was an issue.
85% thought there was a lack of public information about accessible activities.
80% thought the competence of fit pros could be a barrier to inclusion.
When we asked fitness professionals about their training needs, they were concerned they lacked specialist training (77%) and thought it would be helpful to hear from people with sight loss as part of any training (72%). Hearing from people with lived experience is important in informing practice, so it is encouraging that so many people valued this.
In response to these findings, the Dance Dosti initiative provided free workshops for fit pros to improve their competence – and confidence – in delivering more inclusive classes. This was co-produced with a South Asian lady who has sight loss, who shared her lived experience and answered questions from fitness professionals.
We have also produced written tips for fitness professionals. While these were created as part of a programme for people with sight loss, many of the principles apply more widely to engaging people with other disabilities.
Every individual taking part in a group class will have abilities, needs and motivations particular to them. Most of the principles that fitness professionals should already be applying to planning, delivering and reviewing sessions will apply to supporting disabled people. However, the following additional considerations will enable fit pros to be more inclusive, more competent and more confident:
Targeted marketing: Think about both the placement and content of your marketing. How do people know about your classes? Are you actively targeting specialist media and organisations? Are you providing information in different formats (written, visual, audio)?
Open and advanced communication: If you know someone with a disability will be attending your session, if possible contact them in advance to find out how they like to learn. This initial conversation will help you understand their needs and how you can adapt during class. This is also a good time to inform them about the space. Describe the setting, changing rooms, how the lockers work and what to wear. If you cannot speak in advance, make time before the class starts for this conversation.
Brief front of house: Make sure the first point of contact, such as reception staff, are aware if a disabled participant will be attending and that someone is at reception ready to support them to the class. This first impression can make a big difference for someone taking part or being turned off.
Don't be afraid to say the 'wrong' thing: When it comes to disability, people often worry about causing offence. It is totally fine to use everyday language such as 'see you next week'!
Welcome support staff/friends/family: Some participants may ask to have someone they know support them in class. This can be helpful to them and you and over time they may grow in confidence and choose to attend independently.
Sensory awareness: There is a range of considerations specific to people with sight loss. For example, checking your voice can be heard over the music; using visual and specific language to help people visualise moves clearly; and using non-verbal languages such as clapping, and musical cues to help people follow.
Options: As with all group classes, give people different options to choose from, including difficulty level. For example, a step or a jump; bending halfway or all the way down; slow version and faster version; feet/arms only.
Practice: With yourself and with others to see if they are able to follow. If you are working with people with sight loss, you can also audio record yourself and listen for improvements you can make.
Ask for feedback: Simple checks on what is working and not working will help you to make small, quick corrections.
There are numerous barriers to participation in physical activity for disabled people. Through Step Change Studios and the Dance Dosti programme, it is also clear that there are psychological barriers on the part of fitness professionals. While there are specialist skills and knowledge that can be developed through training and practice, it is important to examine and overcome pre-existing perceptions and fears around disability.
Many of our participants tell us they have grown up being told what they can't do, rather than what they can do. I have seen fitness professionals clearly uncomfortable when engaging with a wheelchair user or someone with autism, for example. While there are positive efforts to improve representation in the sector, there is much work to do. Change will only come through a combination of personal reflection and ownership, supported by proactive, sector-led support for professionals.
Author Bio: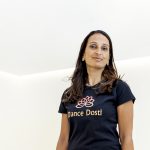 Rashmi Becker MBE is the founder of Step Change Studios, which provides opportunities for disabled people to be active through dance. She is also a qualified ETM and indoor cycling instructor. Over 20 years, she has developed expertise in the arts, sport, social affairs, and disability advocacy. She is a Board Member of Sport England, also serving as the Board Champion for Equality, Diversity and Inclusion. She holds a PhD from the University of Cambridge where her research focused on Intellectual Disability. Rashmi was recently recognised with an MBE for services to disabled people.
Further reading
Activity Alliance produces a helpful guide to inclusive communication: www.activityalliance.org.uk/
British Blind Sport has produced a detailed guide to visually impaired friendly sport:
https://britishblindsport.org.uk/