Olivia Hubbard headed to The Hoxton Hotel in London's Holborn to check out Disco Yoga. The question is: was it more glitter than fitness?
Another week, another fitness trend. The fitness industry is now as diverse as an office party. Although this class is in fact a party – there's a serious disco playlist, glitter everywhere and cocktails. Yet, I struggle to picture our accounts team in cat suits dancing the boogie woogie.
Yoga in London is a bit of a mixed bag – I've been to a fair few offerings. There's the serious yogi experience whereby you leave your shoes at the door and 'om' on the way in, then there's the Hackney living room offering; you meditate for hours and leave with a new-found phobia of beards and a fondness for tie-dye.
Enter Disco Yoga. It currently offers weekly classes in London's stylish Trapeze Bar, and from September, Brighton locals will also be able to join in the fun. It isn't just for adults, Disco Yoga is launching its 'Jungle Boogie' class for toddlers and youngsters at its Brighton Harbour venue this October. During this 30-minute interactive class, children can use their imaginations as they take on yoga poses with animal and nature themes, engaging through sounds, stories and movement, all of which are said to build confidence and co-ordination.
Back to the adult version, Disco Yoga classes take in elements of Vinyasa flow yoga and dynamic sequences, which are said to encourage vitality and rejuvenation. We turned up at 10am on a Saturday morning – as we began dousing ourselves in blue and silver glitter and sticking coloured gems onto our cheeks, most people would be nursing a mild hangover. Most (not all) participants got involved, it was all part of the experience, and it also made Londoners speak to one another – which should always be encouraged.
The class was suitable for all, although we would consider ourselves as beginner yogis and found it a perfect level to enjoy without feeling too challenged. In between each pose there was some down-time, and nothing felt rushed. It had all the typical yoga poses, downward dog, cobra, tree and child pose, to name a few, but this was a downward dog with a difference, as we were told to sway our hips.
Brian Eno kicked things off with Emerald and Stone and Diana Ross awakened our senses with  Love Hangover . Things went more disco when Donna Summer blared through the studio with Love to Love You Baby and Bee Gees favourite Jive Talkin rang out next, followed by Van McCoy's The Hustle . A personal favourite was Kung Fu Fighting by Carl Douglas, as we arm punched in yogi style. The ultimate tune though had to be another Diana classic, Upside Down – this included a full dance routine with hip rotation, a jump, and neck roll.
All the hits were on the playlist and who better than Bill Withers to welcome you to a Lovely Day before you kick-started your weekend.
Yes, it was a bit cheesy; no it's not going to have you sweating buckets or performing a crab; but it was brilliant, inclusive and different. I don't think I've ever had this much fun in a yoga class. It would be great to add to your fitness week alongside other more intense sessions. Don't expect to swap your traditional yoga classes for disco!  What made the class so good (other than the fantastic playlist) was the duo behind the brand; yoga teacher, Sarah Hunt and DJ Darlo. The duo bring all that is good about group fitness, working out should be fun, not a chore. Besides, we can't be serious all of the time, can we?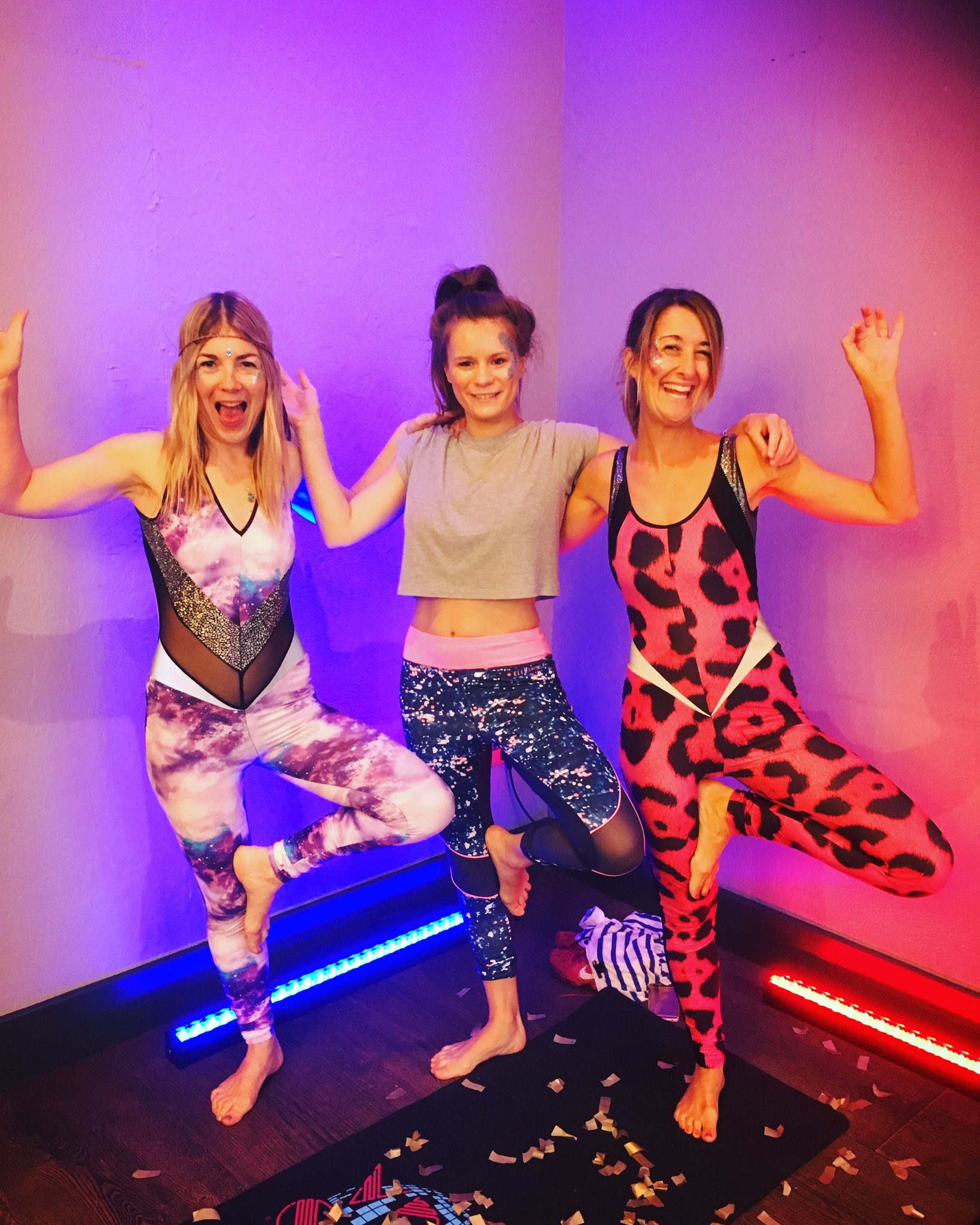 DJ Darlo (left) Olivia Hubbard (centre) Sarah Hunt (right)
Resident yoga teacher for London Fashion Week and TESS models, Sarah Hunt splits her time between private clients, global retreats, music festivals and group classes in various London locations.
Passionate  about  spreading  the  influence  of  yoga,  Sarah  also  focuses  her  time on  providing  wellness workshops and yoga classes for corporates, and has 10 years' experience in the business. We asked her what made her devise Disco Yoga and what she thinks the current demand is for the industry.
FitPro: What made you decide to create Disco Yoga?
Sarah Hunt: I had been teaching traditional yoga for several years and I generally played tranquil, soft music. I've always loved music, so after a few years, I began to experiment with music that was more upbeat. I noticed right away that the students responded well to this and the energy in the room shifted. I decided to start a brand new class that focused on this new musical element and combined it with an energising, flow-style yoga. The two worked well together! On one particular night, a disco song appeared on my playlist by mistake and before I had a chance to change it, everyone was grooving and smiling in their poses. That was the night Disco Yoga began. It didn't officially come alive until I met up with my friend Rosie (DJ Darlo) and we decided to work together as a team.  
FP: Where did you get your inspiration from?
SH: I have never really experienced anything like Disco Yoga before. I've been to yoga classes and I've been to dance classes, but this is a completely different experience. I'm always amazed at how quickly a class full of strangers can bond through glitter, dancing and yoga.
FP:  How would you describe the yoga industry in the UK at the moment?
SH: The yoga industry in the UK is thriving. Many people are coming up with concept yoga experiences such as Disco Yoga, Hip Hop Yoga, Colour Yoga, Yoga Raves. This makes yoga more accessible to a wider audience. People are also looking to combine social experiences with fitness more than ever before, to find balance and a guilt-free alternative to clubbing.
FP: What do you love about delivering Disco Yoga?
SH: I love how it brings people together. As everyone begins to hear the amazing music, they start moving to it and lose their inhibitions. Regardless of how stressful their life is, I see the lightness in people after they leave class. It's a great feeling to know that we created the environment so that they can experience this.
FP: What are the future plans for Disco Yoga?
SH: We had a great festival run this year and are excited to do even more next year. We are currently training up more teachers and DJs to deliver more Disco Yoga events across the country. We're even looking into international options, too!
If you're a yoga teacher, have you fully considered the experience you are offering? What music do you use? Is it traditional – have you asked your clients what music they would like in the session?
Check out the incredible offerings for instructors at MyGroupFit music today. The array of disco playlists can be found here: http://www.mygroupfit.com/music/genre/25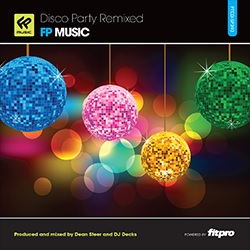 We would love to hear about your yoga offering and what goes into creating your experience. Email us at: publish@fitpro.com
DJ Darlo 
(pictured right)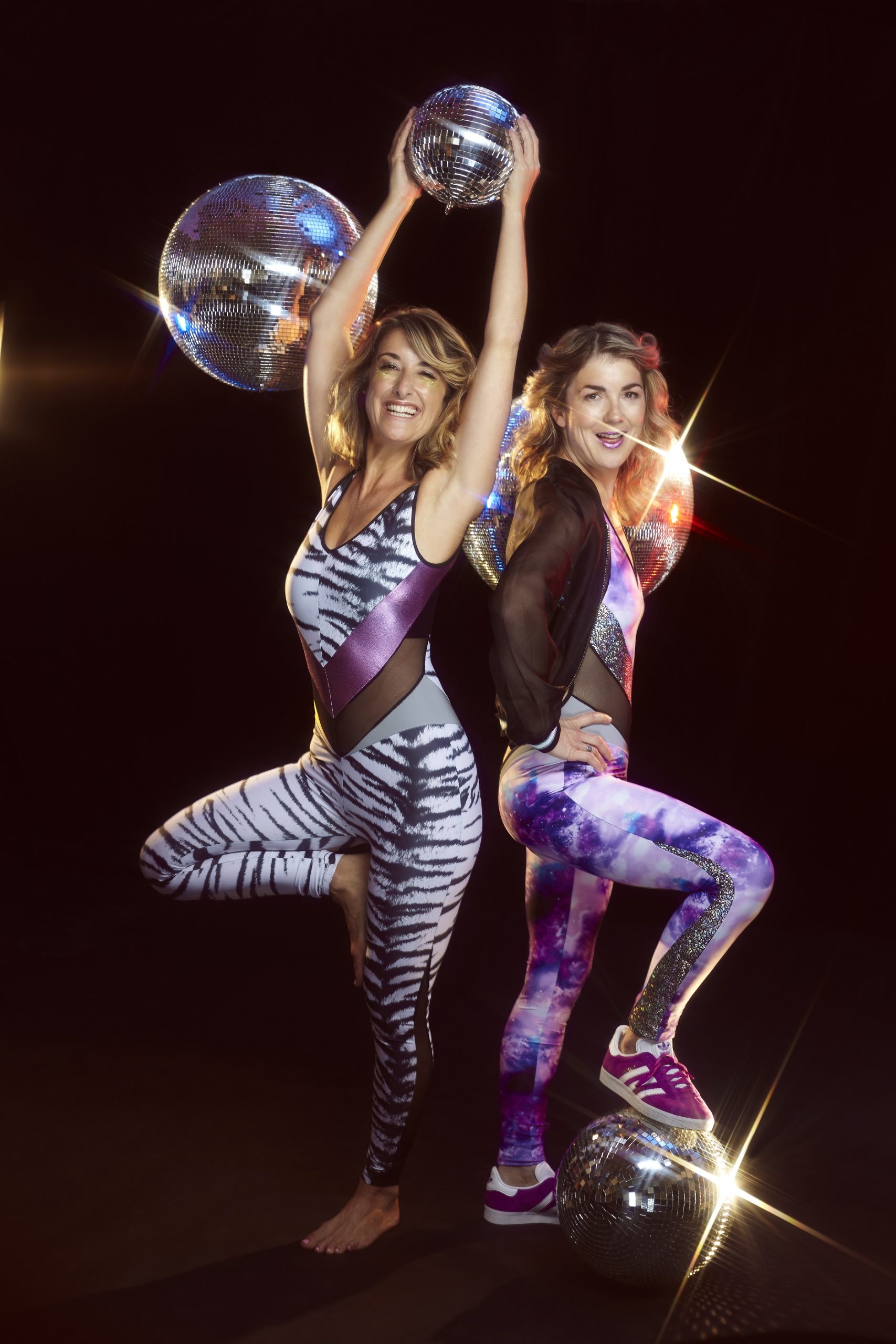 DJ Darlo crosses genres from disco, funk, soul, hip hop, R&B, Latin, rock 'n' roll, reggae, ragga, old skool dance classics, and pop, and is not afraid to chuck in a bit of classic rock for those air guitar moments. Spanning multiple eras and genres, a night on the dance floor with DJ Darlo at the helm is always joyful, uplifting and full of surprises!
Full session playlist
Emerald and Stone – Brian Eno
Love Hangover – Diana Ross
Love to love you baby – Donna Summer
Jive talkin – Bee Jees
The Hustle – Van McCoy
Kung Fu Fighting – Carl Douglas
More, More, More – Andrea True Connection
Stayin Alive – Bee Gees
Upside Down – Diana Ross
And The Beat Goes On – The Whispers
He's the Greatest Dancer – Sister Sledge
Yes Sir, I can Boogie – Baccara
Boogie Oogie Oogie – A Taste of Honey
Everybody Dance – Chic
Use It Up and Wear it Out – Odyssey
Young Hearts Run Free – Candi Staton
My First, My Last, My Everything – Barry White
Escape (Pina Colada song) – Rupert Holmes
Summer Breeze – The Isley Brothers
Lovely Day – Bill Withers
Everybody's Free To Feel Good – Quindon Tarver
An Ending – Brian Eno
Go again? Yes!
Instructor rating?  9/10
Overall experience? 9 /10
discoyoga.uk / @discoyoga.uk
Residencies: Trapeze Bar in Old Street / Century Club Soho
Pop-ups, festivals, and private events nationwide
No experience necessary, all levels welcome. Ticket price from £15 and includes one post-class Disco Yoga-themed cocktail or mocktail.