FitPro member, Steve Barrett, has been working in the fitness industry long enough to remember when Jane Fonda's leggings were a staple gym bag garment. He's also clocked up a fair few races in his time, but has never done an open water swim – until now. Steve tells us that he had reached a time in his life when "he wouldn't conquer a PB again" and therefore decided to step outside of his comfort zone and try something different.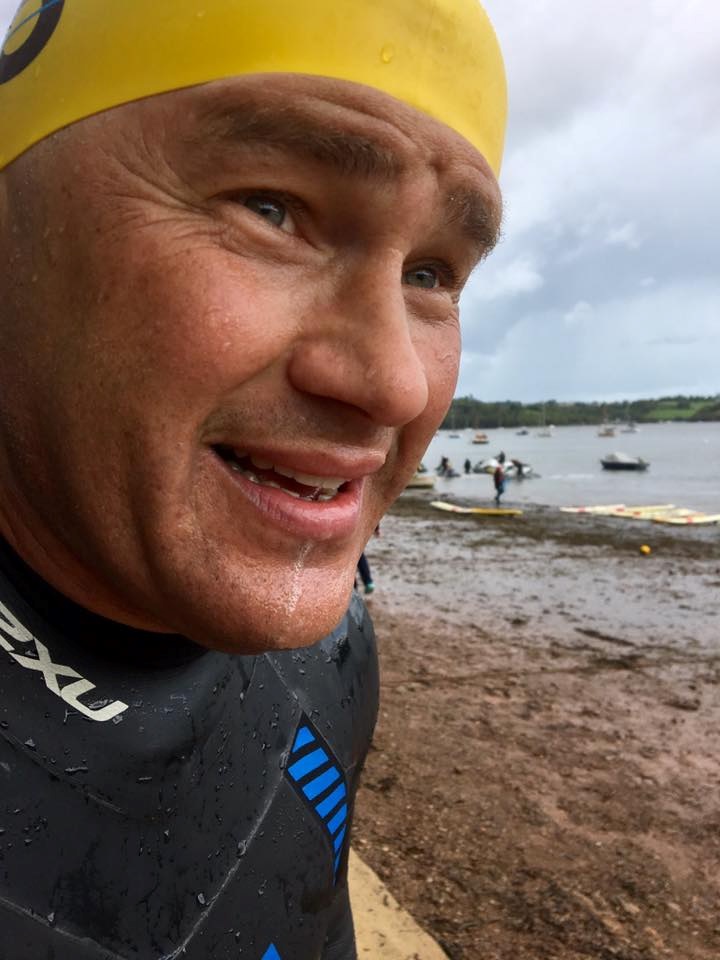 Caption:  Before, looking relaxed, but resigned to the fact you can't look good in a wetsuit.
FitPro: Tell us about the moment you decided to take on the challenge?
Steve Barrett: In March of this year, after popping up on my Facebook feed, I was sucked in by the beautiful pictures of the Outdoor Swimming Society (OSS) video. I honestly thought it looked amazing and, as I have never done anything like that, I thought it would be a good thing to work towards as we headed towards spring.
Dart 10k Outdoor Swimming Society from Outdoor Swimming Society on Vimeo
Location: Totnes to Dittisham
The Dart 10K has grown from 200 swimmers to 1600. The course of the Dart 10K is a unique journey punctuated by landmarks such as the Cormorant Tree, the white rock, Sharpham boat house and Bow Creek. It's supported by volunteers from the local and swimming community who make it special. It's not a race – they have some fantastic and some very fast swimmers, they also have skin swimmers, disabled swimmers, newbies, butterfly swimmers – but whatever the level, the language of the day is different. It's a journey, not a race, and there's said to be room for everyone in the river.
The day ends with good times! The swim finishes on the village green in Dittisham where there's a mini-festival feel, with local food suppliers, a children's playground, all the fun of the fair as swimmers celebrate. With deck chairs and a great view, supporters can wile away as many hours as it takes you to get there.
FP: Where did you train and what did your training consist of?
SB: The furthest I've ever swum was 100m in the pool. I did set out with the best training intentions, but I had just started my new role as the director of group exercise and education with Matrix (ironic, I know!), which meant I was spending a lot of time away from home and on aeroplanes. This isn't very conducive with going out for spontaneous open water swims! I did manage two swims in the sea between Poole and Bournemouth, but it was so rough that I never really got into a decent rhythm, and so that was it.
FP: Did you seek any advice ahead of the race?
SB: Well, the only professional advice I did actually seek was when I bought my wetsuit. The chap selling it was very enthusiastic and knowledgeable. When he asked me what my longest swim had been, I replied, "100m." He laughed at me. His advice was, "Don't do it."
FP: What was your first experience of open water swimming?
SB: Apart from in the sea it was the actual race day. While I would recommend it to anyone, all I'll say is that the water I was swimming in certainly wasn't the same crystal clear waters shown in the advert!
FP: Can you describe the race itself – what were the hardest parts of the swim?
SB: The night before we had a family conference and the general consensus was the prospect of getting up at 4:30am and driving to Devon to get in a river at 8:30am wasn't high on the list of fun things to do for my partner and daughter.
While I hadn't really been in any kind of water, let alone a fast-flowing tidal river, I had been hitting the gym pretty hard and following a programme called 'Sprint 8'. I felt confident that although it might be ugly, my fitness would get me through it. Despite the forecast rain, the decision was made and my alarm was set for 4am. 
I know athletes when I see them, and the hundreds of people getting into wetsuits in the car park were all fine specimens. This is where the nerves and doubts really started to kick in as I hoisted myself into my Orca wetsuit, for only the third time ever.
In the briefing, the safety officer said, "Many of you will want to give up in the first 500m." Well, as we slipped into the water, there was no time to acclimatise to the cold, we were OFF, face down and with effectively zero visibility (I couldn't see my hand in front of my face). It didn't take 500m for me to decide I wanted to quit; it only took 50, but as I took a breath I saw my daughter on the bank jumping up and down and shouting, "Go on Daddy, you can do it!" and that was it, there was no way I was going to bail out and be a failure.
I settled down, but the start of the river is narrow so there are a lot of people going for the same space, and as the visibility is zilch and I was still coming to terms with the fact there was no warm-up, I thought, this is horrible, but it can't get any worse – at which point I lost my goggles! The Dart is tidal so there is a mix of fresh and salt water that stings your eyes, but I decided to just dig in and get it done.
FP: What swimming technique did you use?
SB: I had planned to do front crawl, but with the lack of goggles, I switched to breaststroke with the words on the OSS website ringing in my ears: 'Breaststroke for 10K in a wetsuit will kill your knees', but I was running out of options.
FP: Did you find yourself crashing into people?
SB: I didn't crash into them but they certainly hit me; I think partly because they were faster, but also because they couldn't see me through the thick water.
FP: What was your technique for knowing where you were going – did you just follow the person in front?
SB: The river is massive in places, really wide and with long straights, so I looked as far ahead as possible for a landmark or buoy to aim for. The river sweeps around some long bends and going straight on the race line isn't always an option (plus we had to keep to the left as there were some very large boats using the right-hand side of the river). So, it was a combination of working with the current, staying on the correct side of the water, and staying out of the way of oncoming boats.
FP: Was it what you thought it would be?
SB: The river was more epic and impressive than I had expected – very wide and very deep. Crystal clear it was not, but that was due to very heavy rain over the preceding days running off Dart Moor and bringing the soil with it. It wasn't 'dirty' water, but it certainly wasn't appetising. I thought that people would be taking their time to enjoy the amazing scenery, but they were going through the water like torpedoes. I, on the other hand, was having a lovely time and kept thinking how few people get to see the beautiful houses and valleys from this angle.
FP: Would you do it again? What didn't you like about the race?
SB: Well, I've been there, done that, and got the T-shirt, so maybe not. Yet, I'm certainly looking to do more open water swimming. The start was the worst part. When you run into cold water, you need to catch your breath, but down you go with the field and don't really spread out until after the first 1km. You'd think that the hailstones that fell around two hours in would have been a low point, but actually I really liked them hitting the water.
FP: What was the atmosphere like and how would you describe the race support?
SB: The organisation was very good; there were jet skis pulling people out who had given up, plus they were whizzing around to keep swimmers en route. There were loads of people on paddleboards who were there to help anyone out who got into difficulty and they were fantastic. I think they were worried about me without any goggles and doing breaststroke, but I'm a good communicator so I just assured them that, while I was slow, I was pretty indestructible.
FP: Why would you say the Dart 10K has such a good reputation?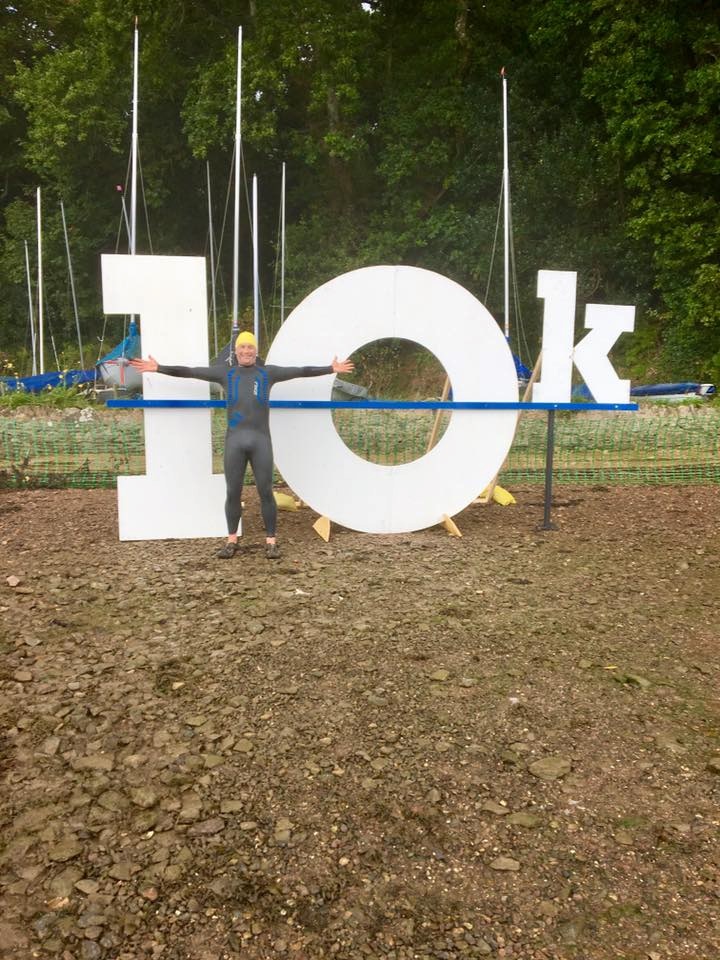 SB: It's the original long-distance open swim and the organisation is slick. All these types of events are pricey, but I think that they earn their money.
FP: Would you do a triathlon?
SB: I have to admit, I don't feel any pull towards a tri; I know I'd end up spending £5k on a bike, then only use it once.
FP: What time did you complete the race in?
SB: Don't laugh … 3.5 hours, but I don't care, I did it! At 3am the night before I woke up convinced I couldn't swim 10K, but I set myself a goal of doing it in less than four hours, then said to myself that that meant I only needed to go about 65cm per second. Turns out I smashed that and did more like 57cm per second. For me, it was never a race, it was all about going the distance. I crossed the line LAST, but there will have been people who didn't even get to the start line, and there were plenty who started but finished on the back of a jet ski, so I'm actually rather chuffed that I finished, especially with my appalling (and not recommended) lack of training.
FP:  How did you find your other race competitors?
SB: Very friendly; I was in the yellow hat group (slow brigade) with red, white and blue hats being the human speed boats, but it really didn't seem to matter. It's not called a race, but most people (99%) seem to go as fast as they can.
FP: How did you celebrate?
SB: My daughter said, "Daddy, you smashed it," and proceeded to tell me what they had been doing for the last 3.5 hours. I sat on a bench and said, "I think I need five minutes to recover – she gave me less than two, so the 'celebration' was getting on the shuttle bus back to the start where the car was parked, putting the heated seats on, and eating the entire journey home!
To follow on from Steve's feature, we will hear how FitPro's Olivia Hubbard got on in the Royal Parks Half Marathon which takes place this Sunday, 8 October. We will also hear from a group of 14 women who took on the coast to coast walk challenge from the Lake District to Robin Hoods Bay.
Have you just completed an event and are you a FitPro member? We would love to hear from you. Share your story with us and email: publish@fitpro.com