FitPro supports World Mental Health Day on Wednesday 10th October. Here, Mind in Haringey shares 10 tips on how fitness instructors can support their clients.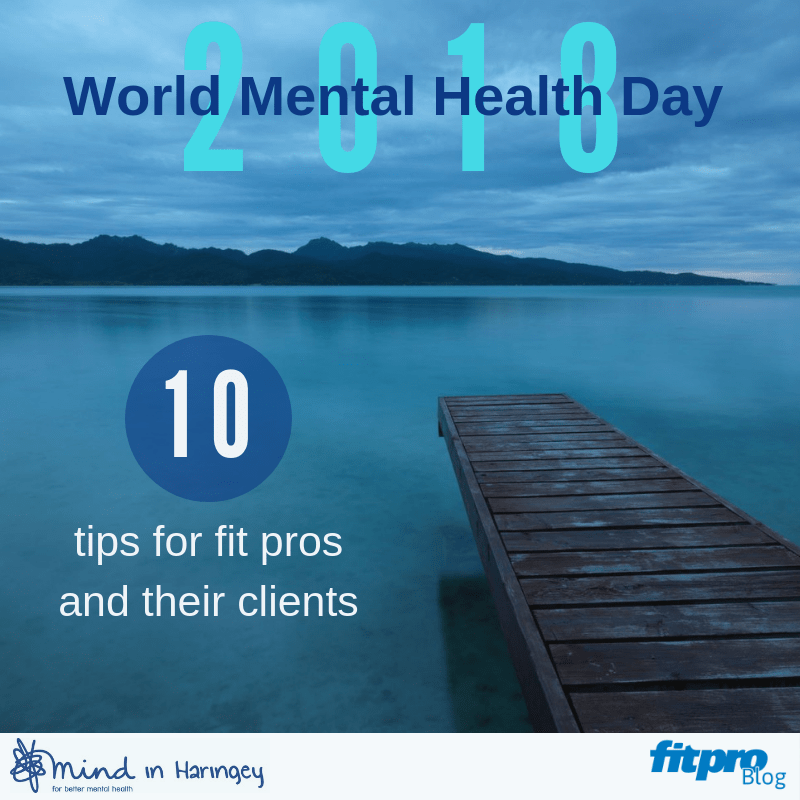 Choose a setting with your client
Keep the chat positive and supportive, exploring the issues and how you may be able to help
Keep the body language open and non-confrontational
Be emphatic and take them seriously
Don't offer insensitive or thoughtless advice
Take into account cultural differences in communication styles
Useful questions to ask
How are you feeling at the moment?
How long have you felt like this?
Who do you feel you can go to for support?
Is there anything I/we can do to help?
For anyone affected by mental health illness, please contact Mind in Haringey on 020 8340 2474 and for more information please visit: mindinharingey.org.uk
Sport to smash the stigma
Mental ill-health is one of the greatest challenges we face.  Over 1 billion people globally experience anxiety and depression, which is set to be largest contributor to the global disease burden by 2030. Stigma in respect of mental ill-health is a problem that businesses, the government and a whole host of stakeholders are keen to address.
The City Mental Health Alliance's 'This is me' campaign and the 'Time to Change 'pledge, are examples of initiatives designed to help do this. However, there is work still do; 50% of people said that they would not feel comfortable talking about a mental ill-health condition. 1 Competitive cyclist and Bipolar Disorder sufferer, Rob Stephenson, has launched Inside-Out, a social enterprise, designed to help smash stigma in the workplace by encouraging more executives to share their story via a published list. See Inside Out  for more detail.
Reference: (1) The Mental Health at Work report. Accessed here
The MindCycle Tour
The tour is an awareness-raising campaign and charity fundraising initiative, themed around the Tour de France.  From 7-29 July 2018, Rob rode the whole Tour de France on a static trainer. The MindCycle visited 10 different workplaces in July and many people joined Rob on the bikes. The event was successful due to the diverse range of people who attended the event and the meaningful conversations about mental health that took place. For more information, visit:   https://inside-out.org/
Where next?  Watch the incredibly powerful documentary, produced by mind, Haringey on the topic of suicide HERE