Prudential Ride 100 insight
Last week, the popular cycling event Ride 100 took place. We caught up with keen triathlete, runner and FitPro social media follower, Rob Johnson, who joined the thousands of cyclists in the torrential rain and winds to release some serious pedal power.
FitPro: Rob, how much training did you do for Ride 100 and what was it largely focused on?
Rob Johnson: I love riding my bike so I never really see it as 'training' per se, but a 100 miler is a long ride so I did have to build the mileage up over a few months. I think before you do a 'century' you need to make sure you're comfortable in the saddle for that long. I made sure I knew when to fuel and what intensity I could maintain for that length of time.
FP: Why did you decide to partake in Ride 100 and what advice were you offered before you took part?
RJ: A closed road sportive through the city of London – how many times do you get to do that sort of thing?! As well as the spectacle of it, I'd heard the atmosphere was as good as it gets (outside of the London Marathon), so I had to sign up! Once you know you have a ballot place, Prudential Ride send you lots of motivational emails with useful training tips and plans so there's everything you need to know before race day.
FP: Tell us about some of the challenges on race day and which part of the race really put you to the test?
RJ: Unfortunately the weather was abysmal. It started raining heavily about an hour in, which made the road conditions difficult. When it's like that, the grease and rubbish from the sides of the road makes its way across into the middle. There were a lot of punctures – I was just thinking, "please, not me" for a lot of the ride!
Despite the weather though, it was brilliant. Such great support along the whole route, with people cheering from under their umbrellas.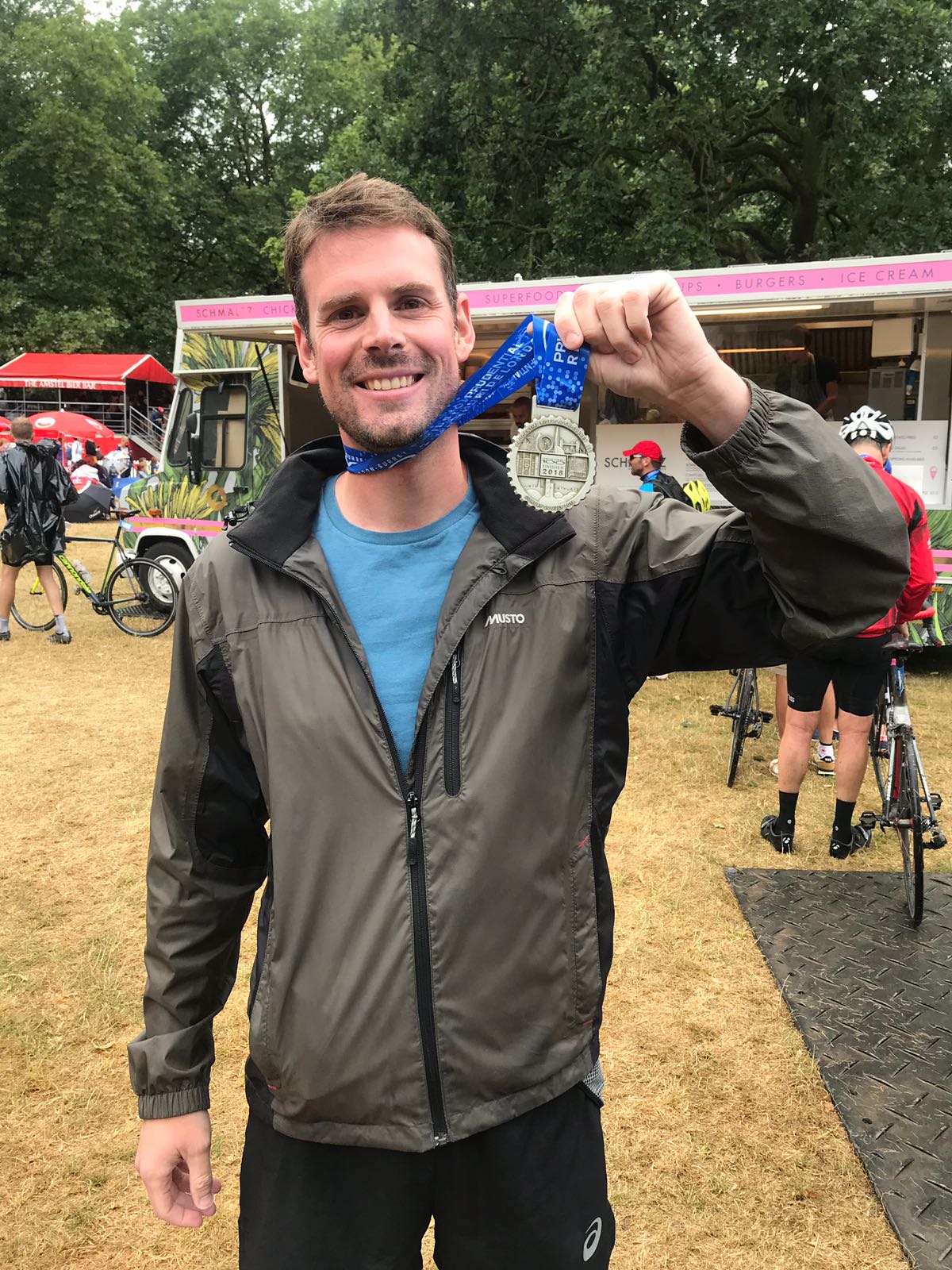 Rob Johnson (pictured above) still smiling after a wet & windy Ride London 100!
FP: Tell us about some of your highlights from watching the Tour de France this year?
RJ: Geraint Thomas undoubtedly stole the show, but it was good to see British riders doing so well again. As well as the (apparently unstoppable) Team Sky boys, it's nice to cheer Dan Martin along who was once again the battling underdog.
The F1 style 'grid start' was also an interesting new development. Even if it was a gimmick, it was something new to the Tour. 
Working with cyclists in the fitness studio
FitPro member and studio co-ordinator at Keighley Leisure Centre, Sue Hartley, shares her experience of working with cyclists as an Iyengar yoga instructor.
"As fitness instructors we can usually spot the cyclists entering the studio: the curved dorsal spine, rounded shoulders and short quadriceps and hamstrings that cyclists can typically present may lead to discomfort, injury and reduced performance.
"But, as group exercise teachers, we have a hard job educating students who come to our classes to develop strength and stamina about the importance of postural alignment and flexibility. The stretching at the end of our classes is usually not long enough nor performed in sufficient depth to be effective in increasing range of movement and correcting postural imbalances. We need to be able to offer a safe, effective and time-efficient solution for this important component of sports training.
"I believe an Iyengar yoga class attended once a week would go a long way to achieving this. Iyengar yoga is performed with precise movements that work on postural alignment and improved flexibility, which can prevent injury and result in more efficient movement and use of energy. The props that are used in a class (e.g., bricks, blocks, straps) make the postures safely accessible no matter how stiff the student may be. There are Iyengar yoga classes all over the country (and the world), both privately run and at leisure centres."
Endurance rides for you to try
Why not follow in the cycle tracks of Geraint Thomas and try out an endurance bike ride for yourself? Here's a quick pick of some of the best coming up over the next few weeks.
Sodbury Sportive: 5 August 2018
Wonderful countryside, quiet lanes and beautiful views are a given at the Sodbury Sportive, where you can choose from three distances: 100 miles, 60 miles or 30 miles. Feed stations offering homemade food line the route and, on your return to Chipping Sodbury, you'll find free hot food, massages and a bar offering refreshing drinks. Organised by volunteers, all profits from the event are given to charity. sodburysportive.co.uk
Manchester 100 mile: 2 September 2018
Join this 100-mile route along beautiful lanes through a wide sweep of Cheshire and help to raise funds for the Christie Hospital. Starting and finishing at Wythenshawe Park, Manchester, the route heads first to Northwich, taking in Delamere Forest and Nantwich (the halfway point) for lunch before heading back through Middlewich to the finish. The Christie charity provides enhanced services over and above what the NHS funds, focusing on four main areas: research, care and treatment, education and extra patient services.  bike-events.co.uk/Ride.aspx?id=625&n=y
Circuit of Kent Cyclo Sportive: 9 September 2018
The Circuit of Kent Cyclo Sportive is an annual challenge cycle ride organised by Rotary in Sevenoaks, which attracts over 700 cyclists each year. There is a choice of three routes – 40km, 80km and 130km – each one along quiet roads that are clearly arrowed or marshalled. The 40km route is new for this year to enable families to take part together. There is a discount for groups of five riders or more. Each year the non-profit event raises thousands of pounds for charity. kentcyclosportive.co.uk
Cornwall Coast and Clay: 23 September 2018
With four distances on offer, from 23 to 100 miles, each route is designed to provide enjoyable and safe cycling in spectacular scenery, from the coastline and cliffs of the north coast, to the beautiful country lanes of mid Cornwall and the calmer and gentler south coast. The route promises to be well signposted, with feed stations and some hills to tackle. Everyone who makes it to the finish gets a medal. cornwallcoastandclay.co.uk
Don't miss our exclusive feature on road cycling in the autumn issue of Fitpro magazine, out on 1 September…