Adam Daniel shares details of a new boutique offering where ViPR is the star of the show.
Back in 2019 I was asked to create a concept for GLL, the largest UK-based charitable social enterprise delivering leisure, health and community services. GLL has 240 public sports and leisure facilities, 50 million visitors a year and more than 650,000 members on its books. The brief was to ideally create a boutique concept within or on the gym floor. It was a high-level brief and I have been involved in everything from choosing the kit, to developing the programming, to recruiting the staff, to training the staff, to ensuring they are ready to go off and run the programmes.
We spent six months setting everything up in 2019 and then, as luck would have it, we went into lockdown on the very day we were meant to go live at the site in Greenwich. After a long wait, we were able to restart the project and the new site opened at the beginning of September in King's Cross, London, offering a boutique group fitness space that incorporates one of my favourite tools, ViPR.
When I sat down with GLL and they asked me to create the concept, they gave me carte blanche on what to do with the space, aside from incorporating the usual pieces of kit you would expect in a gym, such as dumbbells. I immediately decided I was going to bring ViPR into it and, as far as I know, this is the first gym that's using ViPR in this way in the UK. We have three zones in the gym: the first is the CV Zone, comprising two skill bikes, two skill rowers and two skill mills; the second is the Strength Zone, comprising strength benches which house the dumbbells; and the third zone, which was free for me to create something new and different from other boutique offerings, is the Functional Zone, housing ViPR and TRX, etc. For me, it was about creating something unique. I thought, "If I was a member, what would I like to see in the space that would excite me?" What better kit to populate it with than ViPR?
Bringing the coaches on board
We've recruited and trained eight coaches now, who have all become passionate about ViPR through our training. Before we introduced them to ViPR, none of them had actually used the kit before. Now, having learned about the science behind it and its functionality, they are really excited to be using it in their programming because they can see the benefits of using ViPR in this three-dimensional format. They love how it can be so quickly progressed and regressed in a group training environment, depending on the member, by changing the grip or hold without it impacting on the class (e.g., slowing it down). They see how much the members are going to enjoy using the tool. It's been so worthwhile taking the coaches through the education because, in understanding why they would use ViPR themselves, they can more easily integrate it into their programming. Before we took them through the education, the coaches saw ViPR as a standalone piece of kit. Now, they see the power of integrating it into a programme with all the other kit on offer.
From a sales and marketing perspective, the management like the fact that having ViPR differentiates the offering from other concepts. The uniqueness also comes from the actual programming and how ViPR will be used in the space.
Programming with ViPR
The concept is called Elevate and we have four different classes within the programming in the Functional Zone in the gym. We've got Endurance, which is of a medium intensity – we use Myzone in there as well – so heart rates are generally going to be between 65% and 80% throughout the session; we've got Strength, where heart rates might be a little bit higher because members are working with heavier weights for shorter periods; we have Power, which is all about speed; and we also have Active, which is for the deconditioned or new-to-exercise person. Even though we only have the 4kg, 6kg and 8kg ViPR tools on the gym floor, with these four different programmes coaches have the flexibility to ultimately meet the needs of those in the class because it's so easy to regress or progress the exercises once you understand the science behind ViPR, whether the member is a complete beginner or a conditioned athlete.
The possibilities are endless and ViPR offers an enormous array of opportunities for the coaches and members to work out in an exciting, fun and effective way. Because ViPR works with multi-dimensional movement, you are getting a lot of bang for your buck and the movements we're doing with ViPR are completely transferrable to everyday life.
Going forward
In this industry, we still haven't truly embraced the idea of stressing the body in unusual ways, so we're still very much in the mindset of sitting on the bench and doing the traditional exercises. So far, we haven't seen many people picking up dumbbells and then picking up ViPR and using them in the same programme. We sometimes go little bit further afield and use the kettlebells, for example, or the TRX, which are both great pieces of kit, but adding ViPR allows us to move through such a wide range of different patterns with load. We go from our traditional strength methods, which are valid, have a place and give people a bit of comfort in their familiarity, and then bring ViPR into play, so now we're working the body in different dimensions and with different movement patterns.
The plan is for GLL to roll out the boutique concept to more sites as a premium product. It is an additional cost per month (on top of the gym subscription) for unlimited classes, so GLL is considering which localities will be best for the additional service, as not every area will be able to support it in terms of people being willing to pay the extra.
Bringing ViPR into the programming of a boutique concept works so well and it will be great to see what the members think as they discover this unique piece of kit in a whole new way.
Ready to get educated in Loaded Movement Training? Check out our NEW 3 hour online education with Stephen Tongue
Looking to save up to 30% off ViPR equipment? Simply click here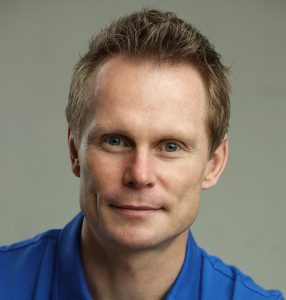 Adam Daniel is an accomplished sportsman, fitness entrepreneur and a Performance and Personal Impact Coach with an innate desire to see individuals, teams and businesses truly thrive. He has developed and delivered educational programmes for some of the world's leading fitness brands, coached fitness professionals and industry leaders in over 20 countries and has led the educational teams for some of the most prestigious fitness industry names.
You can follow Adam on Instagram, LinkedIn, Facebook, Twitter.